I Love Home BOM month 2 and Giveaway
I'm so excited about this month's block for the I Love Home BOM!  There is a fantastic giveaway, too, so make sure to read all the way to the end.  You'll also want to visit our lovely leader and creator of this FREE block of the month, Jacquelynne Steves.  You still have time to sign up if you haven't already!
As you might recall, I'm picking a season to represent each block and this month's season is Autumn.  I LOVE this time of year, and all of the fall colors really tug at my heart.  It was so much fun for me to pick fabrics for this block.
Isn't this block adorable?  I love it when the piecing is easy, but it looks more complicated.  The applique is so cute and cozy – I thought it would make the perfect fall house block.  I added a few pumpkins to mine to really give it that Autumn feel.
The applique stitching is a simple zig zag stitch in matching cotton thread.  I added a thick, triple stitch to the windows to create window panes.  You can read more about how I use machine embroidery stitches in applique here.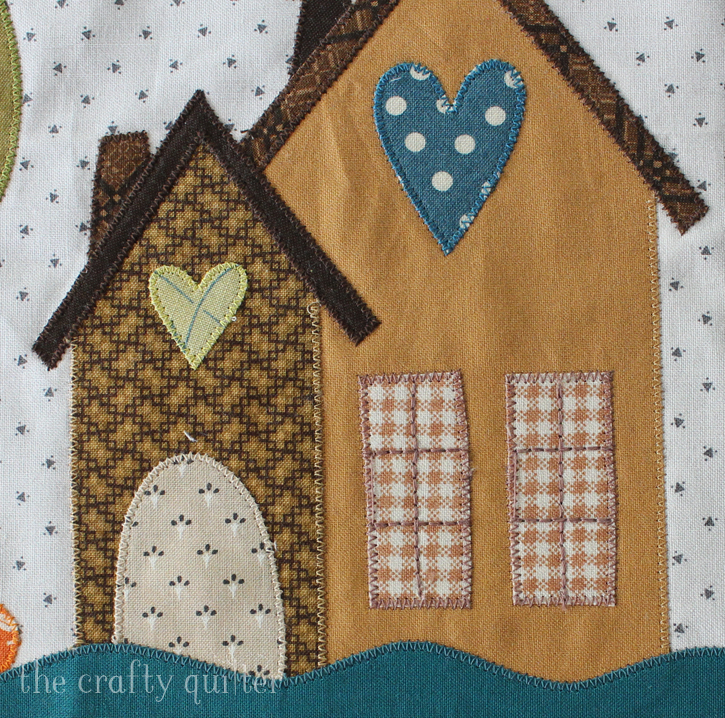 I love the addition of the gray floral fabric in the checkered border and that smokey turquoise accent in the applique.  It fits in well with my remodeled living room which has gone from warm browns to cool grays.
Giveaway (Closed)
Are you ready for an awesome giveaway?  This  month, one of our BOM participants, Sarah J. Maxwell is giving away a fat quarter bundle of  A Shout, A Whisper, A Text.
To enter the giveaway, leave a comment telling me your favorite type of precut fabric.   I love charm squares and fat quarters, myself.  You have until September 10, 2017 to enter!   Giveaway is now CLOSED.

Here are the giveaway rules:
To enter, leave a comment telling me your favorite type of precut fabric
You must comment by 11:59 pm PST on September 10, 2017.  CLOSED
Your email MUST be included in your profile information or in your comment. If I choose your name and I cannot contact you, I will choose another name.
Giveaway is open to all.
Winner will be chosen at random.
Make sure to be inspired by visiting all of the other featured bloggers and enter their giveaways too.
Remember, you can check out the I Love Home BOM Pinterest board here.  Make sure to use the hashtag #ILoveHomeQuilt for social media.
Thanks for stopping by!
Save
Save
Save
Save