How to use machine embroidery stitches with applique
If you're like me, you use the straight stitch on your sewing machine most of the time, and the zig zag stitch once in a while.  But what about all those cute decorative stitches on your machine?  Today, I'm going to show you how to use machine embroidery stitches in your applique.  You'll love the added dimension it gives to your projects!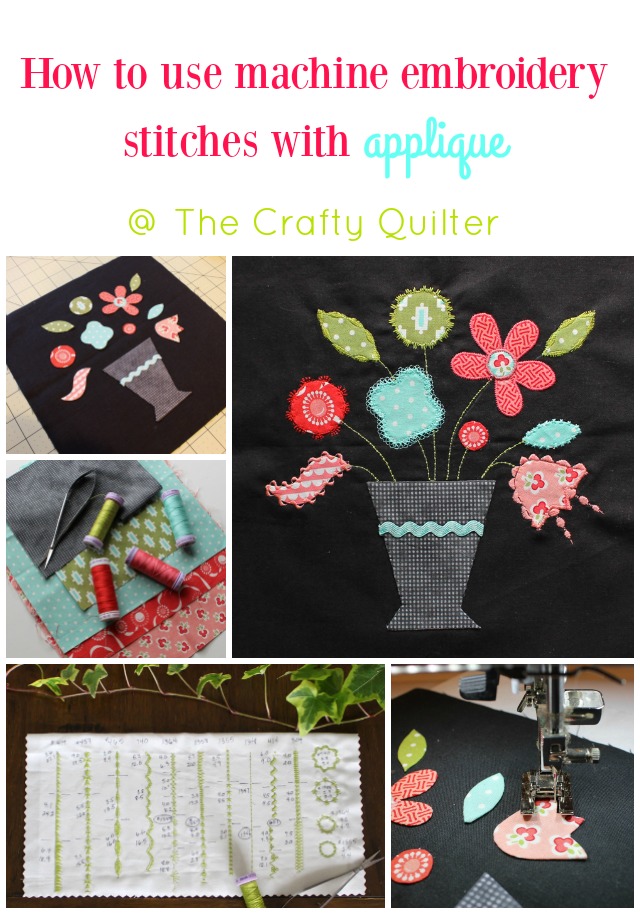 Make a stitch sampler
The first thing you'll do is play with the decorative stitches on your sewing machine.  At the same time you'll be making a Stitch Sampler that you can refer back to when you're ready to work on a project.  This will give you a better visual guide of what your stitches will look like at various stitch width and stitch length settings.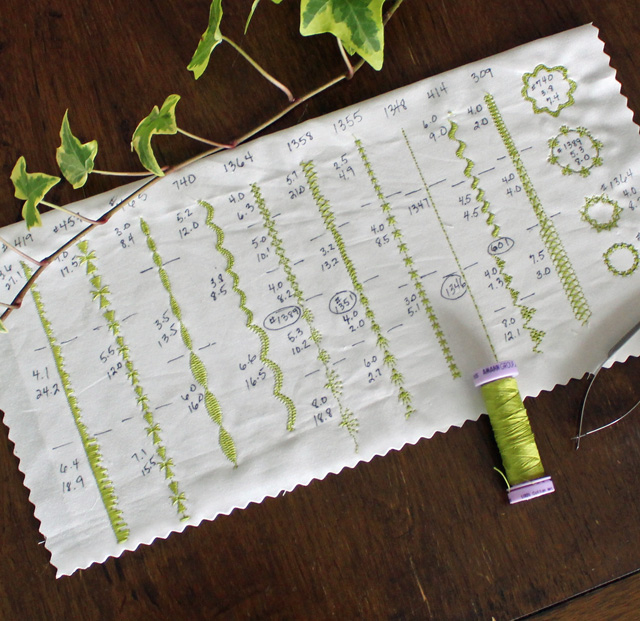 Cut (1) 12″ square of solid fabric
Cut (1)  6″ x 12″ rectangle of stabilizer (any kind).
Fold the solid fabric in half to form a 6″ x 12″ rectangle.
Sandwich the stabilizer between the layers of the fabric rectangle.
Load your machine with a bright or contrasting thread to your fabric and attach the correct foot (I like to use an open toe applique foot).
Pick an embroidery stitch to try.
You'll be working in columns.  Using a pen or permanent marker, write down the name or number of the stitch at the top of the column.  To the side, write down the stitch length and width settings.  I tested out three different length and width settings of each stitch and added little "tick" marks where the change occurred.  It was easiest for me to note the settings on a separate piece of paper and then add them onto the sampler after I completed each column.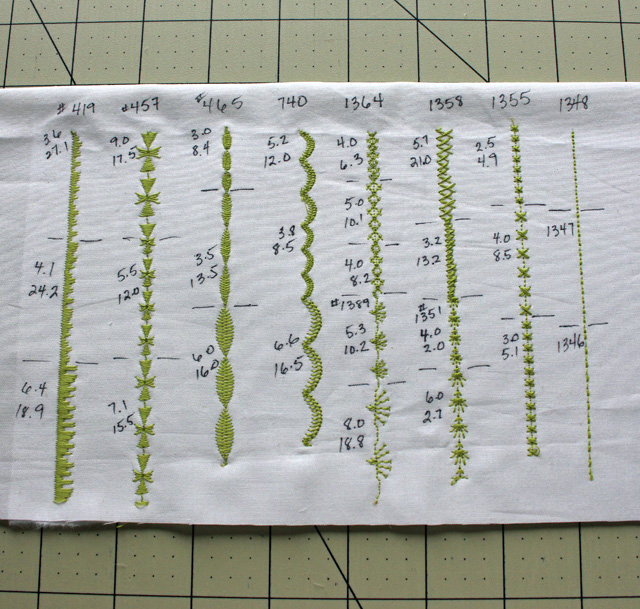 Prepare an applique sample
You might want to make a simple applique sample to practice on first, before committing to a big project.  Stitching around a shape is less predictable than stitching a straight line.  You could also draw shapes onto fabric and stitch around those.  I drew some circles at the end of my stitch sampler and tried out some different stitches there first.  Always note what settings you used for each stitch.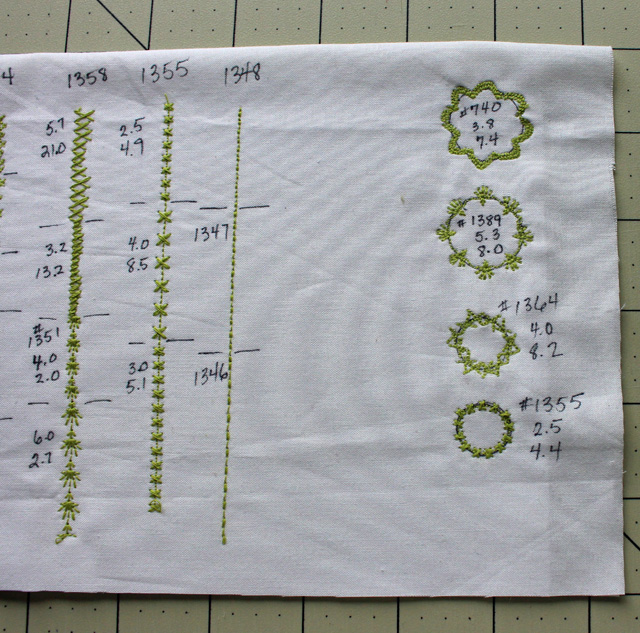 You can use raw edge applique or turned edge applique for the sample.  I have a raw edge machine applique tutorial that you can refer to for more information.  For my sample, I'm working with turned edge applique.  There are several different methods to prepare a turned edge.  I used the Appliquick Tools for mine which involves a fusible stabilizer, a glue stick, and some turning tools.  I recently completed a video for The Quilt Show on using the Appliquick Tools that you can watch for an in-depth look at the technique.
Here is my sample applique which has been glue basted into place using Roxanne Glue – Baste-It
.  I wanted everything to be really secure before adding embroidery stitches, so I added a blind hem stitch (by machine) with invisible, monofilament thread.  You can see details of that technique here (look towards the end of that post).
Stitch & Play!
For most of my machine applique, I use a stabilizer on the back of my project.  It's going to be really important here because of the decorative stitching.  I used a Schmetz embroidery needle in my machine, size 75/11.  The size depends on the type of thread I use.  For 50 weight, 3-ply (50/3) cotton thread, that size works great.  For heavier, more decorative threads, you should bump up your needle to the next size which is 90/14.  I keep the bobbin thread a neutral color and it should be no thicker than 50/3.
The first thing I did was to create stems using a stitch that looked like a stem stitch or chain stitch.  The stitch number on my Bernina 770 is 1347.  Your machine may not have a stitch like that.  You could try a stretch stitch, a fine zig zag stitch or just make several passes with a straight stitch to get the same effect.  I drew the lines first using a Bohin Extra-Fine Chalk Pencil
.  Next, I stitched each stem using green thread.
.
Once the stems are done, you can start on the flowers.  When deciding on a particular stitch, think about the shape and the amount of curves and points you'll be going around.  Make sure to go slow and stop with the needle down.  When you pivot around a shape, think about when the best time would be to pivot.  There will be some trial and error, but try to remember that this is playtime!
The circle shapes were fun and you can really do some creative stitching there.  I like the way the green circle looks like a dandelion or prickly flower.  That was stitch #419 on the Bernina 770.  You could get the same effect by varying the width of a zig zag stitch or other decorative stitch.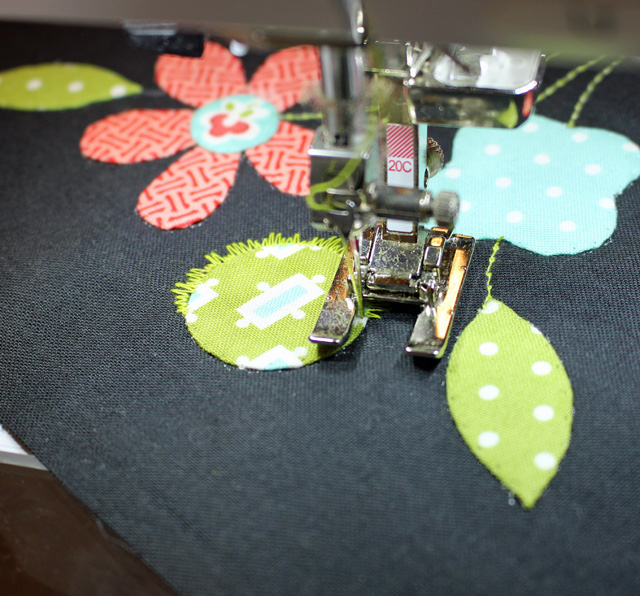 I like the "S" or serpentine stitch (#414) on the pink flower on the left.  It really adds a nice flourish!
You can see all of the different stitches I used in the following picture.  I had the most difficult time with the pink flower on the right.  It started out as a tulip and by the time I was done, it looks more like a fuschia.  I was nervous about adding the "stamens", but now I think they look really cool.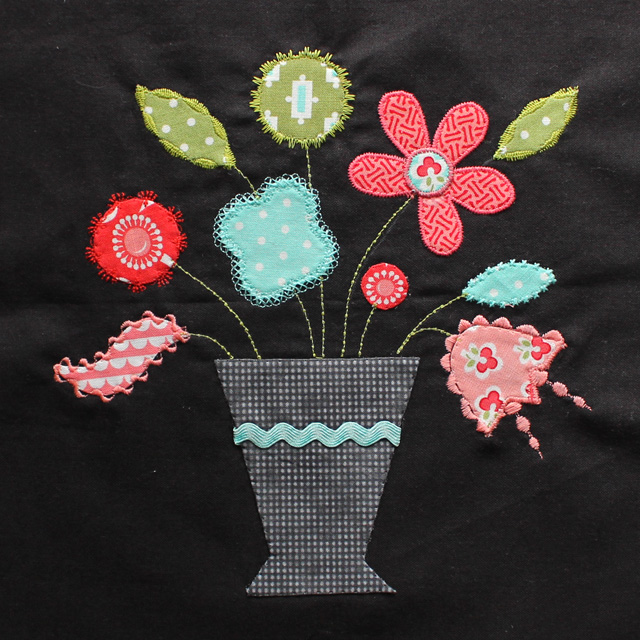 Some flowers don't need any embellishment, but others can really take on a new character with decorative stitching.  You can turn a smooth leaf into a jagged one; a common circle into a lacey flower.  I used these same techniques with block 4 of the Splendid Sampler.  Some of those circles are dime-sized, so I had to pick a pattern that was small and consistent.  Others I left alone.  Sometimes a smooth circle says it best!
Let me tell you a little about my sewing machine so you know what I'm working with.  I recently upgraded from a Bernina 440QE to a Bernina 770 (thanks to Mr. Crafty Quilter).  I'm still getting used to my new machine, so all of this playtime with the embroidery stitches has been really helpful for me.   Many of the stitches I tested aren't found on the 440, but a few of them are.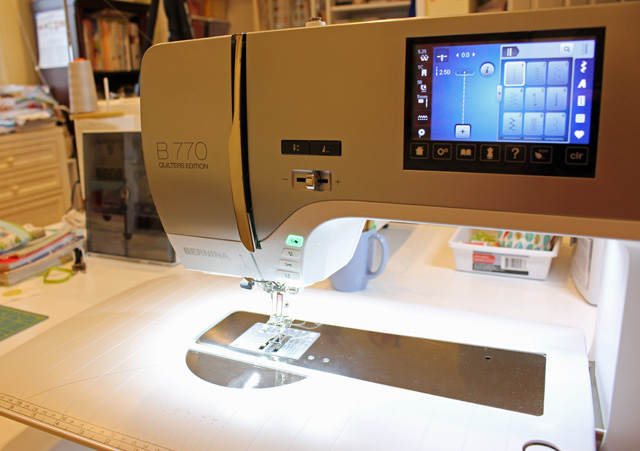 What I like about both of my machines is that you can adjust the stitch width and length of any stitch to anything you want.  There are no presets or auto configurations to deal with (although there is a default setting when you select a stitch).  I can turn a zig zag stitch into a straight stitch if I select "0" for the stitch width.  The Bernina 770 has a screen that shows you what the stitch will look like based on the settings you've selected.  This is really helpful when you're trying to determine the affect of different settings for a stitch.  The image below left shows  stitch #1351 at the default setting.  The image on the right is what it looks like after I've adjusted the stitch width to 5.2 and the stitch length to 1.9.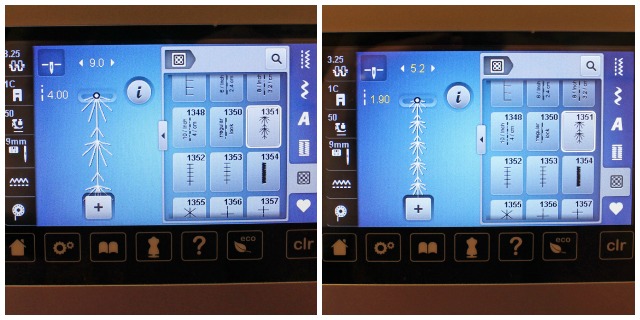 I'm only giving you this information to be helpful, and I know someone is going to ask.  I'm not trying to brag or to sell you a new machine.  If you are in the market for a new machine, test out as many as you can.  You can also read my blog post, Sewing Machine Advice, and get some helpful tips on what to look for.
So, I hope you'll play with the decorative stitches on your sewing machine.  Making a stitch sampler is really key in my opinion.  Adding embroidery stitches to your applique can add a whole new dimension to your project!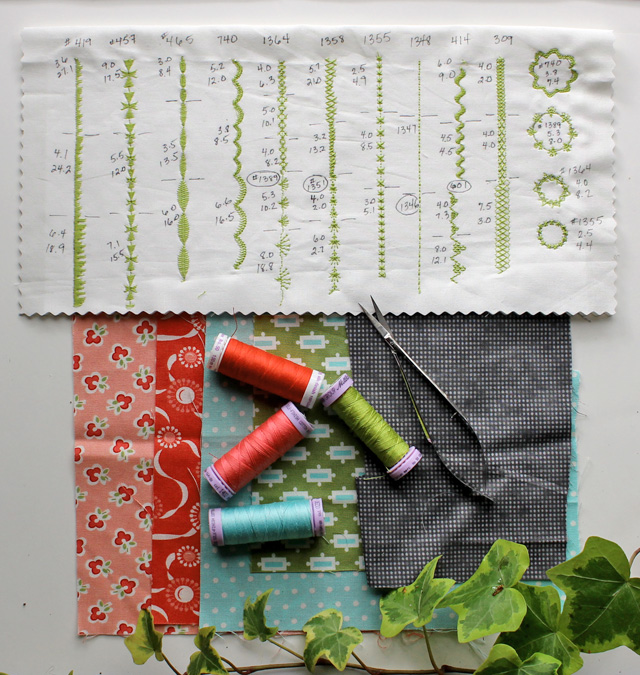 Linking up with Lessons Learned Linky @ Quilting Mod.
Have a great weekend and take time to play!