I Love Home BOM month 3 and giveaway
It's always exciting to unveil the latest block for Jacquelynne Steves' I Love Home BOM.  This is month three, and there is another great giveaway (now closed) at the end of this blog post.  Also, make sure to visit Jacquelynne Steves' blog for this month's latest information.
If you've been keeping up with me, you'll know I have chosen a season to represent each block for this BOM.  Each block will become a mini quilt.  This month I'm going with Winter!  I substituted a Christmas tree for the flower and used colors that give it a holiday feel.
This is such a charming block!  I found a silver fabric with glittery accents for the ground.  It looks like sparkling snow in the right light.  I love the gingham windows and the hearts (which could have been Christmas wreaths, but mine looked like donuts, so….no).
I used matching Aurifil cotton thread for the applique stitching and a zig zag stitch.  It took me an hour to complete the machine applique.  I also used a stabilizer underneath to keep things, well you know, stable!
Here are the three seasons that I've completed so far:
This month's block has a unique component which is the half-rectangle unit that makes up the star portion of the block.  It's a little tricky, so make sure to read the instructions (I did not get it on the first try).  Jacquelynne has done a great half-rectangle triangle tutorial on this unit which includes a video.  It's very helpful, so make sure to watch it.
A few points to remember:  The HRT's need to be 4″ x 5″ finished and half of them need to mirror image the other half.
Your units will be oversized, so you'll make a template from freezer paper to trim them down to 4 1/2″ x 5 1/2″ unfinished.  The corners will be slightly offset – which is what it takes to make the 1/4″ seam allowance just right.
It's a lot easier than it looks, so don't be put off by this one.  I really like this technique!
Giveaway
This month's giveaway is sponsored by I Love Buttons, Etc., and includes a beautiful collection of buttons, charms and gifts.  Update:  This giveaway is now closed.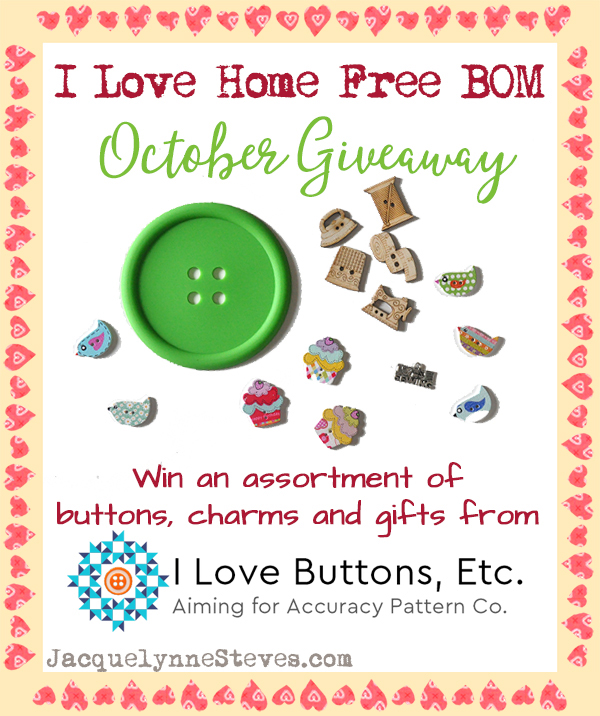 To enter the giveaway, leave a comment telling me your favorite size quilt to make – mini, king, tablerunner, etc.   I love small projects that I can get done quickly such as table runners, mug rugs and mini quilts.  You have until October 8, 2017 to enter! CLOSED

Here are the giveaway rules:
To enter, leave a comment telling me your favorite size quilt to make
You must comment by 11:59 pm PST on October 8, 2017.  (Closed)

Your email MUST be included in your profile information or in your comment. If I choose your name and I cannot contact you, I will choose another name.
Giveaway is open to all.
Winner will be chosen at random.
Make sure to be inspired by visiting all of the other featured bloggers and enter their giveaways too.
Make sure to use the hashtag #ILoveHomeQuilt on social media.  Also, check out Jacquelynne's Facebook group page to see the blocks that everyone else is making.
Thanks for visiting and have a wonderful day!
Save
Save
Save