Moda Stitch Pink quilt finish and Easter pictures
My Moda Stitch Pink quilt finish is from months ago, but I just recently got some good pictures of it to show you. I also have a few pictures from Easter that I thought I'd share. It's fun to see how my grandkids are growing.
Moda Stitch Pink Quilt Finish
This was one of my favorite quilts to make. I love piecing and applique, and each day for the month of October 2020, I made one block. The patterns are free and available at the Moda Stitch Pink Archive as part of their campaign to increase awareness of breast cancer.
My son helped me with photography by taking the quilt with him on his daily route to work. He pulled over to the side of the road near a beautiful orchard and asked a couple of bike riders to hold up the quilt for him while he took a picture. One of the riders said that his wife was a quilter and that she frequently visited the quilt shop I work at. He was glad to help!
I used Kona solid fabric in navy for the background. The remainder of fabric came from my stash and it's a mix of very old and kind of new. I started out with a blue and white quilt in mind, and then I was inspired to add the orange/cheddar blocks. I like the pop it adds and it really makes your eye dance around the quilt.
Each one of these blocks so much fun to make. My color palette is very different than Moda's original quilt design. It was a little tricky at times because I had to reverse my light and dark colors. It was a good challenge for me.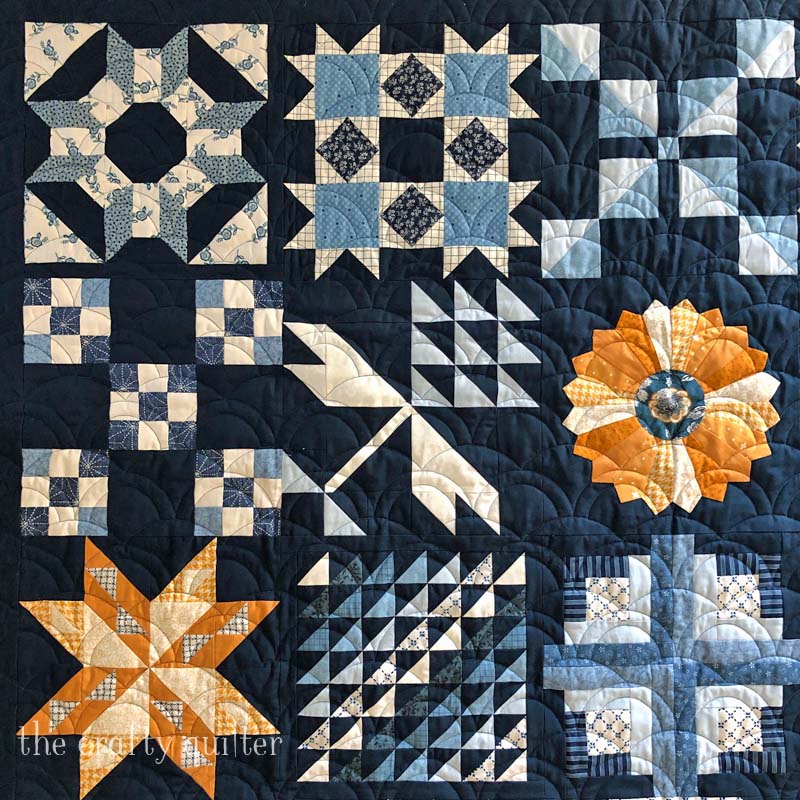 The quilting turned out beautifully and was done by Sarah at Lucky Penny Quilting. She chose the perfect thread color and I love the pattern – it's called "Rolling Hills Stacked". It adds such wonderful texture.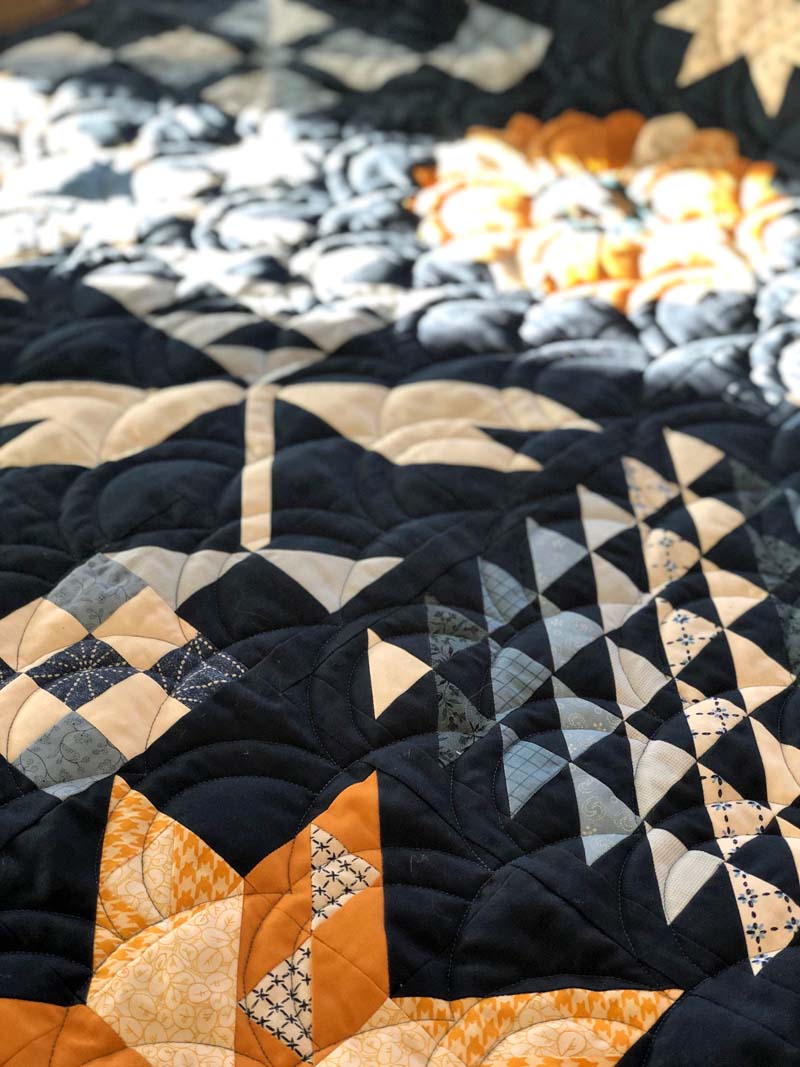 I added a cheddar-colored flange to my binding and it turned out really nice! I don't use this technique often enough. I used the Shortcut Binding Tool which includes instructions for a flange and it makes the entire process easy peasy. It's also done entirely by machine! If you want more information about how to add a flange to a quilt border, you can check out my blog post, Adding a Flange to Your Quilt.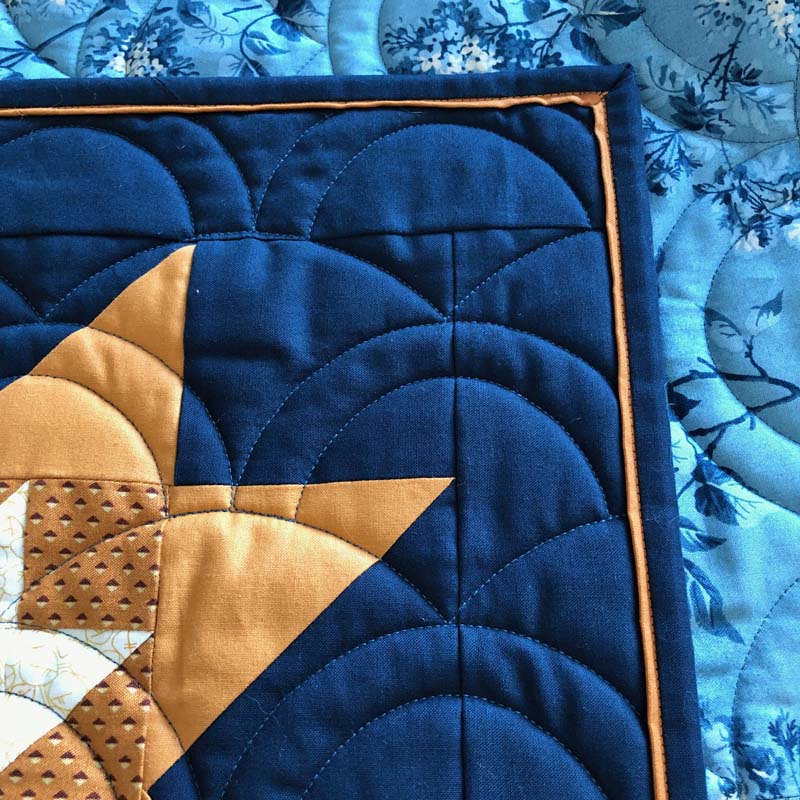 This quilt is a sampler-style quilt and each block is different. I put the blocks together so that they were balanced in color and composition. I had some large pieces of fabric in my stash and an extra block that I used to piece together the backing. I love an interesting quilt back!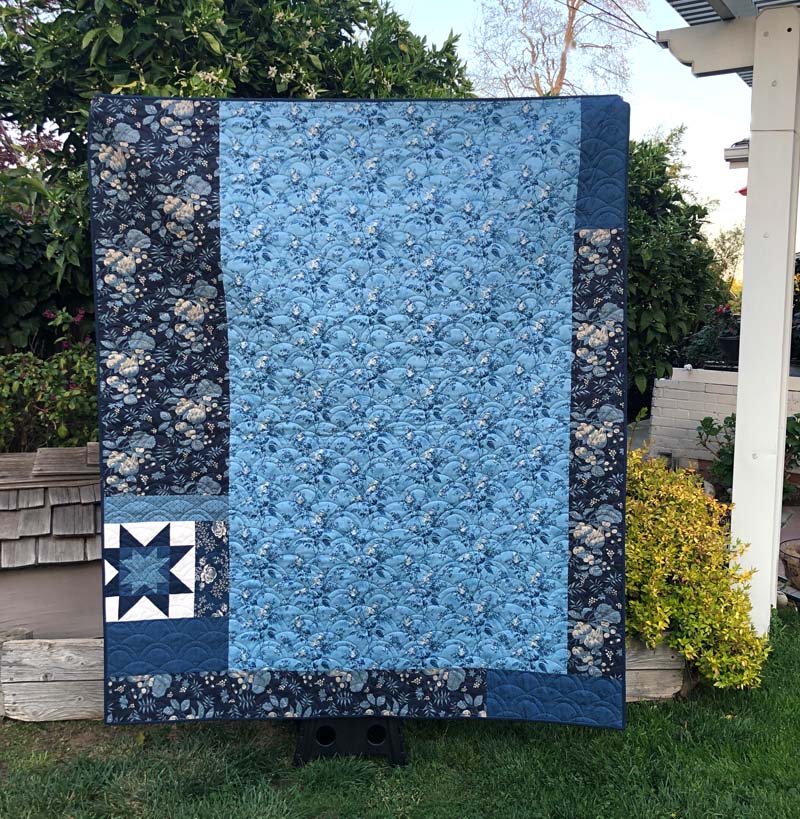 I'm looking forward to this year's Moda Stitch Pink Quilt Along, 2021 which is called The Together Quilt, designed my Sherri at A Quilting Life. Again, this will take place during the month of October. This one will probably be a red and white quilt for me.
---
Easter Pictures
We had a quiet Easter this year. We met our daughter and her boyfriend in San Francisco for an early dinner and then walked to Alamo Square Park. It was a clear, cool day in the city with beautiful views. You can see the row of "Painted Ladies" houses behind us. These are iconic historic Victorian homes – symbolic of the newfound wealth from the Gold Rush era.
We missed the rest of our gang, but we were able to FaceTime together. Our oldest daughter snapped a bunch of pictures of her kids and sent this one to us. Amelia, Clara and Ben are now five, three and one. I can't wait to see them – the end of this month!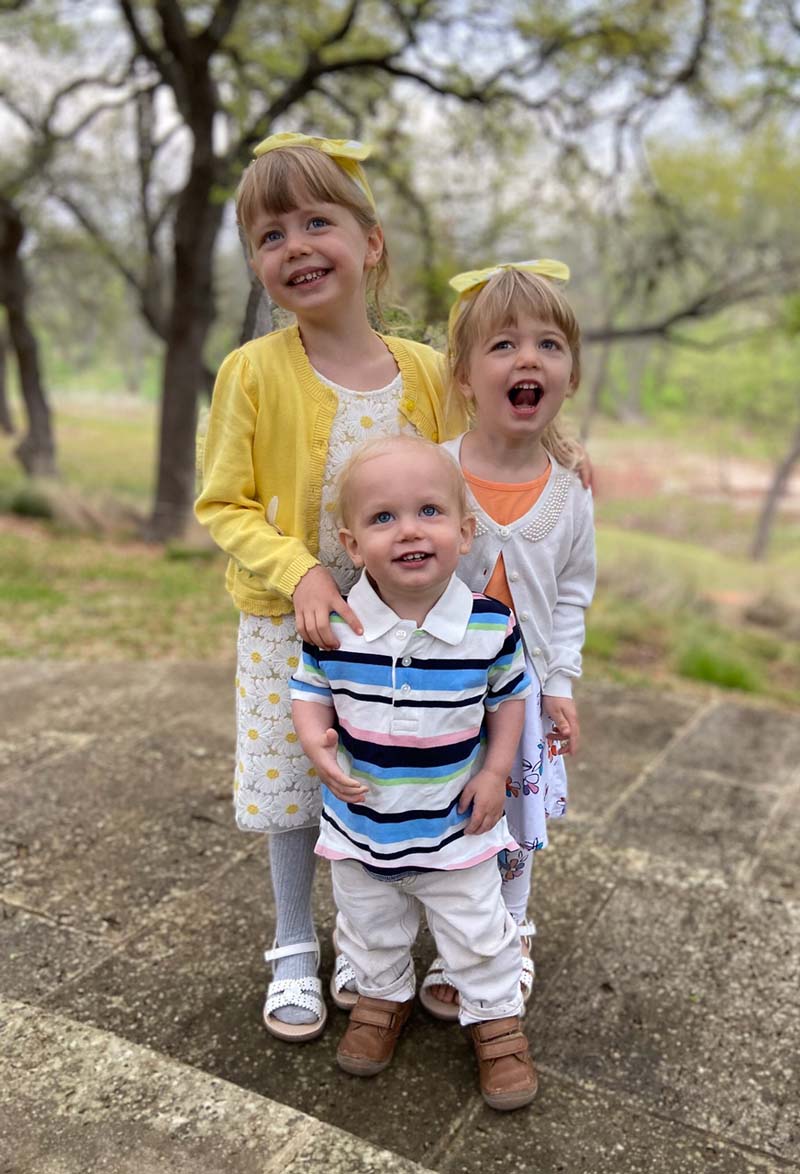 ---
That's all for now. Next week, I'll be sharing a new project I'm working on and a new tip for you, too! Have a wonderful weekend and Happy Quilting!