Doll Wipes and Pouch tutorial
Happy Friday!  I am extra happy to share this Doll Wipes & Pouch tutorial with you today!  This is more like a "learn from my mistakes" lesson, but that's how it goes sometimes! 😉
I'm getting ready to visit my newest granddaughter, Clara, in Austin Texas.  I have promised "big sister Amelia" that I would bring her some diapers for her baby doll, and I couldn't resist adding these easy doll wipes and pouch.
Finished size of pouch:  3 3/4″ x 7″
I used white flannel for the wipes.  I cut them into 5 1/2″ squares and rounded the edges using a mug as a template. I added a stretch zig zag stitch to keep the edges from fraying.  I don't have a serger, so I played with other stitches before settling on this one.  It takes 3 stitches to the right and 3 stitches to the left for each zig zag.  This keeps the edges flat and prevents it from pulling in the sides.  Maybe not so pretty, but practical.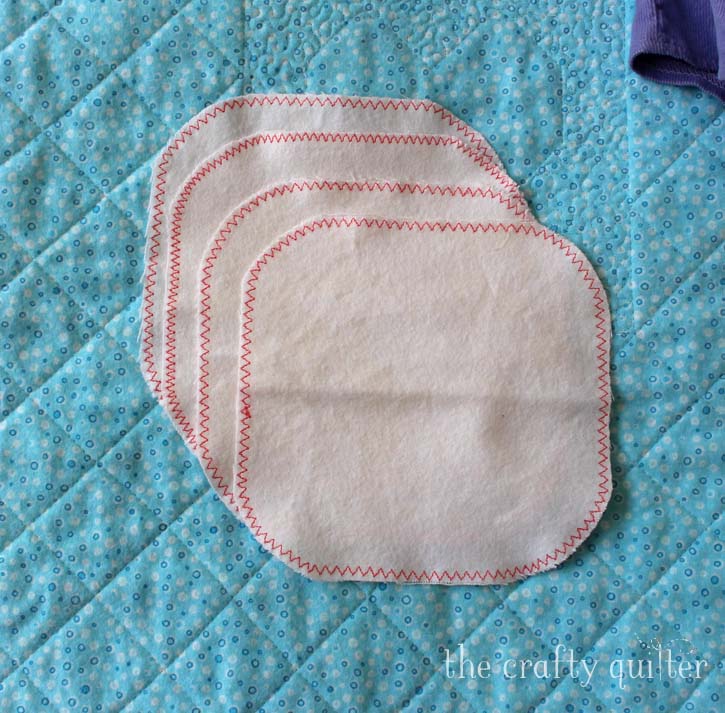 When I made the pouch, I decided I wanted the inside to be a vinyl type of material.  I thought it would be easier to get the flannel wipes in and out.  Plus, if she decides to "wet" them, the pouch will be protected.
I used Heat 'n Bond Vinyl to create my own custom vinyl from my lining fabric.  It's super easy to use and a great product to have in your tool box.  If you don't have it, then just leave it out.  You can use fusible fleece or an interfacing for the lining instead.  PUL would be another option or use pre-made vinyl.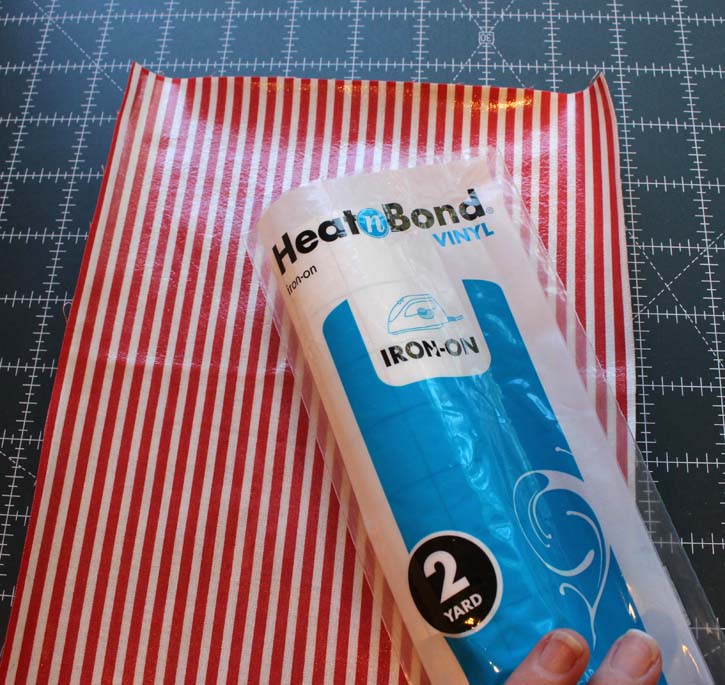 Finished size of pouch is 3 3/4″ x 7″
Supplies Needed:
1 fat quarter flannel (pre-washed) – will make up to 12 wipes
(1) 7 1/2″ x 10 1/2″ rectangle of fabric for pouch exterior
(1) 7 1/2″ x 10 1/2″ rectangle of fabric for lining
(1) 7 1/4″ x 10 1/4″ rectangle lightweight interfacing (I used Pellon SF 101)
(1) 7 1/4″ x 10 1/4″ rectangle of Thermoweb Heat'n Bond Iron-On Vinyl for lining (optional)
Velcro for closure
Create the wipes by cutting the flannel into 5 1/2″ squares.  Round the corners and use an overcast stitch of your choice to finish the edges.
Pouch Instructions
Apply the interfacing to the wrong side of the pouch exterior fabric, following the manufacturer's instructions.
Apply the Heat n Bond Vinyl to the RIGHT side of the pouch lining fabric following the manufacturer's instructions.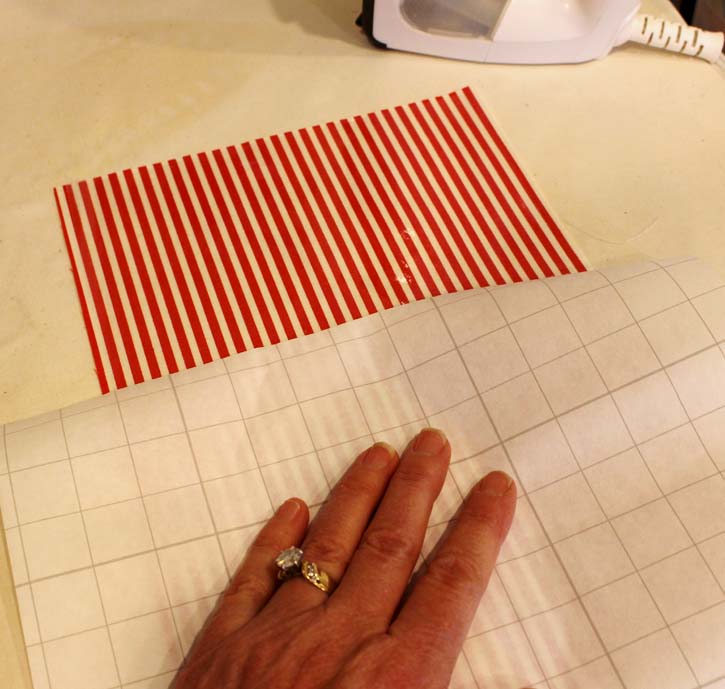 Round two of the corners of both pouch exterior and lining pieces.  Place them right sides together and pin or clip in place.
With right sides together, stitch the pouch lining to the pouch exterior using a 1/4″ seam allowance and leaving a 3″ wide opening for turning.
To reduce bulk, clip the square corners and pink the curved corners.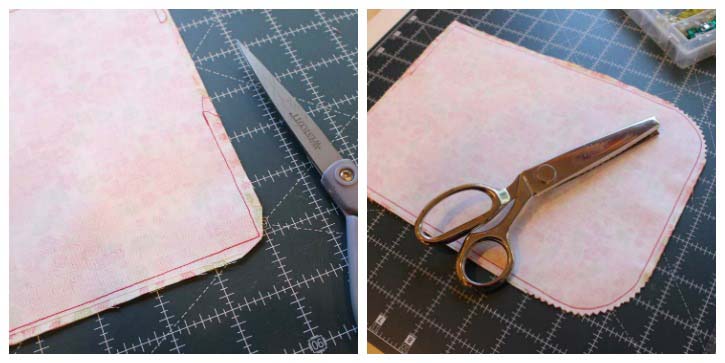 Turn right side out.  Push out the corners and press the edges, being careful when pressing the vinyl side.  Use a pressing cloth and a warm iron (not hot) when pressing on the vinyl (one of my mistakes).  The vinyl will smooth out and lose the wrinkles.
Top stitch close to the edges all the way around.  This will also close the opening we left for turning.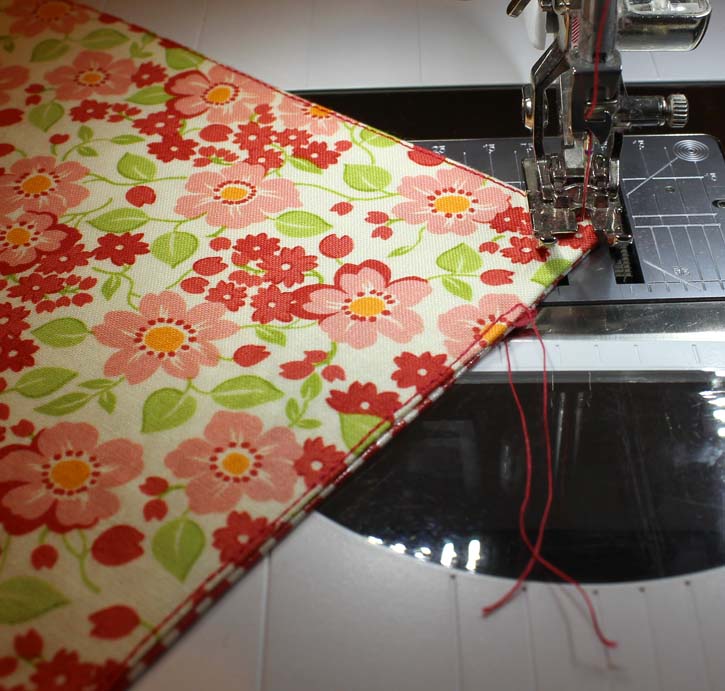 Next, attach the soft side of the Velcro onto the pouch exterior.  It should be about 1 1/4″ down from the bottom and centered.  This is another of my mistakes – I forgot to do this step before sewing my side seams.  (My pictures reflect that error.)  The other piece of Velcro should be attached to the opposite end, on the lining side.  I used fusible Velcro which is all I had.  You should stitch down most Velcro to secure it.  (Thankfully, the fusible Velcro allowed me to adhere it without having to unstitch my side seams.)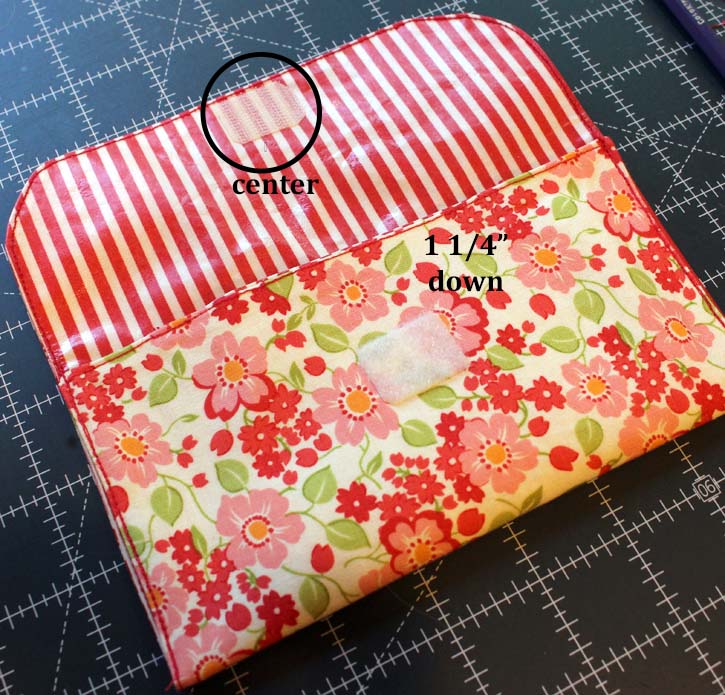 The last step is to fold the bottom of the pouch up so that 3 1/2″ is showing.  Stitch close to both edges, securing each end of stitching.
Your doll wipe pouch is done!  Just insert your wipes and pack up that diaper bag.  The bonus is this could be used for real wipes, too.  And those flannel wipes could double as burp cloths for a doll or stuffed animal.
There are diapers for baby doll, too.  These diapers were easy to make and came straight from this tutorial from Cindy at Skip to My Lou.  I used flannel on the inside and cotton on the outside.
They fit this Bitty Baby doll from American Girl perfectly.  This baby doll belonged to my youngest daughter and was part of a twin set.  I'm so glad I hung onto them.
Bitty Baby fits just right on the doll quilt that I made for Amelia.  It matches baby Clara's quilt which I'm still finishing.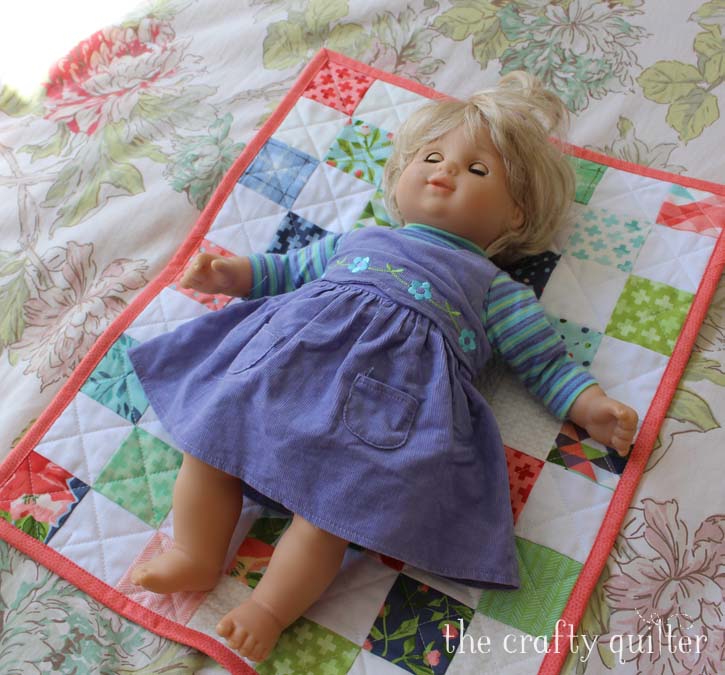 It's so much fun sewing for little people!  I imagine there are going to be some well-diapered dolls and stuffed animals soon!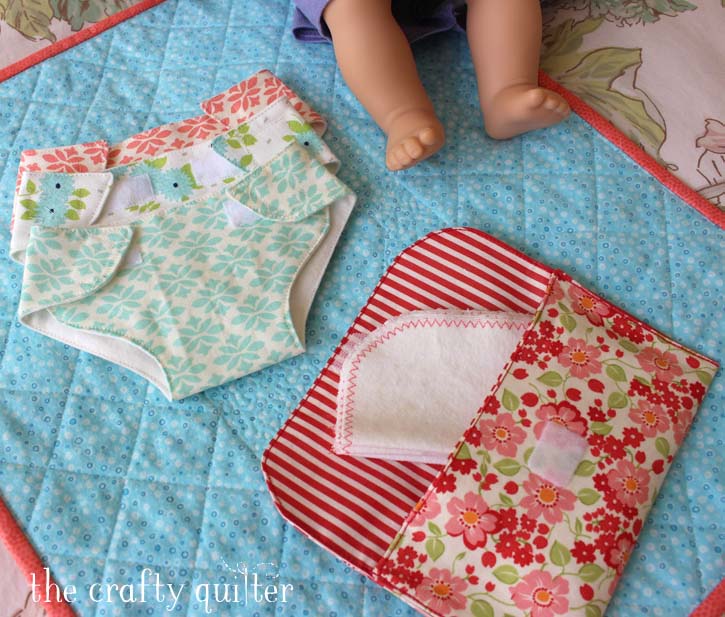 I hope you have a lovely weekend.  Thanks for sharing a bit of it with me!