Sew Thankful Sunday, April 2019
{I love the idea of "paying it forward". I think the world would be a better place if we could spread some joy and acknowledgement of good deeds done by others. I try to do that once a month for my Sew Thankful Sunday posts. I highlight some great content that I've found on other people's blogs that I hope will inspire you and reward the originator by bringing traffic to their site. If your blog has been mentioned without your consent, please let me know and I will take you off the current list of featured bloggers.}
It's April already!  Spring is here and so are these amazing new tutorials that I've discovered in Blogland.  It really is a rabbit hole of goodness that you'll be entering, and I hope you feel as thankful as I do for all of these talented designers!

Note:  If you use Pinterest, please pin from the original source and not this blog post. Remember, you can click on any of the images in this post and it will open up a new tab to the associated link.
 These Easter Mini Quilts from We All Sew are a perfect way to add some fun to your Easter and Spring decor.  These mini quilts feature Gathered fabric from Art Gallery Fabrics.  I love that bunny silhouette myself!
2.  A wonderful way to use up scraps of rectangles is with this Diamond Quilt Block Tutorial by Kristy at Bonjour Quilts.  I love the uniqueness of this one, and the instructions are really well done.
3.  Mother's Day will be here before you know it, so check out Jacquelynne Steves' round up of 25 FREE Spring & Mother's Day Projects to Sew.  I want to make them all!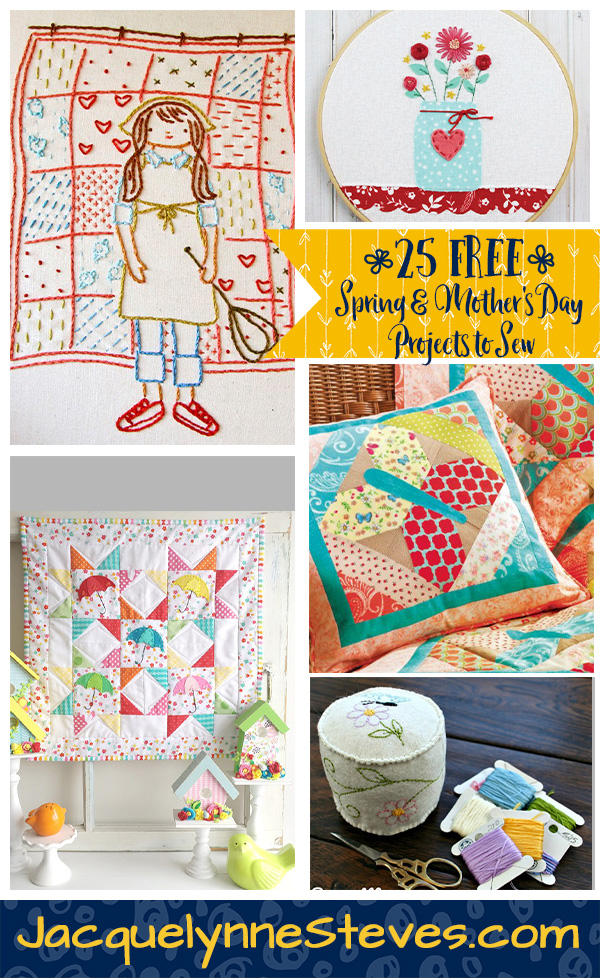 4.  Lea Anne at Podunk Pretties has a great tutorial to make Scrap Placemats.  She has used hers as a dog placemat which I think is a great idea!
5.  A Sewing Machine Cover that is cute, doubles as a sewing mat and is easy peasy?  Count me In!  You can find this awesome tutorial by Crafty Staci at Sew Can She.  
6.  Carrots are good for you body and these Scrappy Carrots by Leila Gardunia for Diary of A Quilter are good for your scrap bin!  You'll get the free paper pieced pattern plus tips for successful foundation paper piecing to go along with it.
7.  If you like handwork, you'll enjoy this Welcome Spring Embroidery Pattern by Amy at Ameroonie Designs for the Polkadot Chair.  I love the blossoms made from felt flowers and buttons!
8.  Another pattern by Amy at Ameroonie Designs (that I couldn't pass up) is this adorable Springtime Mini Quilt Pattern.  I want to stop everything and make it right now!
9.  I'm in awe of Amira at The Little Mushroom Cap as she shares 52 Weeks of Quilted Hot Pads this year.  This week is Hot Plusses where you'll find the free tutorial and links to all of the previous tutorials as well.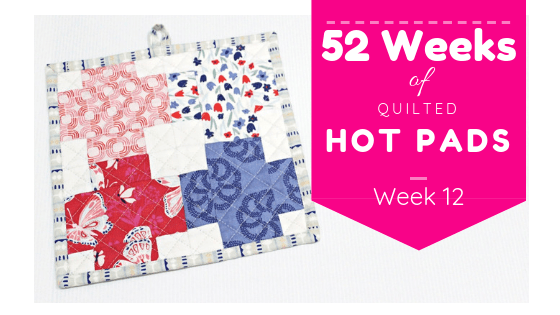 10.  I love this free Vintage Doily Keepsakes Quilt pattern by Beverly at Flamingo Toes.  It's made with her Vintage Keepsakes fabric line, and I think it's a beautiful design with or without the doilies.
11.  How sweet is this Easter Bunny Mini Quilt by Cherry Blossoms for We All Sew.  I love that little cotton tail!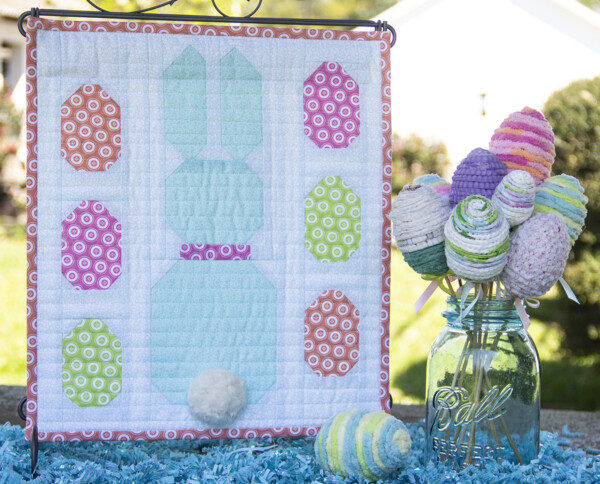 12.  Even though you probably do this every year, you'll find some great ideas for How to Dye Easter Eggs at Hoosier Homemade.  The colorful photos alone are worth the visit!
Thank you for stopping by on this first Sunday of the month.  I hope you've been inspired to make something beautiful of your own!  Many thanks to everyone featured today.