A new mug rug, a new sewing room and baby Clara
Happy Friday!  I have so many things to show you today – there's a little bit of everything here.  A new mug rug that I made for someone special, a new sewing room that is keeping me very busy, a quick little tip, and my baby granddaughter, Clara, turned one!
The designer that I worked with for our remodel was wonderful and I wanted to make her something special as a thank you.  Since she loves to drink tea, I thought a new mug rug would be perfect.  I designed this one to resemble the tile floor in our bathroom (which she helped bring to life).  I used scraps of black and white prints to create the simple blocks and I found the perfect backing fabric in my stash.  Don't ask me what it is – I won't be able to find it for a while!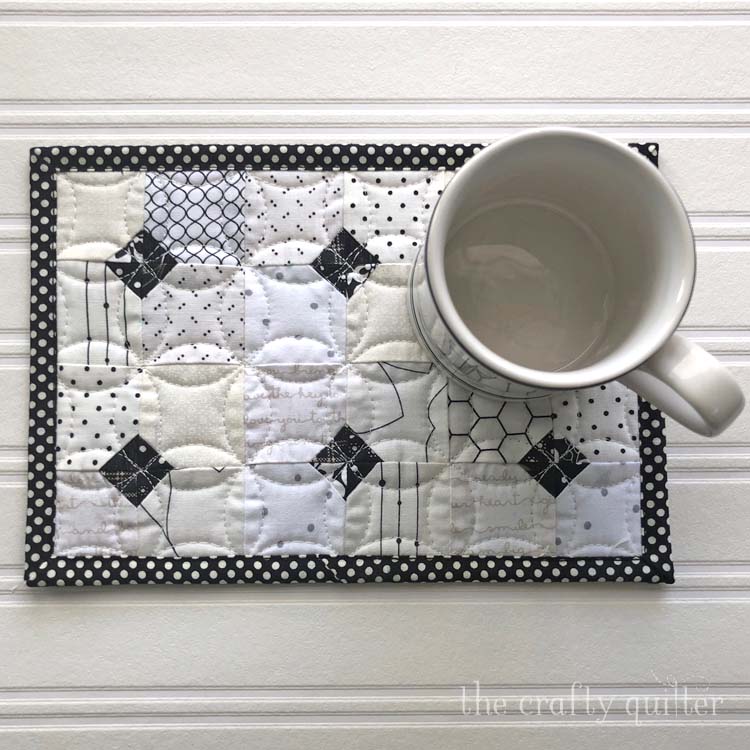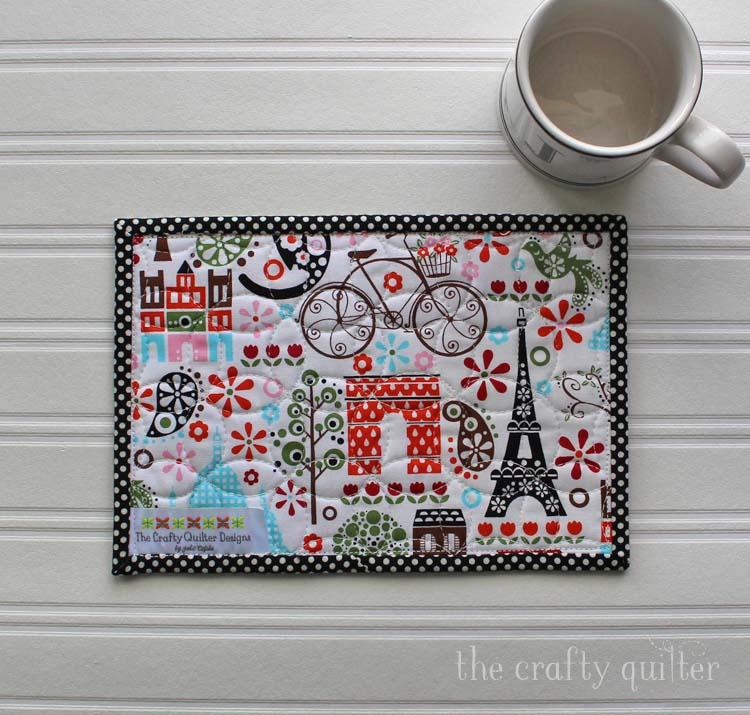 The quilting was done using a free motion ruler foot and circle ruler from Westalee.  I wanted to make an orange peel design, so I only used a small section of the circle, but it was just the right size.  I'm still new to this technique, so I really don't have any advice for you (other than just go for it).
I have a brand new sewing room and I'm moving in!  I had custom cabinets from the Closet Factory installed along two walls.  The shorter wall will hold most of my stash and finished quilts along with project/class containers.
I just found (as in yesterday) a clear plastic storage container from the Container Store for my fabric.  It's called a sweater box, and it holds two rows of folded fabric perfectly.  I have mostly half yards and fat quarters.  You can see the new container next to the old ones in the second photo, for comparison.  My old containers are Sterilite 15 qt. and they have served me well for 10 years, but it's time to upgrade (plus I'll have more space for more fabric – don't tell Mr. Crafty Quilter).
The second wall of cabinets will hold notions, scrap booking supplies and paperwork.  I'll also have my Juki sewing machine set up in the middle and there is a slide out table to the left (not shown) to place a cutting board or ironing surface on to.  I tested out this set up yesterday and it's divine.  I will do a full reveal once everything is pretty and sparkling.
Here's a quick tip for today.  I taught a class last weekend at The Granary Quilt Shop and one of my students, Brenda, was using an old fashioned tomato pin cushion – but in a new way.  She had it sitting in an empty yogurt container.  It fit perfectly and made it  more transportable and pack-able.  I thought this was such a great idea, that I had to take a picture.  This is one of the many benefits of teaching classes; I get to learn from my students, too!
I received my last Sew Sampler subscription box from Fat Quarter Shop a few weeks ago.  It has been a wonderful year of surprises each month.  Last month's box was probably my favorite of them all.  Each month included a Barn Block recipe to make a 12″ quilt block.  I hope to get these on my "to do" list this year.  You can read about all of the Sew Sampler contents at The Jolly Jabber (Fat Quarter Shop's blog).
Last, but certainly not least, is my "baby" granddaughter Clara's first birthday.  We were not able to be in Austin for this one, but they're coming to visit in three weeks!  I'll get caught up on all of the snuggles and hugs then.  And I'll take lots of pictures.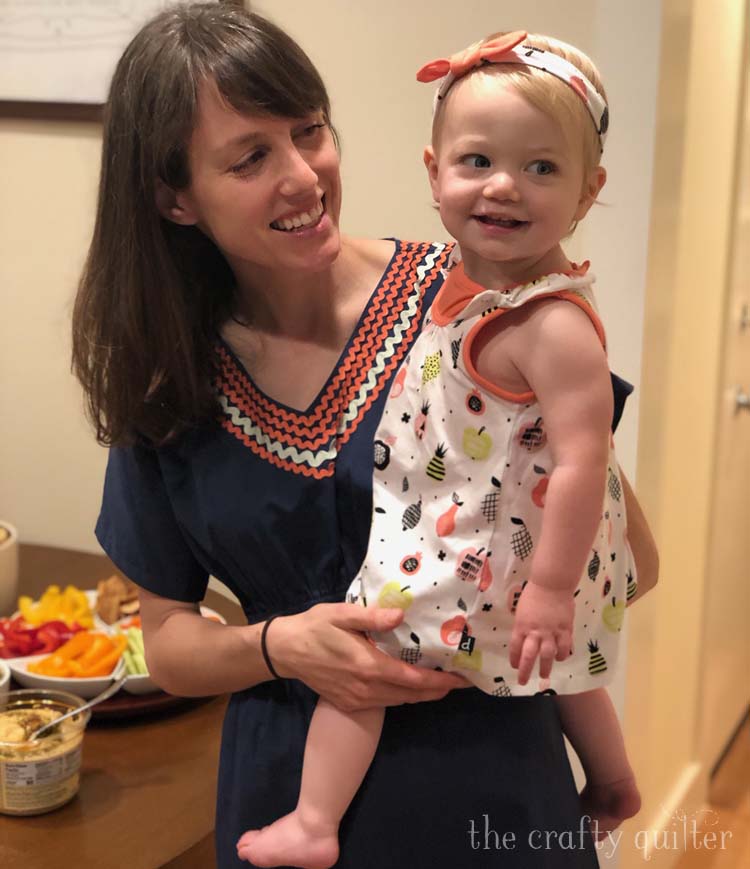 That's all for Friday!  I hope you have a great weekend ahead of you.  Don't forget, there's still time to add a photo of your finished UFO or WIP project to the link-up.  So far there are 48 entries.  Let's make it an even 50!