March UFO & WIP challenge winner & my project for April
Hey everyone!  I'm happy to announce the March UFO & WIP challenge winner…. #56, the maker of this beautiful FLOWER pillow.  I have emailed the winner, and I need a response by this Saturday, April 13.  Otherwise, I will have to choose another number.  The winner will be receiving a fat quarter bundle of Sewing with Singer from Robert Kaufman and two patterns:  Franklin Star by The Crafty Quilter Designs and Pot Luck by A Quilting Life Designs.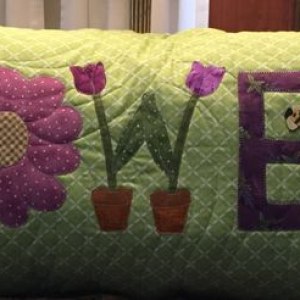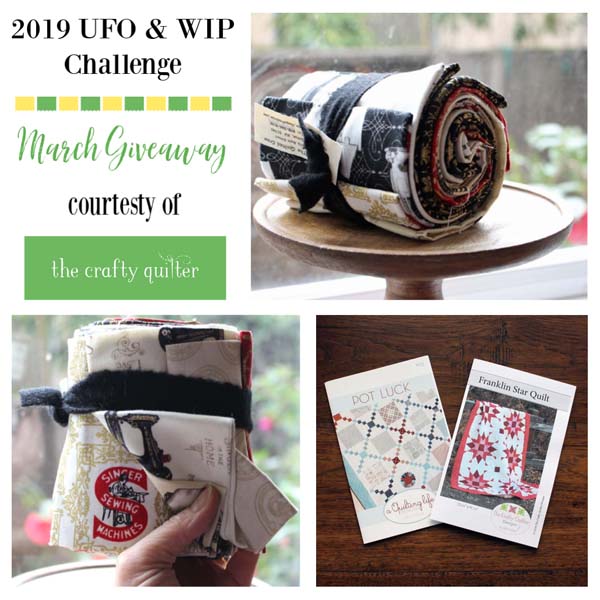 There were a total of 59 entries for March – very impressive!  It's nice to know that many of you are being motivated to get those old projects finished.  My intention has been to email every entry to the link up and thank you for your participation.  I think I got to the twelfth entry, and then couldn't keep up.  I apologize for the lack of confirmation and cheering you on.  I do SO love seeing the entries pop up and I'm glad you're getting things done!  Every time I finish a UFO, I feel like I've earned the right to start something new.
Which leads me to my project for April.  This is a crazy month for me.  Do I say that every month?  It sure seems like it!  Now that the construction phase of the remodeling is done, we're furnishing bedrooms and reconstructing some backyard landscaping as we get ready for out-of-town guests at the end of the month.
And all I really want to do is focus on getting my sewing room up and running.  It's functioning at the moment, but I have lots more organizing and decorating to do.  I'm also waiting on an Ikea shelf unit that will become my ironing board station and extra storage.  Once everything is set up, I'll be able to better prioritize my UFO's and WIP's.  So, my project for April is my sewing room.  If that gets done quickly, maybe I'll have time to finish something else, too.
Yesterday, I decided to move my quilt ladder into my sewing room (for now).  I love this ladder so much – it was made for me by a friend's husband.  It's such a great way to display seasonal or favorite quilts.  That quilt on top is both seasonal and a favorite – it's my Patchwork Peter Rabbit Wall Hanging.  You can find the free tutorial and pdf here.
Thanks for stopping by today.  Congratulations, again, to the March UFO & WIP challenge winner.  I hope everyone is having a wonderful  day!