Sew Thankful Sunday (or Thursday), May 2019
{I love the idea of "paying it forward". I think the world would be a better place if we could spread some joy and acknowledgement of good deeds done by others. I try to do that once a month for my Sew Thankful Sunday posts. I highlight some great content that I've found on other people's blogs that I hope will inspire you and reward the originator by bringing traffic to their site. If your blog has been mentioned without your consent, please let me know and I will take you off the current list of featured bloggers.}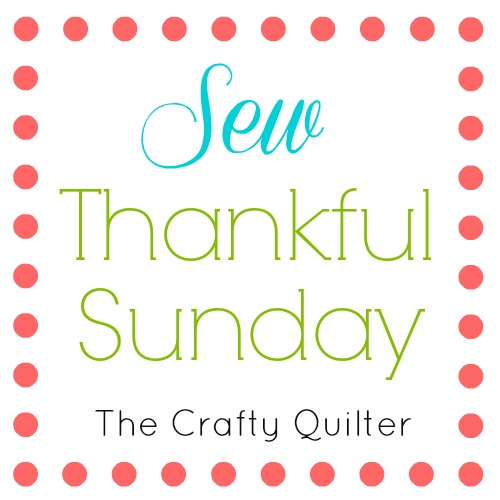 There are so many things I love about May: the weather, Mother's Day, flowers, longer days and being outdoors. It's also a great time to find inspiration in nature, and of course right here! This month we've got a little of everything – BOM's, QAL's, pillows, podcasts, quilts and more!
Note: If you use Pinterest, please pin from the original source and not this blog post. Remember, you can click on any of the images in this post and it will open up a new tab to the associated link.
1. Once again, Jacquelynne Steves is hosting a FREE block of the month. This year's Happy Little Things starts in August and sign ups are now being taken. I'll be a participating blogger again, and I'm excited for another fun BOM!
2. We All Sew has come up with some great Mother's Day Gift Ideas. I know it's right around the corner, but these ideas might come in handy for lots of occasions! Shown below is the Patchwork Heart Pillow by Minki Kim for We All Sew.
3. Sewing themes are always a hit among quilters. The Sew Let's Quilt Along has started at Snowy Days Quilting by Partners in Design. This group of friends are providing a new block pattern each month for free until September 24, 2019. You'll love the cute blocks so far!
4. If you have some jelly rolls lying around, check out the Jolly Jabber's Precut Parade this week. They're featuring some amazing, free patterns for jelly rolls!
5. Are you a Podcast listener? If so, check out these Five For Friday Quilting & Sewing Podcasts rounded up by Aurifil Threads. I have a few favorites on the list already!
6. Classic quilt blocks can be so exciting with new interpretations. Yvonne at Quilting Jetgirl has a great tutorial for an Uneven Log Cabin Block that you're going to love. There are so many possibilities with this block!
7. This Farm Sweet Farm Floral Pillow Tutorial from Bev at Flamingo Toes is so sweet and perfect for Spring or Summer. I love the reversible pillow cover with ties for the perfect farmhouse feel.
8. I'm a huge fan of fabric and pattern designer Jera at Quilting in the Rain. She has a lovely, free pattern to share, Loyal Heights. This quilt is made with her 4th fabric collection with Lecien Fabrics called Loyal Heights. It has a very soft and vintage look to it that is so sweet and pretty!
9. A quick way to use up some scraps is with this Herringbone Pincushion tutorial by Kim at Retro Mama. You could make one after every project using leftover pieces, and you'd have quite the pincushion collection and sweet memories of quilts long gone!
10. I thought this would be a good place to highlight a new-to-me blogger or designer with you. While scrolling through my Instagram feed, I found a quilt design by Sally Manke, that I just had to investigate further. Sally is a fiber artist and she sells her patterns and original art work at her Etsy Shop, Sally Manke. One of my favorite designs is the Whimsical Bicycle Art Quilt Pattern that makes me so happy just looking at it.
That's a bouquet full of inspiration for May's edition of Sew Thankful Sunday. Thanks for your patience as I recovered from a bad cold and a houseful of family for the past week. I hope you found something here to sweeten your day! A special thanks to the talented bloggers and designers featured this month.