June UFO & WIP Challenge link up
We're half way through the year, people! It's time to show off your completed June UFO & WIP Challenge project(s). The link-up is at the bottom of this blog post and the winner will receive a bundle of 24 ten-inch squares of Ombre Confetti Metallic by V&Co for Moda, a Clearly Perfect Angles template by New Leaf Stitches and a spool of 50 wt. cotton thread by Aurifil. The entire package is valued at $40 and is sponsored by me!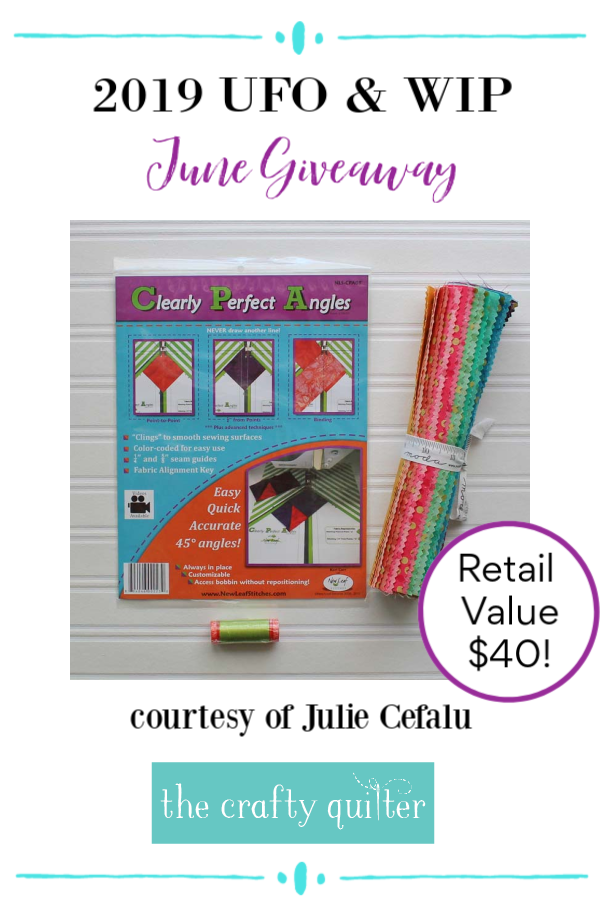 My project this month was to complete my Save The Bees quilt from last year's block of the month with Jacquelynne Steves. I finished the quilt top, had it quilted by my sister-in-law, Audrey, and then added the binding, hanging sleeve and label!
I found the perfect fabric last year to use for the border and the backing. It's called Bee My Sunshine by Katie Pertiet for Windham Fabrics which released in September of 2017. I bought it in two color ways since I wasn't sure where it was going to end up in my quilt. I used the cream background in the border and both of them for the backing. The quilting has the cutest bees buzzing all over!
I love having labels ready to go. I ordered mine at Dutch Label Shop; I added the year of completion using a Pentel Gel Fabric marking pen.
Another project finished for the year! I hope you guys were successful this month. I can't wait to see what you finished!
June UFO & WIP Challenge Link-up
Link-up Rules:
You may add up to 2 finished projects.
One image per finished project.
Project must be quilting, sewing or needlework related.
The link-up will be open until July 6, 2019, at midnight, PST.
This month's giveaway is open to US and Canada only.
Winner will be drawn at random on July 7, 2019
Link-up Instructions:
Click on the blue "add link" button (below).
Enter the URL of your link.  If you don't have one, click on the blue "enter without link" button. The upload widget will activate.
Note: If your photo size is too large, it may not accept it. You'll have to re-size it to a smaller file size.
Enter a caption for your image.  This should describe your project and it can include your name if desired.
Enter your email address.  No one will be able to see this but me.
Agree to the InLinkz terms of service & privacy policy.
If you have any trouble, just leave a comment or send me an email with your photo attached.  I can add it for you.