Disappearing 9-patch QAL, week 4
We're getting to the final instructions for the Disappearing 9-patch QAL (quilt along) this week. I'll be walking you through the steps of adding borders and then give you some quilting ideas.
Adding borders
You don't have to add borders, of course, but I like the finish they give to a quilt. I added two borders to my disappearing 9-patch quilt and they included cornerstones which are the squares in all four corners of each border.
The first border is 2″ finished and the second border is 3 1/2″ finished. I would have made the second border wider, but my backing wasn't big enough to accommodate anything larger. My quilt measures 64″ x 77″ with borders.
Before adding borders, check the edges of your quilt top. Trim them if necessary, so you have a straight edge to attach your borders to.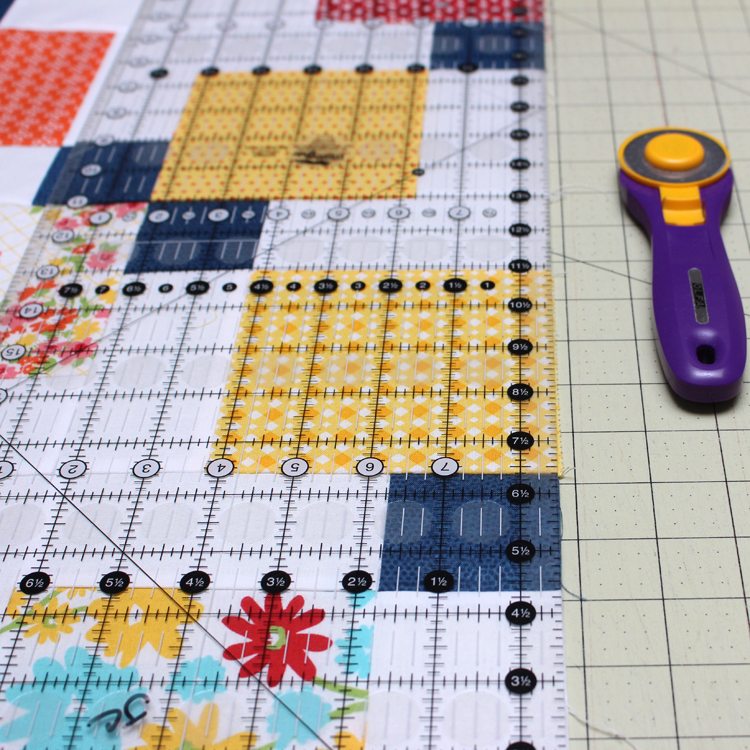 I'm a firm believer in measuring and cutting your borders to fit your quilt. I do this by laying two border strips across the center of my quilt top and cutting them even with the sides. This will prevent a wavy border from occurring. I did a video all about borders for The Quilt Show several years ago. You can fast forward to minute 4 where I demonstrate how to cut your border strips.
TIP: Often, I will add an extra 1/2″ to the border length; this gives me something to square up after they're sewn on. When attaching the border, find the center of the quilt top and the border strip and mark them. Then match the centers and pin. Pin every 5″ or so, and allow an extra 1/4″ of the border to overhang at the beginning and ending (because of the extra 1/2″ cut.) This will get trimmed and squared after the border is attached.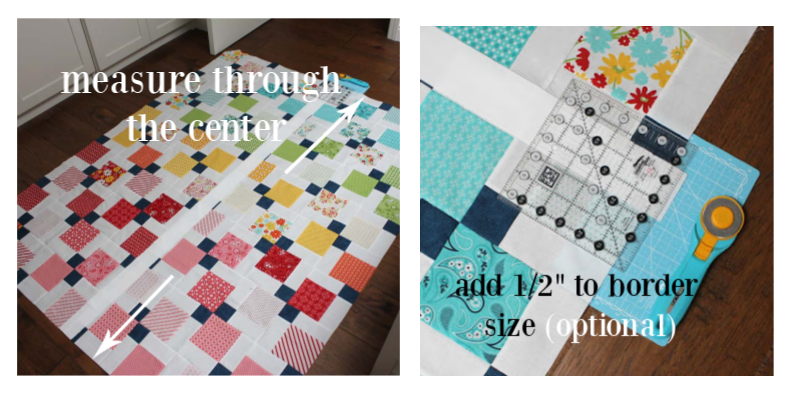 NOTE: If you're adding cornerstones to the borders, you need to cut the second set of borders to the exact size of the quilt edge. This is a pieced border and it needs to fit just right. The corner stones were added to the top and bottom borders of my quilt, after the side borders were attached.
TIP: Pin the borders to the quilt top every 5-6 inches. This will prevent the border from stretching or shifting.
After sewing the first set of borders to the quilt, repeat the same process with the second set of borders. Measure, cut, pin and sew.
This is the exciting part: a finished quilt top! I can't wait to see all of the different versions at next week's link-up.
Now, you're ready to baste the quilt if you're quilting it yourself. Otherwise, just pass it along to your favorite longarm quilter. I am going to quilt this one myself. I love to spray baste my quilts. You can find my tutorial for that method here.
I am waiting on some white batting that I ordered through Fat Quarter Shop. I'm going to try White Dream 80/20 by Quilter's Dream. It's a bleached white cotton and polyester blend. Because of all of the white background in my quilt, I wanted a white batting, and I like the extra loft and lightness that the 80/20 blend gives.
Quilting Ideas
Since I haven't quilted my disappearing 9-patch quilt, I can't show you anything yet. But, I do have some ideas and suggestions.
There are a few ways to audition quilting designs for a quilt. I'm going to do a separate blog post, hopefully next week, on how to do that. For now, you can visit 5 ways to audition quilting ideas at APQS and find out some clever tricks for envisioning a quilting design on your disappearing 9-patch quilt.
Let me show you a few of the ones I came up with. Next week I'll show you how I got them onto my quilt design.
This quilt would be a great candidate for some simple grid quilting, either diagonal or straight. There is a strong diagonal element to mine because of the setting I chose for my blocks. Below is a mock-up of what that might look like. These quilting lines are very minimal. You could add more lines inside each grid.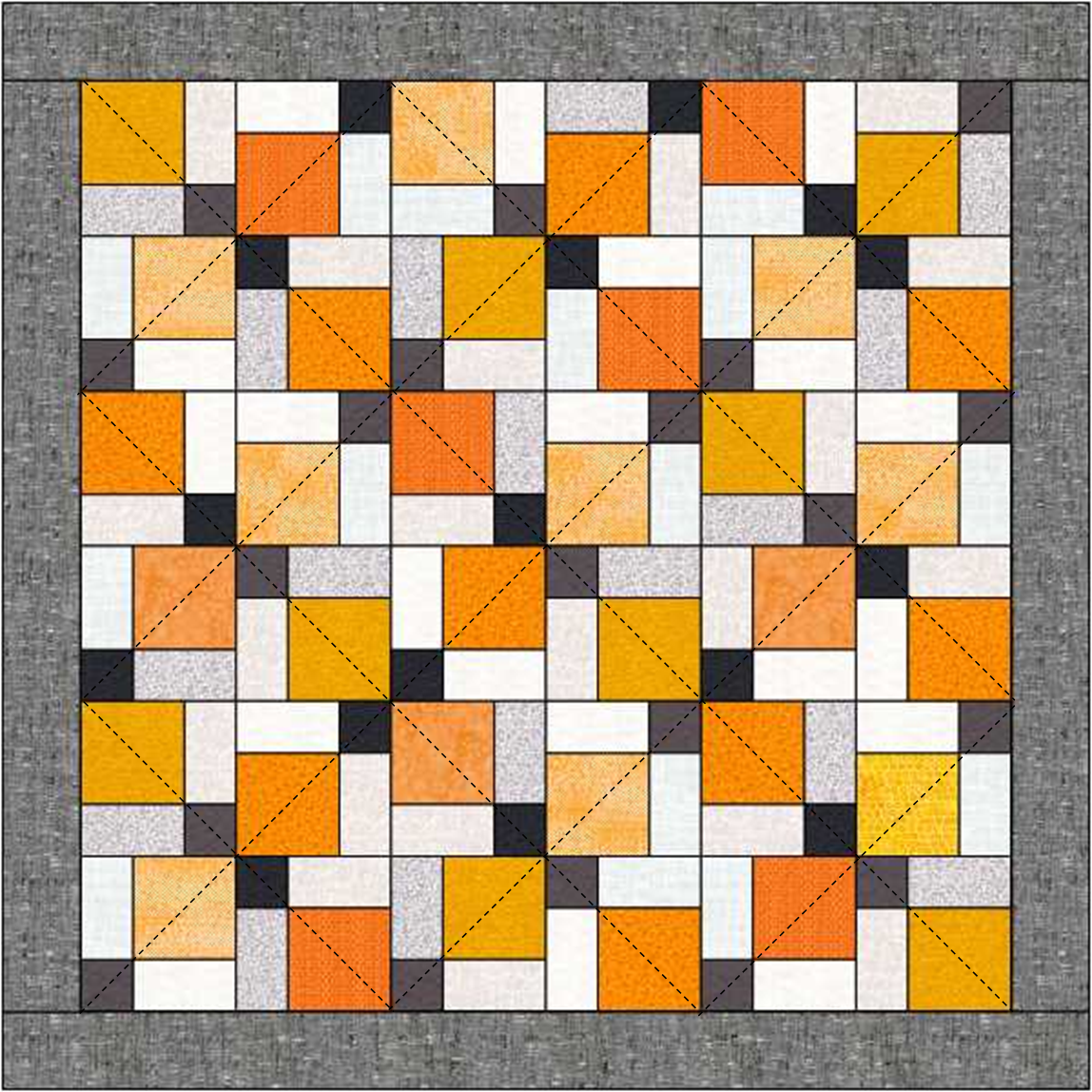 I love orange peel quilting and I think this would work really well for this quilt as well. It's also based on a grid pattern, and it's really inter-connecting circles. My attempt on the computer (below) is not perfect, but I get a picture of what orange peels might look like.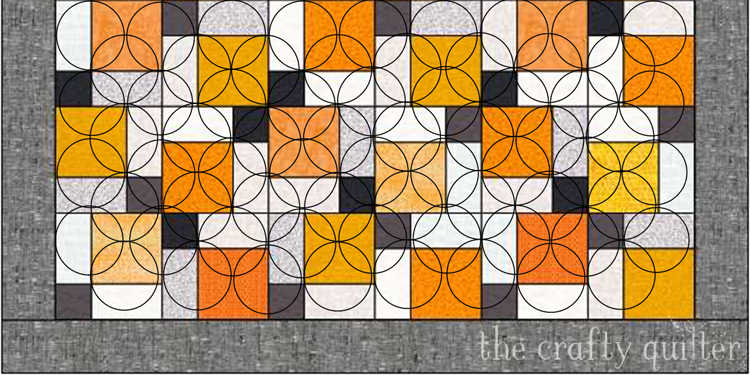 I like the texture that straight line quilting gives to a quilt. Modern quilting has made this a popular choice. Squiggly lines are a fun alternative.
Another quilting design would be to put a motif in the center of the large squares and fill in the white rectangle with an all-over pattern. I used a daisy motif for the squares and ribbon candy for the rectangles below.
I like the radiating design of the pattern below:
If you have stencils, these would work really well for this quilt. A few years ago, I worked with The Stencil Company and did a blog post about How to use stencils for quilting. They're a great tool for quilting and it takes some of the guess work out of the quilting path.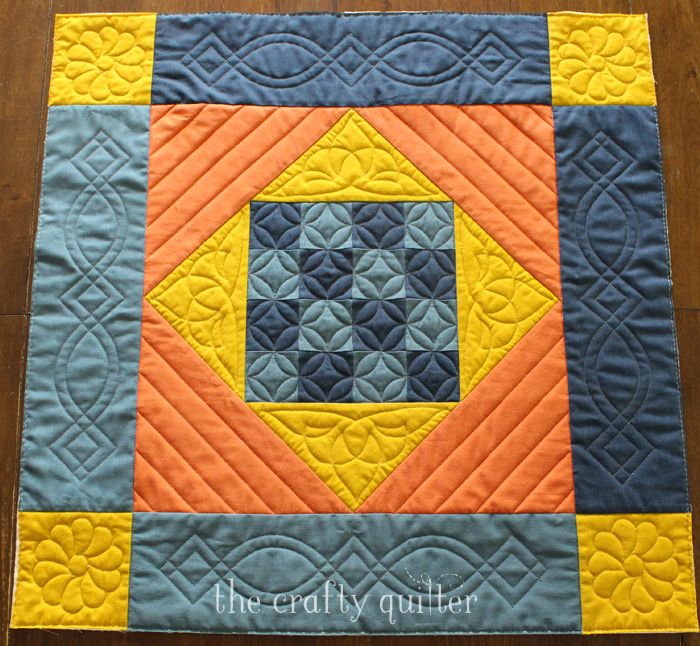 If your disappearing 9-patch quilt has a random layout like my red, white & blue version, then an all-over quilting design would look great. Something like meandering or loops would be easy enough if you're just beginning with free motion quilting.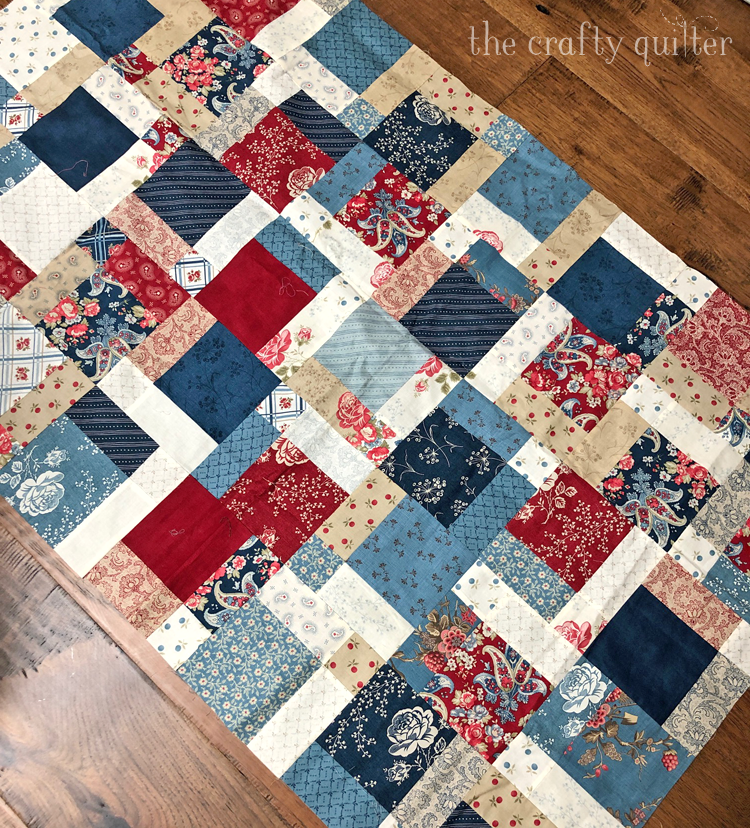 I hope this gives you something to start with. You have the rest of the week to put everything together for your quilt top. The link-up will be open next Saturday, July 13, for one week. You don't need to have your project quilted to enter the link-up, just a completed quilt top.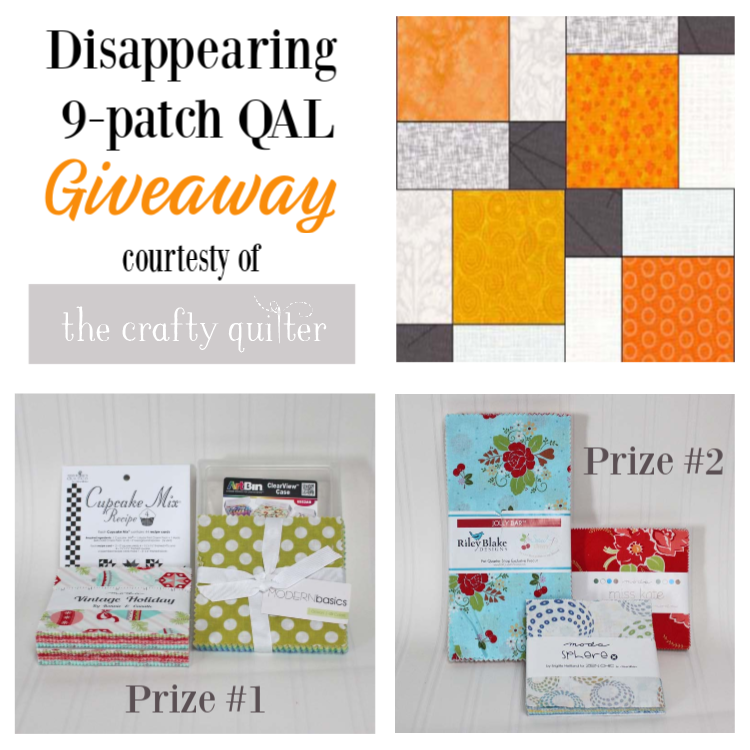 Have a wonderful week and I'll be back soon with more quilt auditioning information!