Sew Thankful Sunday, July 2019
{I love the idea of "paying it forward". I think the world would be a better place if we could spread some joy and acknowledgement of good deeds done by others. I try to do that once a month for my Sew Thankful Sunday posts. I highlight some great content that I've found on other people's blogs that I hope will inspire you and reward the originator by bringing traffic to their site. If your blog has been mentioned without your consent, please let me know and I will take you off the current list of featured bloggers.}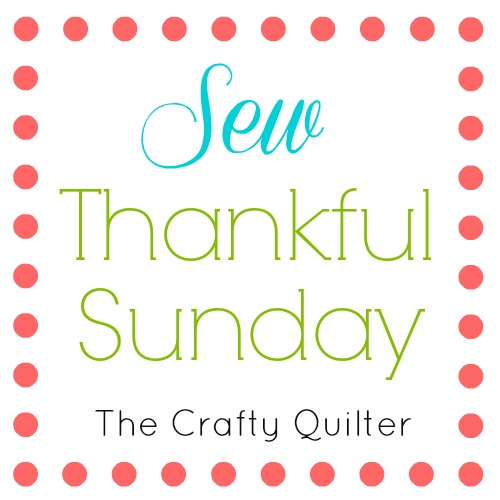 It's July – the half-way point of the year! I just want to freeze time and savor the long days, warm sunshine and abundant fruit at the farmer's market. And to cool things off, there's always Christmas in July. I'd like to do all the creative things I see out there on the internet. Enjoy this list of inspiration that I'm sew thankful for!
Note:  If you use Pinterest, please pin from the original source and not this blog post. Remember, you can click on any of the images in this post and it will open up a new tab to the associated link.
I'm so excited that Cheryl at Meadow Mist Designs is hosting another, free quilt along starting this month. The Mosaic Mystery Quilt is a lap-size design and it's a mystery (unless you ask for a sneak peak). The quilt along will run from July, 2019 until April, 2020 with prizes each month!
Anorina at Samelia's Mum is sharing her free Sugar Stars quilt pattern and thinking of doing a quilt along. Visit her blog to check out all of the details.
I'm always interested to read about sewing tools that really work for others. Kim at Retro Mama shares her favorite sewing tools and notions in preparation for her Pins and Needles Sew Along. Tried and true works for me!
You know what happens in July for quilters: Christmas! Join the Christmas in July Sew Along hosted by Fat Quarter Shop this month and make the Merry Mini Quilt. This is a mystery-style sew along with a free block pattern released each week in July.
This Bike Handlebar Bag is such a cute idea for the summer. Amy from Ameroonie Designs is sharing (as a guest) how to make this bag at PolkaDot Chair.
Summer is the perfect time for quick and small projects, especially if you're traveling. This Cosmetic Zipper Pouch by Minki Kim for We All Sew is that kind of project. Plus it's so cute and handy!
Get ready to ooooh and ahhhh at this gorgeous Sewing Room Studio Reveal from Beverly at Flamingo Toes. There's nothing more inspiring and motivating than seeing the potential that a room has for your creative space.
For all of you cross-stitch fans, you're going to love Stitch-Mas in July hosted by Aurifil. By the end of the month, you'll have 25 free patterns that are easily stitchable and can be made into a sampler or used as individual ornaments, gift tags, etc.
That's it for July! It's one of the few months where you'll see Christmas mixed in with summer quilting ideas. I hope you enjoyed today's list of things I'm sew thankful for!