June winner, my UFO project and giveaway prize for July
The winner of the 2019 UFO & WIP Challenge for June goes to #22, Mari K. She made this adorable Under The Sea quilt for her grandson.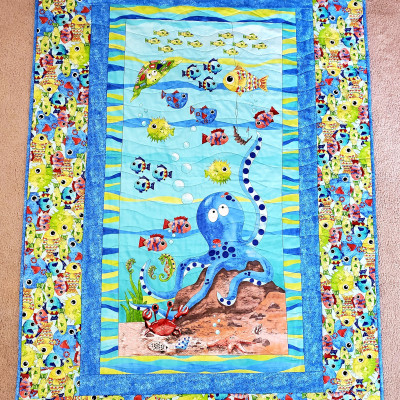 We had 48 beautiful entries last month, which is just amazing. Thank you ALL for participating. You're all winners in my book, plus you have a finished project to celebrate!
My UFO Project for July
The month of July is already turning into a busy one for me. Isn't it always? I have decided to finish a table runner that I started in 2018 as part of the Modern Plus Sign Quilt Book Blog Hop. I finished the black and white version of this for the blog hop, but this second one got tucked away in a box for later – hence the UFO "issue".
If you're choosing an unfinished project for this month based on the All People Quilt UFO Challenge, then you'll be working on number one. I started out the year using their numbering system but have since given up, only because there are certain months that require a quick and easy project (like this month).
July Giveaway Prize
The prize for this month is a fat quarter bundle of Bee Backgrounds by Lori Holt for Riley Blake Fabrics, a Simple Folded Corners ruler and a small flower tin with flat-head pins – compliments of me and my stash!
Now that we're half way through the year, I'm feeling really good about finishing a UFO or WIP each month. That's six completed projects (at least)! Let's keep the momentum going as we progress through 2019. Thanks for joining me on the journey!
Other things
Speaking of journeys, we'll be in Austin, Texas, this weekend. All of our children are converging there to spend time with the littles, celebrate some birthdays, and do some wedding planning. There might be music and wine involved too!
I'm looking forward to seeing everyone's finished disappearing 9-patch quilt at the link-up on Saturday. It will continue for one week, so you have time to finish up and join the party. You can find all of the information and blog post links here. Have a great week!