August UFO & WIP Challenge Link Up
It's the last day of August and time to show off your finished project for the August UFO & WIP Challenge! You have one week from today to enter a photo to the link up at the end of this blog post. At the conclusion, I'll choose one winner who will win a prize package that includes a Cherry Pickin' Table Runner kit by Me and My Sister Designs for Moda, compliments of me and my stash! It includes fabric, pattern and template to make an adorable table runner.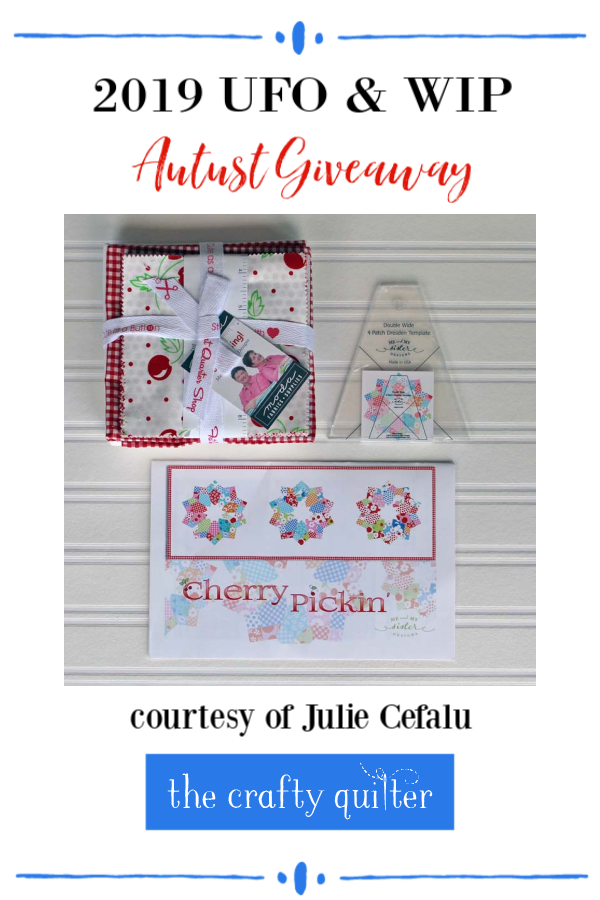 My August finished project(s)
As I've already mentioned, I finished Amelia's Busy Book this month and gifted it to her a few weeks ago. Now, did I take pictures of the finished busy book? Heck NO! That was a big mistake on my part. But I DID take a video of me showing all of the busy book pages and how they work. I really didn't intend to publish this video, and I did everything wrong that you could think of (mainly, my iPhone was turned long ways instead of landscape mode). It's a five minute video and if you're interested in seeing the busy book in action, have a look.
I'll create a blog page that is dedicated to Amelia's busy book so that it's easy to find and I can add to it as I have time. Here's a few notes about the basic construction.
I made the busy book so that I can add pages to it as she grows. I used three book binder rings in the "spine" of the book which is made out of ribbon. I marked three openings along the ribbon where the binder rings would go and left that portion unstitched.
I put three eyelets in each page (using Dritz 2-part eyelets). The hardest part about that was cutting the hole through all of the page layers. You can see the eyelets in the photo below and how the rings fit through them.
I put Pellon SF101 fusible interfacing on the wrong side of all pages. Each page has two separate sides that get sewn right sides together. I left an opening on the bottom so I could insert a piece of Pellon 70 Peltex between each set of pages to give them strength and stability. Then I stitched the opening closed – some by hand and some by machine. The cover is shown below with the opening clipped closed and ready to be top-stitched all the way around.
I will eventually do a tutorial on how to make your own busy book. It's a very creative process, but I'm glad it's done and now Amelia is enjoying it.
I started and finished another project this month that was not on the "schedule". I made a lunch bag for someone special who is turning 30. I bought the Insulated Lunch Bag pattern by Design Blanche and used my fabric stash to complete it. It was not the easiest pattern to follow, but it turned out really cute. It's lined with PUL which is a water resistant fabric and has Insul-Bright in between the layers. It has an interior pocket, an exterior elastic pocket for a water bottle and another exterior pocket that I modified a bit.
August UFO & WIP Link UP
Let's see how you did this month! The year is more than half way over, so don't lose that momentum. If you didn't finish something this month, that's OK too. Just don't give up (I sound like a personal trainer)!
Link-up Rules:
You may add up to 2 finished projects.
One image per finished project.
Project must be quilting, sewing or needlework related.
The link-up will be open until September 7, 2019, at midnight, PST.
This month's giveaway is open to US and Canada only.
Winner will be drawn at random on September 8, 2019
Link-up Instructions:
Click on the blue "add link" button (below).
Enter the URL of your link. If you don't have one, click on the blue "enter without link" button. The upload widget will activate.
Note: If your photo size is too large, it may not accept it. You'll have to re-size it to a smaller file size.
Enter a caption for your image. This should describe your project and it can include your name if desired.
Enter your email address. No one will be able to see this but me.
Agree to the InLinkz terms of service & privacy policy.
If you have any trouble, just leave a comment or send me an email with your photo attached. I can add it for you.