Save the Bees BOM month 5
The final month of the Save The Bees BOM is here!  What a fun block of the month this has been.  Jacquelynne Steves has once again been a generous hostess as well as a talented designer.  Many thanks, Jacquelynne, for making this all happen.  Make sure to visit her here for the latest BOM information.  Keep reading to the end of this blog post to find out about this month's giveaway.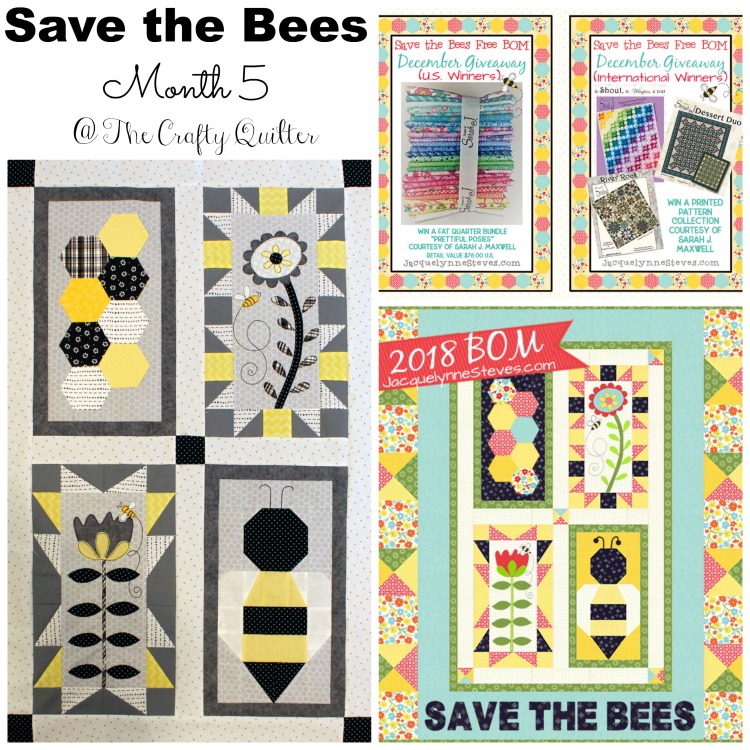 The final assembly instructions are given for this month which include pieced borders and applique.  With family in town for Thanksgiving and being sick for two weeks, I have only put together my blocks with sashing.  I rarely miss a deadline, but I just have to let this one go.  It's still exciting to see all of my blocks together, though!
They are so adorable all together, don't you think?  Because it's the holiday season and I'm pressed for time, I'll forgo the pieced border and use a cute bee print instead.  I found this fabric (on sale) at Cherry Moose Quilt Shop in Lincoln, California.  It's by Windham Fabrics and it's called Bee My Sunshine, Pattern #43314.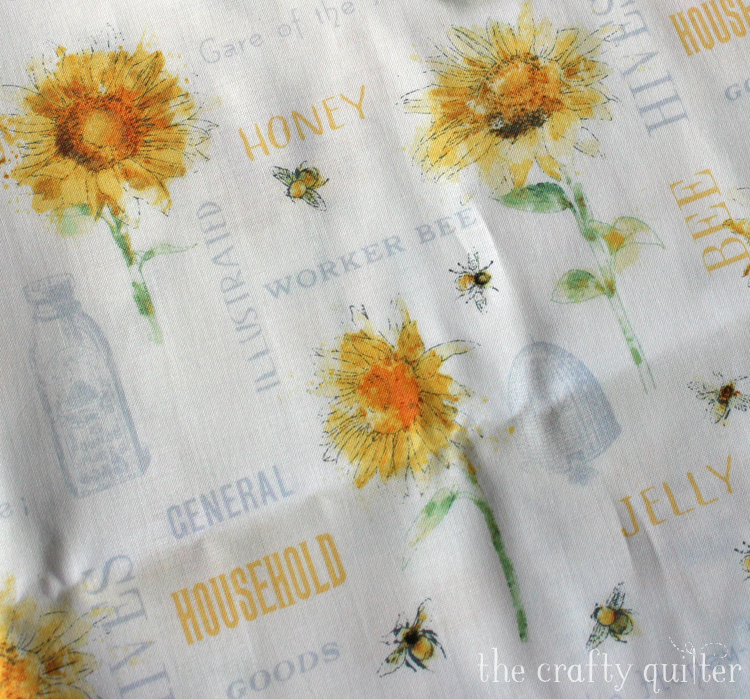 Worth mentioning is this cute pillow pattern, All A Buzz Pillow, designed by LJ Simon that is a freebie on Windham Fabrics website.  You might need to make this pillow to match your quilt!
Let's get back to finishing my quilt.  I don't know how I'll do the applique, but I'm considering using the Pentel Gel Roller for Fabric to write or draw the letters onto my bottom border.  You can read more about how I used this pen in my previous blocks here.
Giveaway
This month's giveaway has two options – one for international winners and one for US winners.  If you live in the US, you will receive a fat quarter bundle of Prettiful Posies by Sarah Maxwell for Studio 37.  If you are international, you will receive a printed pattern bundle also by Sarah J. Maxwell.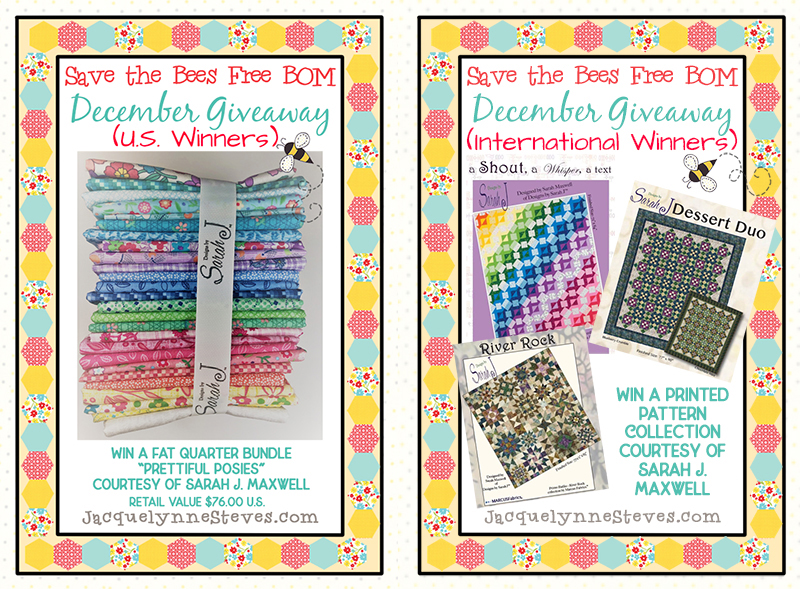 For my blog, all you have to do to enter the giveaway is leave a comment by Sunday, December 9, 11:59 pm PST, on THIS blog post (not from my home page).  The comment can be anything you want to say!
To leave a comment, make sure to scroll down to the bottom of this blog post, and look for the rectangle that says "Enter your comment here".  On December 10, I'll randomly pick one winner!
Here are the giveaway rules:
To enter, leave a comment telling me anything you'd like.
You must comment by 11:59 pm PST on Sunday, December 9, 2018.
There is ONE prize per person per month (in other words, the same person cannot win two prizes within the same month.)
Giveaway is open to everyone.
Winner will be chosen at random.
Due to the high volume of comments, I won't be able to reply to you (unless there is a direct question), but I will read each and every one.  Thank you in advance for your participation and for leaving a comment.
You can visit the other participating bloggers and enter their giveaway for another chance to win AND to see what they have done with their block.  Here's a list of the participating bloggers:
Remember that you can can post photos in the FB group  https://www.facebook.com/groups/SewQuiltyFriends.JacquelynneSteves/
Make sure to use #SaveTheBeesQuilt and #SaveTheBeesBOM for social media.
In January, Jacquelynne Steves will have a huge grand prize giveaway to wrap up this BOM.  I'll let you know when that's available.  Thanks for following along and happy quilting!