November UFO & WIP winner and December's prize
I have randomly chosen a November UFO & WIP winner! Out of 36 entries, the winning number is 32, Cynthia P. She made this beautiful quilt, All Boxed In (pattern by JoAnne's Designs). Congratulations Cynthia!
I'm always glad to see the variety of finished projects each month. In November we had a pillow, a treeskirt, a blouse, an apron, wall hangings, backpacks, mug rugs and lots of quilts. Well done everyone!
I have come up with a wonderful prize package for December. It includes a Nifty Needles assortment pack by Lori Holt of Bee in my Bonnet, two mini charm packs of Walkabout by Sherri & Chelsi for Moda Fabrics, Pineapple Quilt Block Foundation Paper by Fat Quarter Shop, an Add-A-Quarter PLUS ruler, and my latest pattern, Lincoln Stars!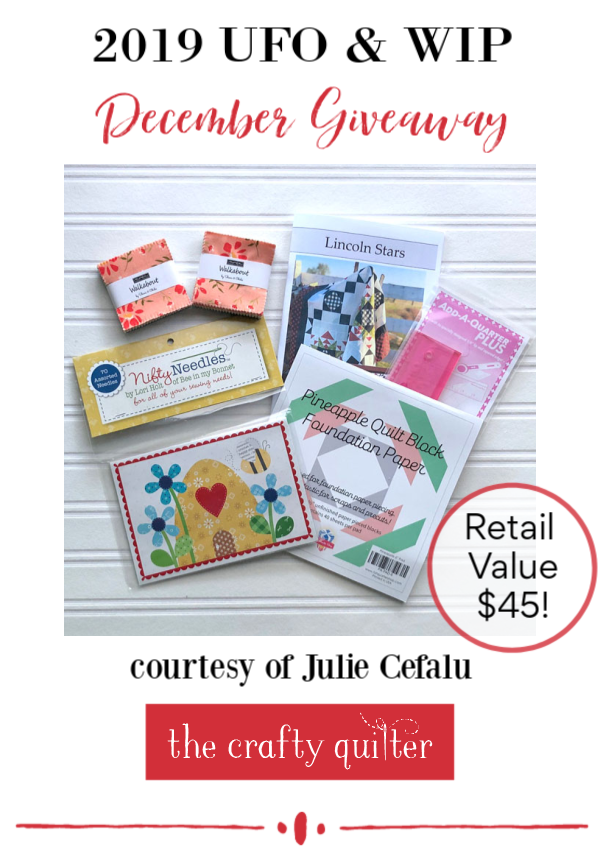 You can enter this month's giveaway starting on December 28, when the link-up will be active. Just finish a project this month, and you can add a photo to the link-up at the end of the month! More general information about the 2019 UFO & WIP Challenge can be found here.
I expect (and hope) there will be many finished holiday projects this month. That's definitely the case for me. I have two travel pillowcases to make for my granddaughters, a mug rug and a new tutorial for a Lavender Llama. Say what? Yes, a Lavender Llama! My son's girlfriend had one, and now I have to make them for everyone. They are the cutest thing and they can be heated or cooled for warmth and relaxation. I think it will be an easy make.
I'll share my results and a brief tutorial when I get mine done. I'm being optimistic for this weekend! Have a great day everyone!