Road to Oklahoma Quilt Block from Fat Quarter Shop
Hey everyone! Today I'm sharing my version of the Road to Oklahoma quilt block. This is a free quilt block pattern provided by Fat Quarter Shop! They're also offering a quilt kit to make a 65.5″ x 65.5″ quilt or you can purchase a downloadable pdf pattern that has fabric requirements and instructions for both a table runner or a quilt in three different sizes.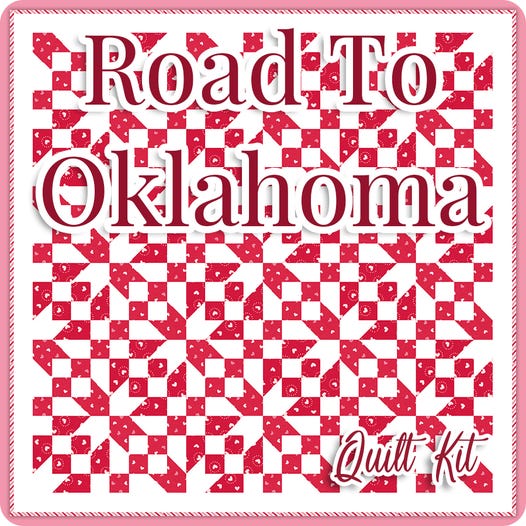 The Road to Oklahoma quilt block measures 20.5″ x 20.5″, so it's big enough to make a table topper all by itself. When you sew a bunch of these blocks together, you get a very striking quilt with some strong diagonal lines. This was an easy block to make and if I were making an entire quilt, I would probably use half-square triangle paper to make those HST's more fast and efficient.
My version was made using mostly scraps. The gold print is Honey Blossom in Indigo by The Tiny Garden for Felicity Fabrics. I wish I could tell you what the other fabrics are, but I don't have enough selvage left to figure it out. (I know I wrote it down somewhere, but you know how that goes!) I love the late summer/fall feel of these fabrics, so I think I had better get this quilted and bound so I can have my own little table topper.
---
If you follow Fat Quarter Shop on Instagram, you'll see the Road to Oklahoma quilt blocks made by the other participants. And you can use the hashtag #RoadtoOklahomaQuilt and #classicandvintage to see more versions! Thanks for visiting today and happy quilting!