Today I have some Wednesday WIP's to show you.  But first, I want to mention that I was made aware of a few errors in my cutting instructions for Row 4 of the Nordic Mini QAL.  I've corrected them, so when you click on the link it will have the updated version.  Thanks to Amanda at The Patchsmith for catching these errors.  She has already finished her Nordic Mini and you can see her version here.  If anyone else has finished theirs, please send me a picture and I'll post them on my blog.
I seem to be working on little projects that will eventually add up to something big (I hope). Hears a quick peek:
I finished the last block for the El's Kitchen BOM at The Granary.  This is why I love applique so much – this block is so darn sweet!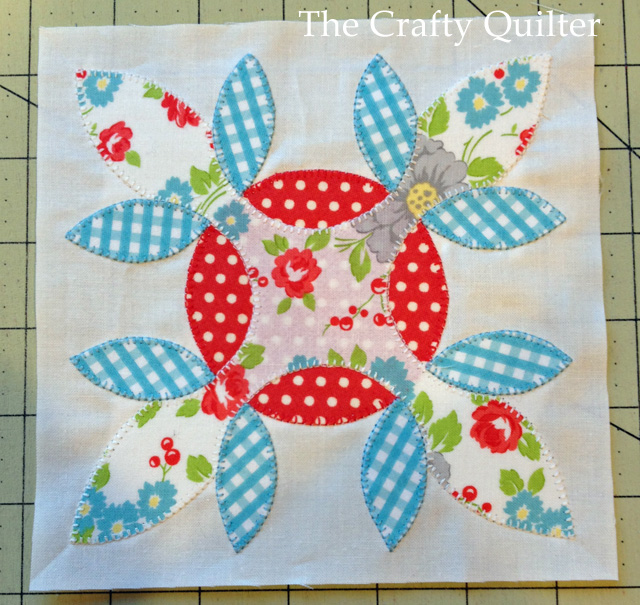 I'm going to be in San Diego over the next few days and I get to go to the Quilt In a Day shop in San Marcos.  I've signed up for an open sewing class there on Thursday so I can finish this baby.  Maybe I'll meet Eleanor Burns while I'm there!
For those of you on Instagram, you may know that Lori Holt at Bee in my Bonnet is doing a fun Christmas QAL using her book, Quilty Fun.  I couldn't resist the cuteness, so I'm on way to a little Christmas quilt.  Here are some of the blocks I've completed (pardon the cell phone pictures):
Now you see why I couldn't resist?  They are so cute and scrappy and easy!
That's all for now friends.  I've got to get ready to teach a class and then I'm catching a flight to San Diego!