Quilting tip: batch piecing
I'm constantly hearing (and saying) that there's too many projects and not enough time to complete them all. I love efficiency in quilting, so my quilting tip for you today is batch piecing. You probably already do this, but I thought it deserved a mention.
Batch piecing
We all want to make the most of our time when we're quilting or sewing. The faster we are, the more projects we can make! As I started a new wall hanging project last weekend, I realized I was prepping and gathering as many pieces of the pattern as possible to take to my sewing machine. Then I laid them out next to my sewing machine and started chain piecing. This is what I call "batch piecing" and it's so efficient!
---
Rather than sewing one block or component at a time, I'm sewing as much as I can from all of the components at one time. Then I press those pieces and re-group for the next batch to be sewn.
---
I get to a point where I'm sewing blocks together, but I do that in an assembly line fashion too. Eventually, I'm sewing larger chunks of the quilt together until I'm left with major seams.
This cute basket of blossoms will be part of a larger wall hanging and a pattern some day! You can find my tutorial for the Blossom Quilt Block here which includes a free, downloadable pattern.

---
Two more tips for fast piecing
I have two more tips for fast and efficient piecing.
Use a small, water soluble glue stick such as the Sewline Fabric Glue Pen instead of pins to hold "stitch and flip" corners in place and/or matching seams. This gives you greater accuracy and saves time removing pins later. You'll notice there are no pins in the photo below (or diagonal seam lines).
---
Use Diagonal Seam Tape to avoid drawing diagonal seam lines. This saves a lot of time! You can read more about this tape at Cluck, Cluck Sew. Notice the lack of drawn lines in that same photo with no pins.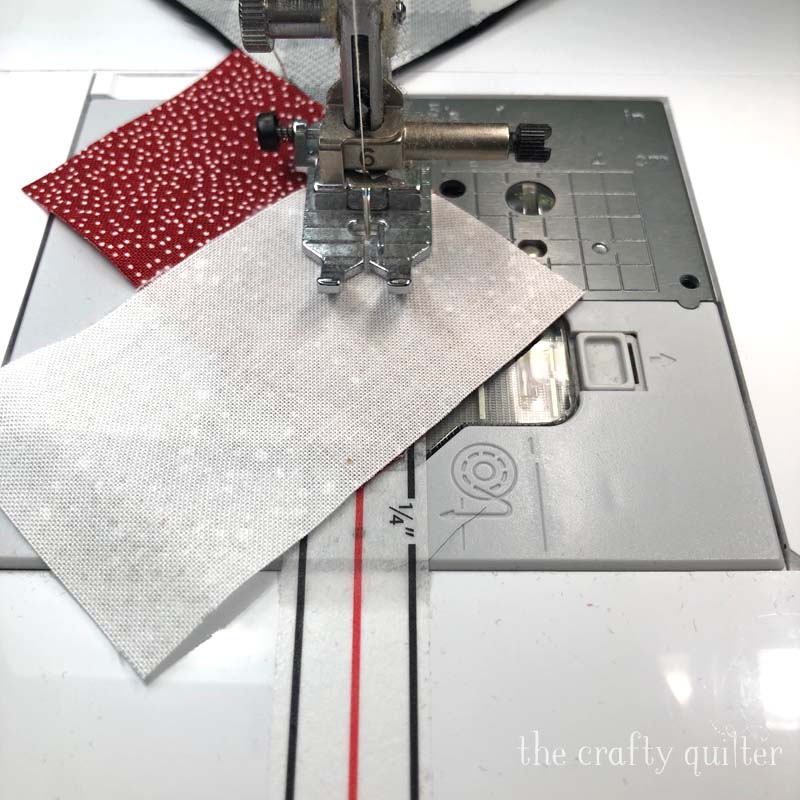 Those are just a few things you can do to speed up your process when making quilts or other sewing projects. I hope you'll give batch piecing a try. I know it's not a race, but you might as well be efficient and productive at the same time! How about you? Do you have any other time-saving tips to share?
Thanks for visiting and happy quilting!