Blossom Quilt Block tutorial
Happy day and happy National Craft Month! I'm excited to share my Blossom Quilt Block tutorial with you guys! I've written the pattern for a 6″ block, but I'm also giving you cutting instructions for a 9″ and 12″ quilt block.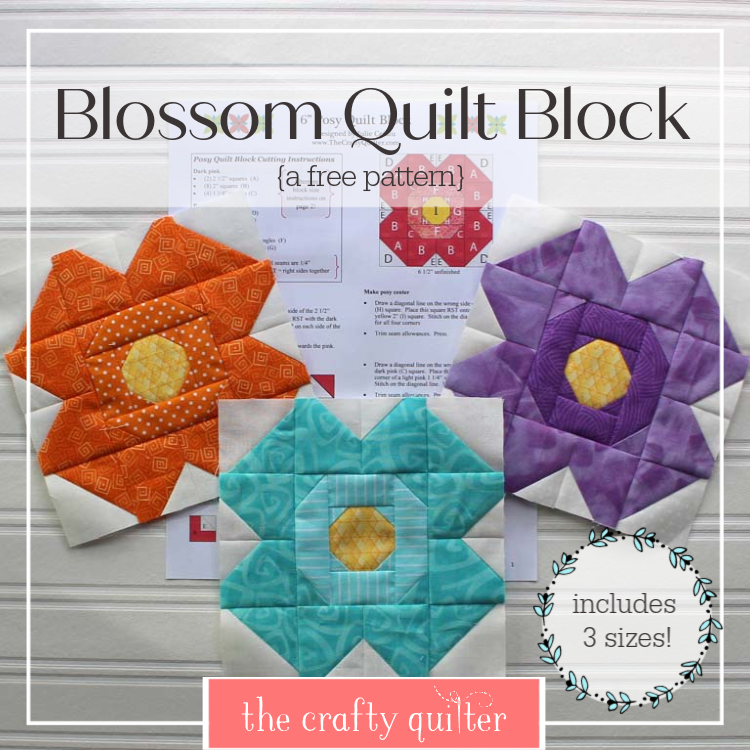 Blossom Quilt Block
This cute blossom block is perfect for a spring basket and you'll want to fill it with these happy blooms. I'll show you a few ways you can use this block and a little shortcut if you want to make it simpler.
You can download the block pattern here: Blossom Quilt Block

I've used scraps from my stash to make my 6 1/2″ blocks. For these smaller blocks, you'll need approximately a 10″ square for the main color and background fabric, and a 6″ square for the other two colors. For the 12″ block, you'll need twice that amount. Here is the cutting chart that I've included in the pdf: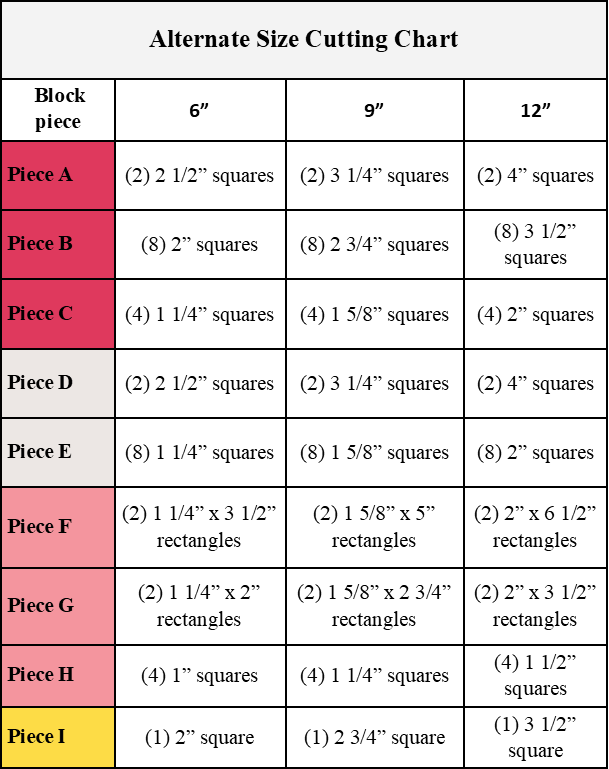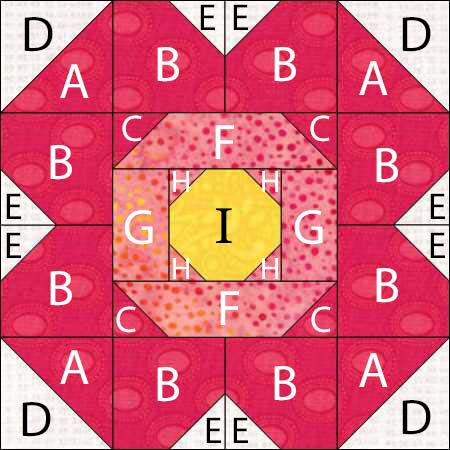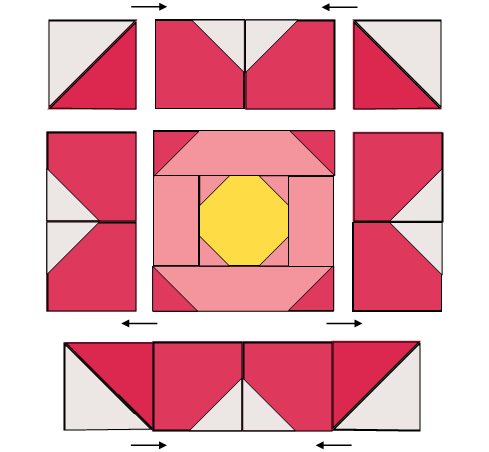 All of the assembly instructions can be found in the pdf. This is a fairly easy block to make, but there are lots of pieces. If you wanted to simplify it a bit, you could make the center unit a square instead of a hexagon (snowball) shape. It would look something like this:
Blossom Pillow
So what do you do with your blossom quilt block? I made two 6″ blocks and turned them into a 16″ pillow. It's a perfect pillow for the Spring and Summer days ahead.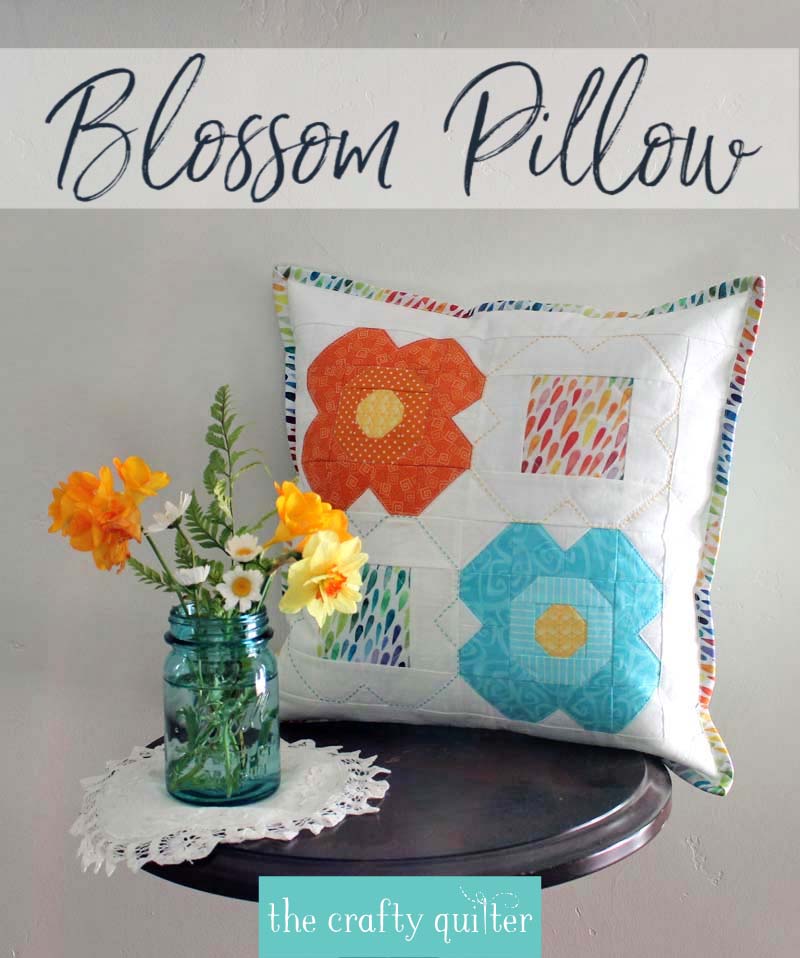 The alternate blocks are just smaller squares (3 1/2″ unfinished) framed by (2) 2″ x 3 1/2″ and (2) 2″ x 6 1/2″ white rectangles. After sewing the blocks together, I added 2 1/2″ border strips of white fabric to make it into a 16 1/2″ square.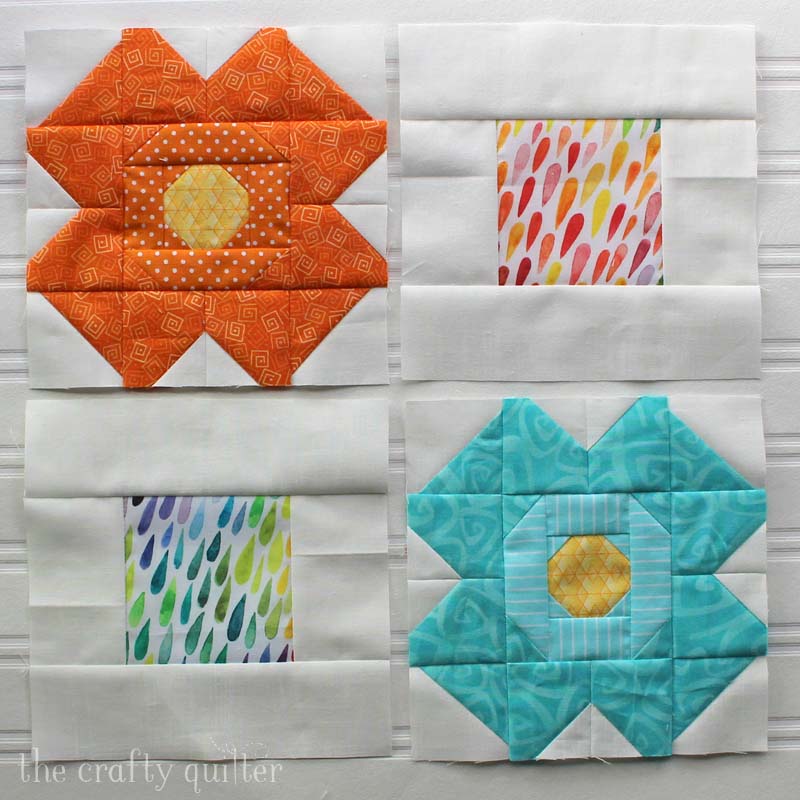 Once the pillow top was sewn together, I added fusible fleece to the wrong side. This gives the pillow shape some body and it allows me to add some quilting. I chose to do some "big stitch" hand quilting first; I wanted to add interest to the plain blocks. I mimicked the shape of the blossom block with quilting stitches. I used 3 strands of Aurifloss in yellow and teal and stitched with an embroidery needle. I'm no expert at hand quilting or embroidery, but it turned out well enough.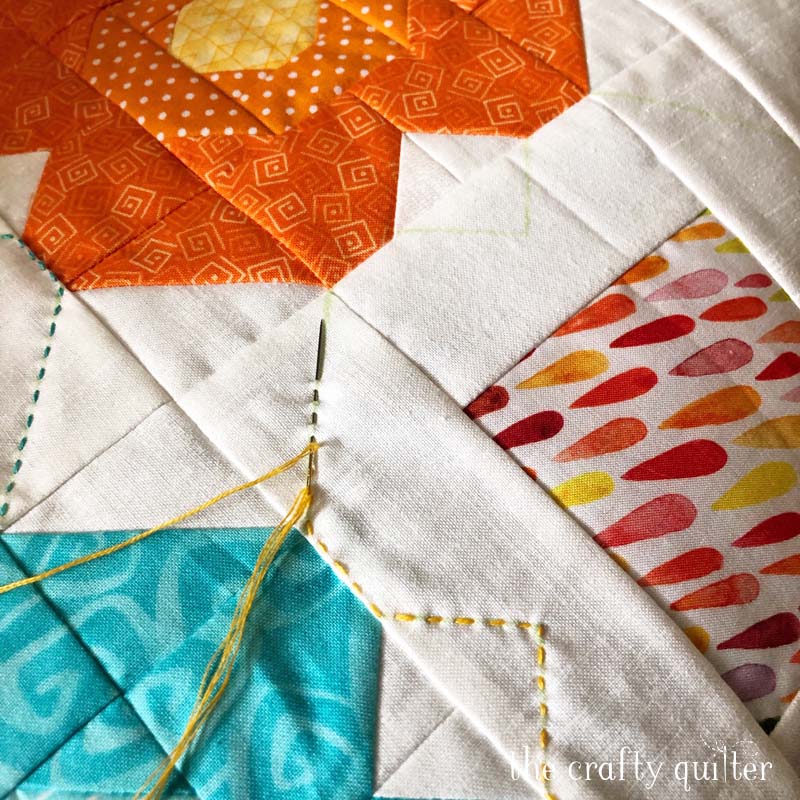 After I completed the hand stitching, I added some machine quilting to outline all of the blocks. It didn't take long for all of that, and I think the detail is worth the effort.
I installed a hidden zipper closure on the back using this tutorial by Amy of Amy Made That! She gives instructions that allow me to add binding around the pillow that won't interfere with the zipper. I loved that rainbow fabric so much (Floral Menagerie by In The Beginning Fabrics), that I wanted to add a splash more with the binding.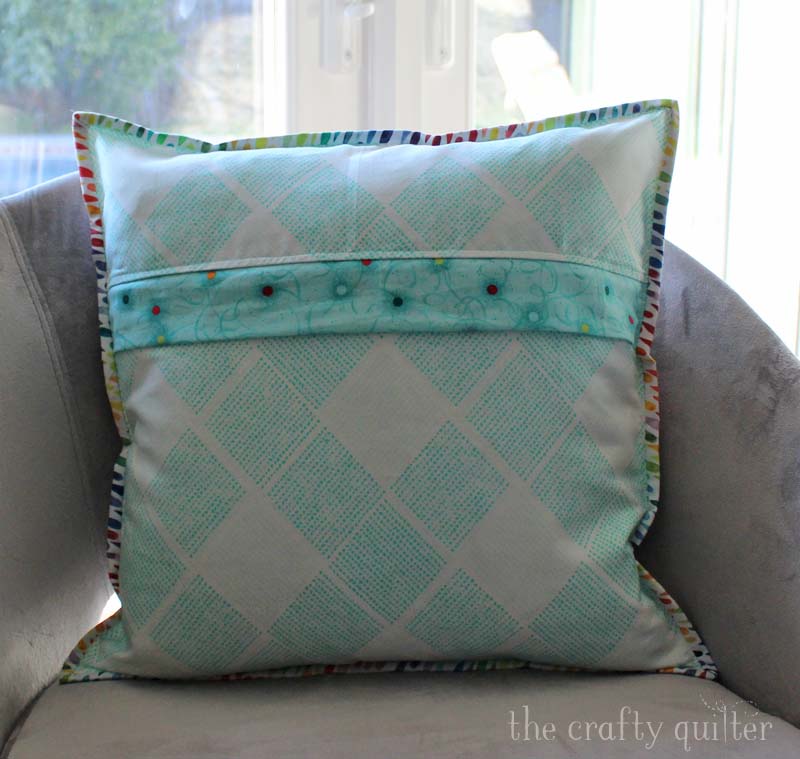 Blossom mug rug
My first impulse was to make a mug rug from one 6 1/2″ Blossom quilt block. So I did, and it's super sweet! I use mug rugs all the time, and they make great gifts.
I used my walking foot for some simple, straight-line quilting. I didn't need to mark anything thanks to the laser guide beam on my Babylock Crescendo. So helpful for this sort of thing!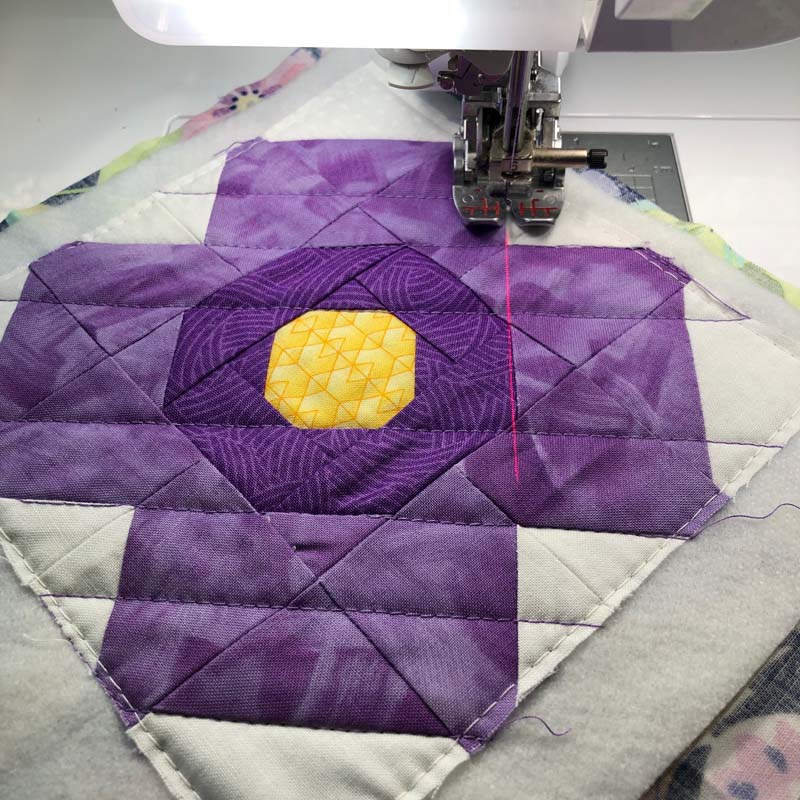 I added binding by hand (so rare these days). One of my favorite discoveries is the Binding Needle by Primitive Gatherings. They are designed to glide through your fabric, they're strong, sharp and a perfect length. My labels are special ordered from Dutch Label Shop (someone always asks).
Blossom quilt ideas
If you want a quilt filled with blossom blocks, there are all kinds of options. I played with my favorite quilt design software, EQ8, and came up with a few ideas. These are just ideas; I have no instructions for them. This first one is simple enough and I like the contrast of the flying geese.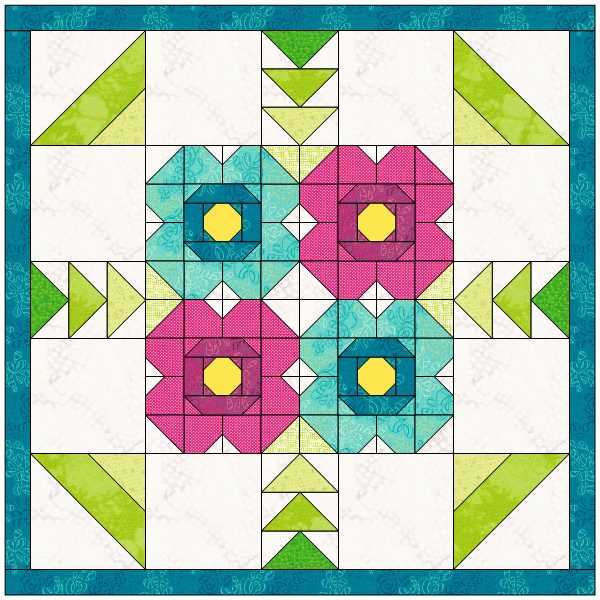 Just adding sashing and cornerstones makes for a classic quilt like this one: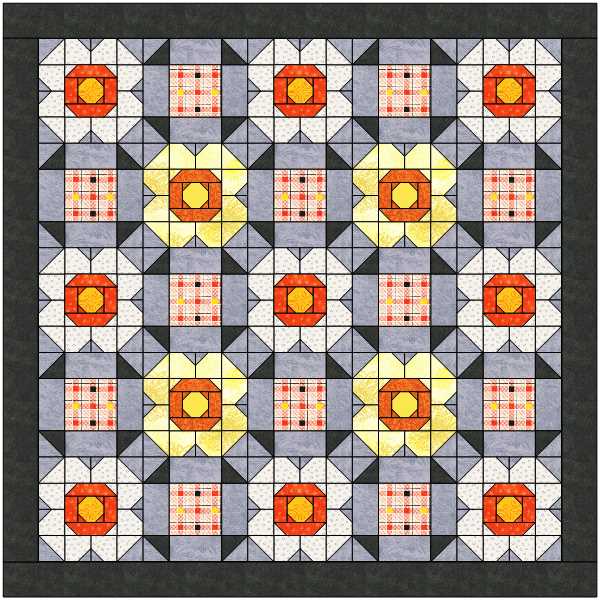 I'm working on a wall hanging pattern using the blossom quilt block and it's as cute as can be. I should have it ready in April with a little bit of luck. I hope you enjoy this free quilt block pattern. Check out my Boundless Flower Block tutorial and my Blossoms of Hope tutorial for more ideas for your quilting garden!
Use the hashtag #blossomquiltblock and tag me @TheCraftyQuilter on Instagram so we can see what you made!
One more thing! Celebrate National Craft Month with Bluprint! Get ANY class for just $10 with coupon code "CREATE10"! Hurry, offer lasts 3/1/20-3/31/20 AND get 40% off two items now through Sunday, 3/8/20, with the code "SAVEDOUBLE".