Free Quilt of Valor pattern
Hi everyone. As promised, I have a FREE Quilt of Valor pattern for you! I named it Stars of Courage, which seemed appropriate since courage is another word for valor. This is an easy, lap-size quilt that a beginner could make as well as an old-timer (like me).
About Quilts of Valor
At the beginning of this year, I asked if anyone had special requests for projects or tutorials. Several people asked for a Quilt of Valor project. If you're new to QOV, it's a non-profit foundation whose mission is to "….cover service members and veterans touched by war with comforting and healing Quilts of Valor."
In my area of Northern California we have a strong and active QOV membership. In the quilt shop I work at, I often see Quilts of Valor in various stages of development. To be honest, I'm not a member of QOV, but I admire their philosophy. I appreciate the sacrifice of all veterans, past and present, and the service they have given for their country. My pattern, Stars of Courage, is my first contribution to the QOV efforts.
Free Quilt of Valor pattern
You can download the free pattern below:
This quilt measures 60″ x 72″ and contains 15 Ribbon Star blocks that measure 12″ square. These blocks are made up of half-square triangle units and they're large, so the piecing is easy.
The pattern uses the 8-at-a-time method of making half-square triangles, but you could make them one at a time or use Triangles on a Roll (4″ finished size) if you prefer.
When you string together two or more of these blocks, they look like friendship stars entwined in a ribbon. I love the affect!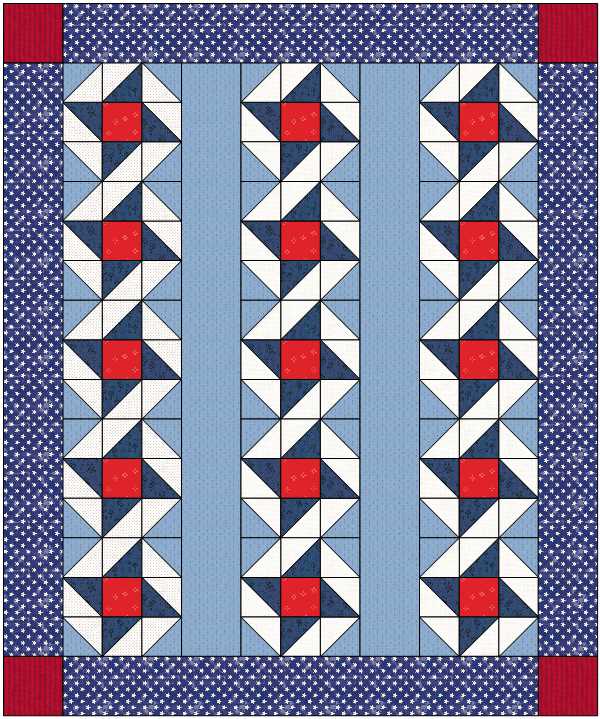 The fabric requirements are shown below. If you have a large stash of fabric or lots of scraps, you could make this a scrappy quilt which would add to its charm. I'll be making Ribbon Star blocks as an ongoing project until I have enough for my quilt. I have plenty of scraps to get started!
The first time I used Ribbon Stars in a design was back in 2015. I made these cute placemats for the Desire to Inspire Challenge at Henry Glass Fabrics. What I really love about this (besides the cute panel) is the straight line quilting that enhances the ribbon effect. So easy and it would be perfect for the Stars of Courage quilt!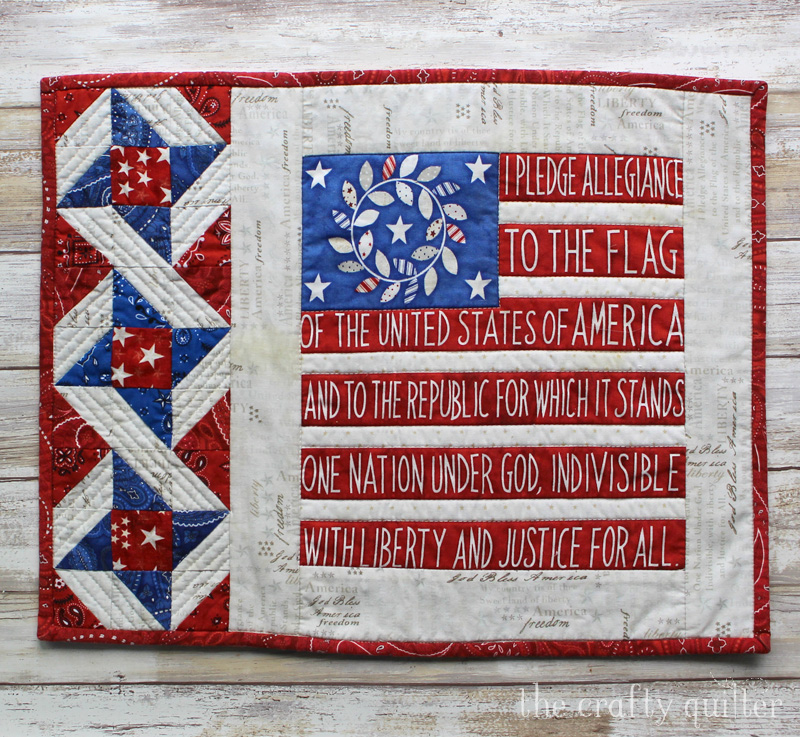 Thanks for visiting today. I hope you enjoy and use this pattern. Of course, it would be beautiful in any color combination and for any occasion. Please feel free to use it however you would like!