A finished quilt and new projects
I finished a quilt! I'm super in love with this one, and it's going to my youngest daughter, Sara. She picked the colors; the grays and corals are a winning combo!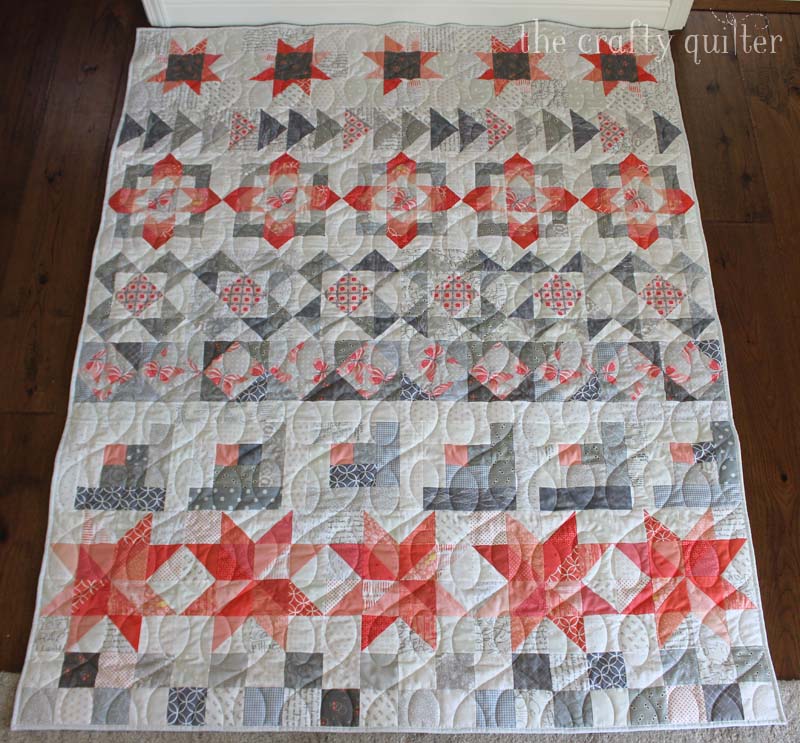 This pattern was part of a quarantine quilt along. It's called "Safe at Home" and it's available at Modern Handmade. It measure 60″ x 74″ and it was really fun to make. I substituted one of the rows that called for paper piecing for a row of square-in-a-square blocks.
The quilting turned out perfect! It was done by Sarah at Lucky Penny Quilting. I've known Sarah since she was 16, and now she's a long arm quilter. This is a new business for her, and if you're in the California bay area, I highly recommend her.
My daughter chose minky fabric for the back and I used wool batting. It's ridiculously soft! I made a label which still needs to be hand stitched down. I topstitched my custom quilt label (from Dutch Label Shop) onto a rectangle and added the other details with a Pentel Gel Pen for fabric.
---
I have two new projects on the horizon. The first one is a Mystery harvest sampler quilt that I've designed. I'm teaching it via Zoom for The Granary Quilt Shop (and there's still room available). It starts on Tuesday, September 8, and continues for six weeks. The pattern is included in the class fee. I'm really excited for this!
The quilt measures 43″ x 43″ and it's all traditionally pieced. It will make a great table topper or wall hanging. The only thing I can reveal right now is the fabric bundle I picked out. We made kits with these and they have sold out already, but other kits (just as beautiful) have been added.
The leaf print and dark red/black print above is from the Seasons collection at In The Beginning Fabrics. The companion fabrics are from various other manufacturers. In six weeks or so, I'll show you how the quilt turned out!
---
The other project I couldn't resist is a re-make of my Patchwork Pumpkins Wall Hanging Pattern. The original one I made is hanging in my SIL's quilt shop as a sample.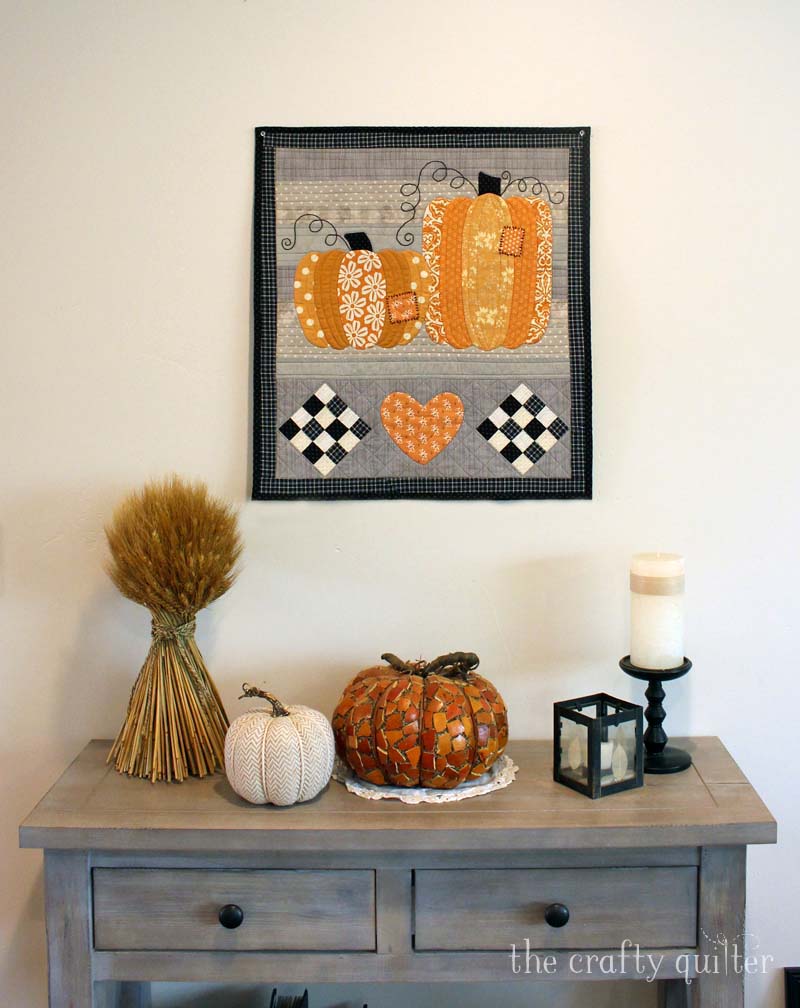 Now I need one to keep at home! Plus, I've been hoarding all of these great orange fabrics (for a long time – so they're not recent prints that you can easily purchase) to use for a pumpkin quilt. I've got plenty to keep me busy!
---
I'm so glad to have this fun hobby and business to keep me busy. I'm missing my grandkids and the first day of (virtual) kindergarten is starting for Amelia on Tuesday. Wow, it goes fast!
Speaking of time flying, I found this photo of my oldest daughter, Kelly (Amelia's mom), on her first day of kindergarten. Remember how exciting it was to pick out your clothes for the first day of school? I was 29 years old in this picture and had three children already!
---
That's all for today. It's the beginning of Labor Day weekend and we have no plans! We're expecting a heat wave, so there will be more reasons to stay indoors and sew. I'll be back here on Sunday for my monthly Sew Thankful Sunday series. There are lots of new things to share!