Four variations of the Vinca Quilt Block
I've been having a good ol' time playing in my sewing room and I've discovered four variations you can make of the Vinca Quilt Block! It's as simple as rotating each unit and voila! A new variation is born. Plus, I'm sharing a baby-sized scrappy version that I made using one charm pack! In case you missed the original tutorial, you can find instructions to make the Vinca Quilt Block here.
Four variations of the Vinca Quilt Block
Let me show you what you can easily do to change the look of this quilt block. You'll start by making the basic units of the block which include four petal units and four leaf units. The original Vinca Block is shown below with the parts labeled. I used fabric from the Nantucket Summer collection by Camille Roskelly for Moda Fabrics for these mock-ups.
First, I rotated the corner units (leaves) so that the larger square is closest to the center. It changes the look a little, not a lot.
Next, I rotated the petal units and you'll see that this has a more dramatic effect. A star emerges around the center square!
Now that we've rotated the petal units, let's rotate the leaf units as well. This changes the look just a little, but it definitely makes the star more pronounced.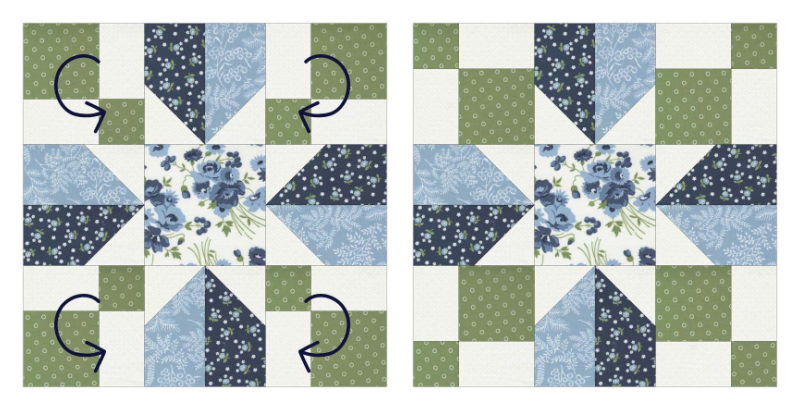 Comparison of the four variations in a quilt
Let's take a look at all four of those Vinca Block variations, used in a small quilt, side by side. You'll see more of a difference in a quilt because the number of blocks are increased. It really makes for a versatile quilt block and quilt!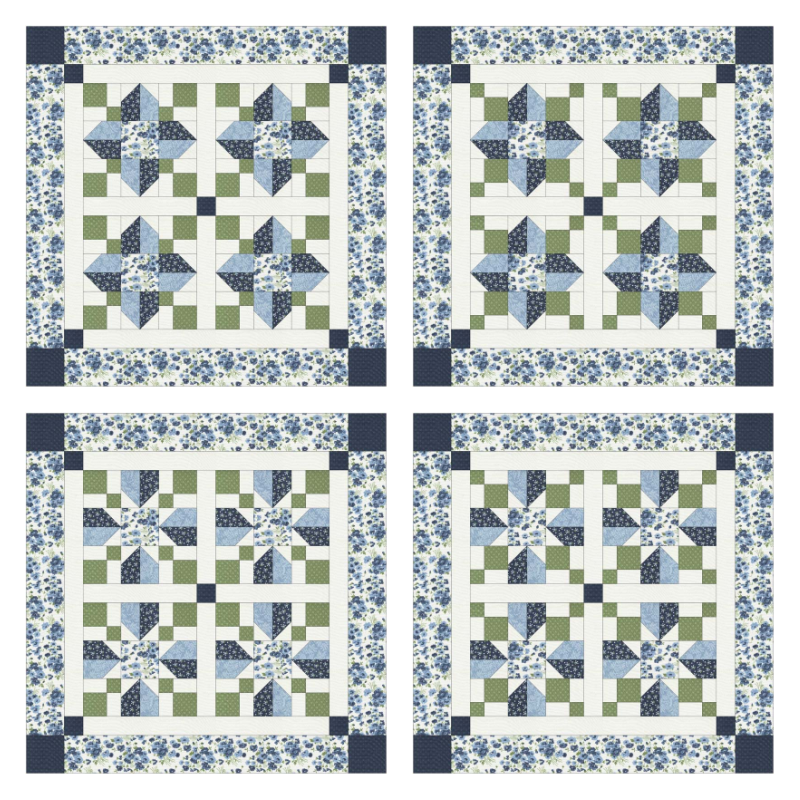 ---
A scrappy version of the Vinca Quilt block made with a charm pack
I have a large number of charm packs that I've collected over the years, and I wanted to make a small quilt using all of the pieces from one charm pack. The fabric collection for this project is Garden Variety by Lella Boutique for Moda Fabrics. It's a few years old and no longer available in stores, but you can still find it on Etsy.
Below, you can see how I separated the 5″ charm squares into groups for the leaf and petal units.
I decided to use one of the block variations that produces a star in the center of each block. It's cute and scrappy, and I love that it used up every bit of the charm pack! I used a half-yard of background fabric for this quilt, and the leftover scraps from each 5″ square gave me enough to incorporate into the border.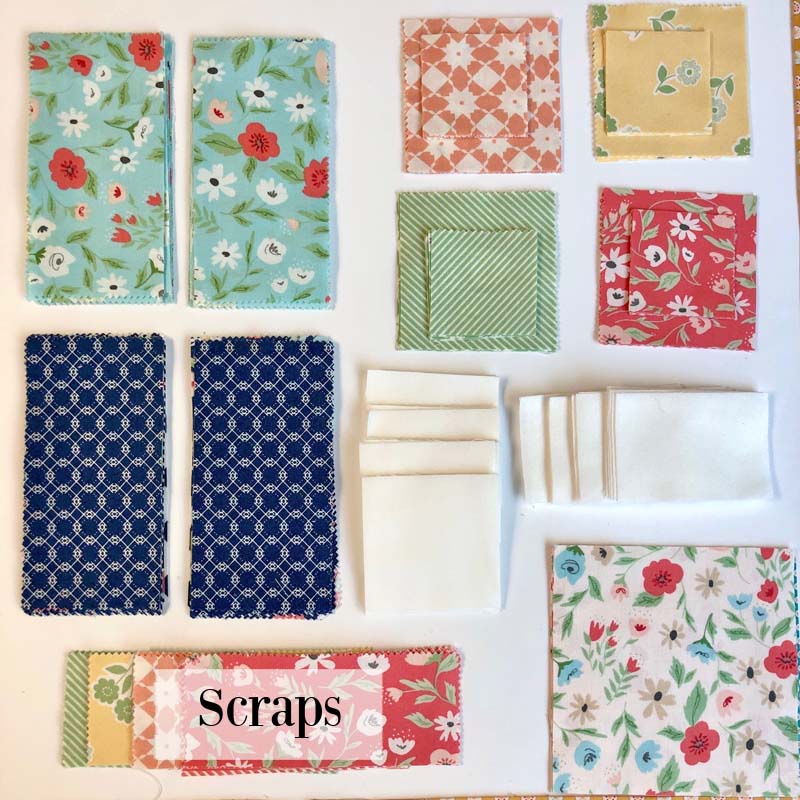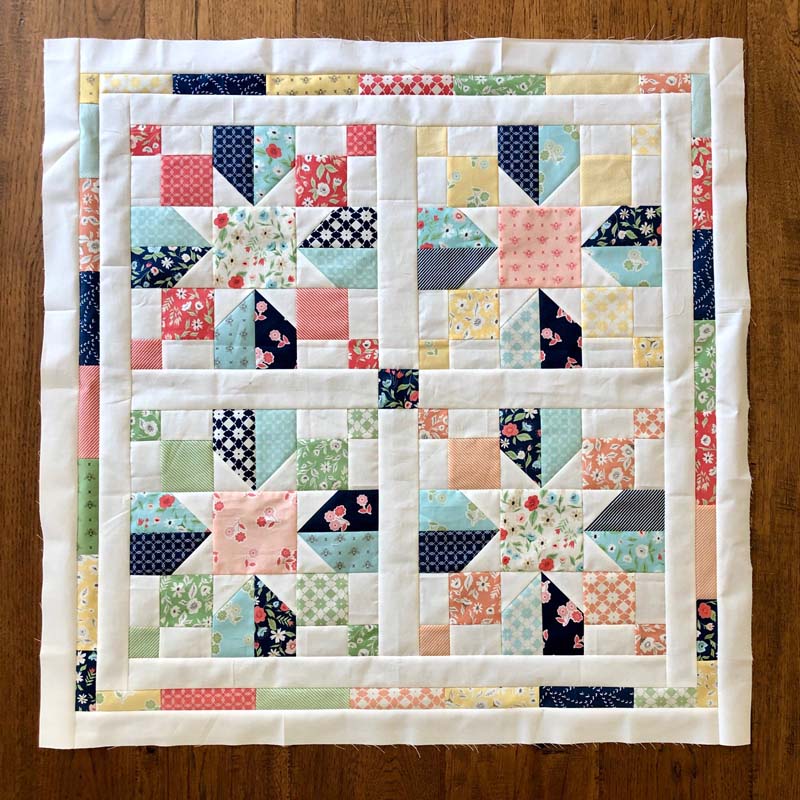 The finished size of the quilt is 35″ square which is a bit small for a baby quilt. I might add another border if I can find the right fabric. For now, it will remain a UFO (one of too many).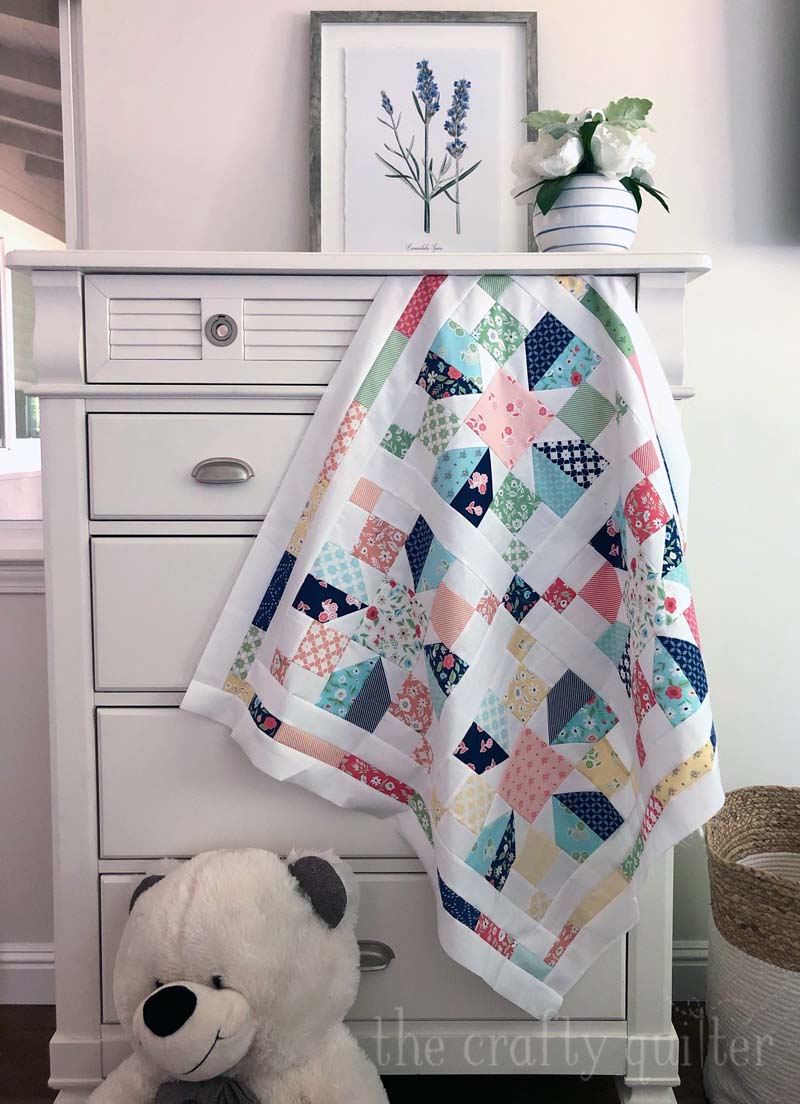 That's a whole lot of Vinca Quilt Block possibilities! I now have a table runner, a baby quilt, and a lap-size quilt made of these blocks. All of them need to be quilted and a pattern is still in the works. Never a dull moment!