Summer quilt projects and family time
Can you believe another month is coming to an end and we're already half way to Christmas? I know, why put Summer and Christmas in the same sentence? Let's focus on Summer with some Summer quilt projects I've been working on (also known as WIP's – works in progress) and a visit to Seattle where we had a semi-spontaneous family reunion with our kids.
Summer quilt projects
I am working away at completing the Tula Pink Butterfly quilt for my oldest granddaughter's birthday at the end of July. This is a large quilt with a lot piecing, but it's been so much fun to make. I'm sewing the sections together now and soon a butterfly will emerge!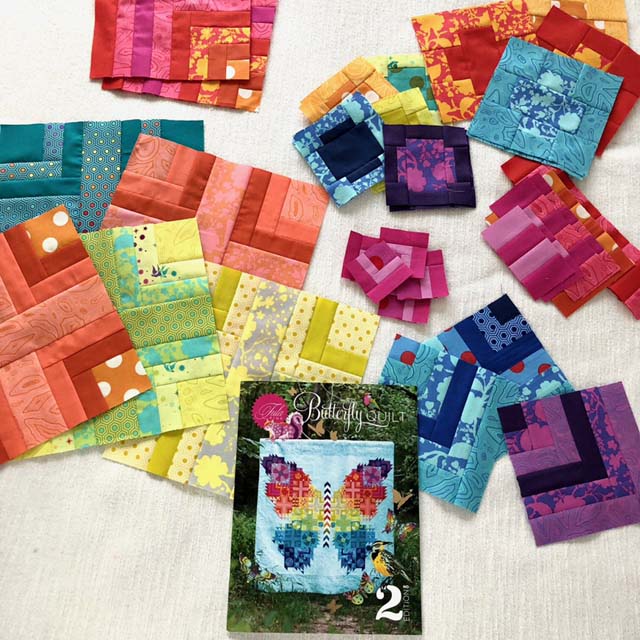 As soon as the butterfly quilt is finished, I'll start working on a project for a book hop featuring Just Two Charm Pack Quilts by Cheryl Brickey. As I am a big fan of Cheryl's and a big fan of charm packs, this one is going to be really fun! I've chosen my fabrics and the project from the book. I'm feeling behind already, but what's new?
I've had these charm packs from Robert Kaufman in my stash for years. I'm in a rainbow phase right now and I can't wait to see how this project turns out!
My oldest sister is a wonderful quilter, and the reason I became a quilter. She just gifted me a beautiful, patriotic table runner that is made with 60″ wide toweling by Moda. It's such a fast and easy project to make (so says me)! I love it and now I want to make one, too.
Speaking of patriotic quilts, my friend, Cindy, just finished a red, white and blue version of my pattern, Sterling. It turned out so beautiful! It's going to be an anniversary gift for her daughter's 25th wedding anniversary on July 4. How perfect is that!
And speaking of my Sterling pattern, here is another version made by my daughter's friend, Sarah. I love the soft, neutral colors she used. This quilt tickles me pink because Sarah learned how to quilt after taking one of my beginning quilt classes, and she has become an amazing quilter!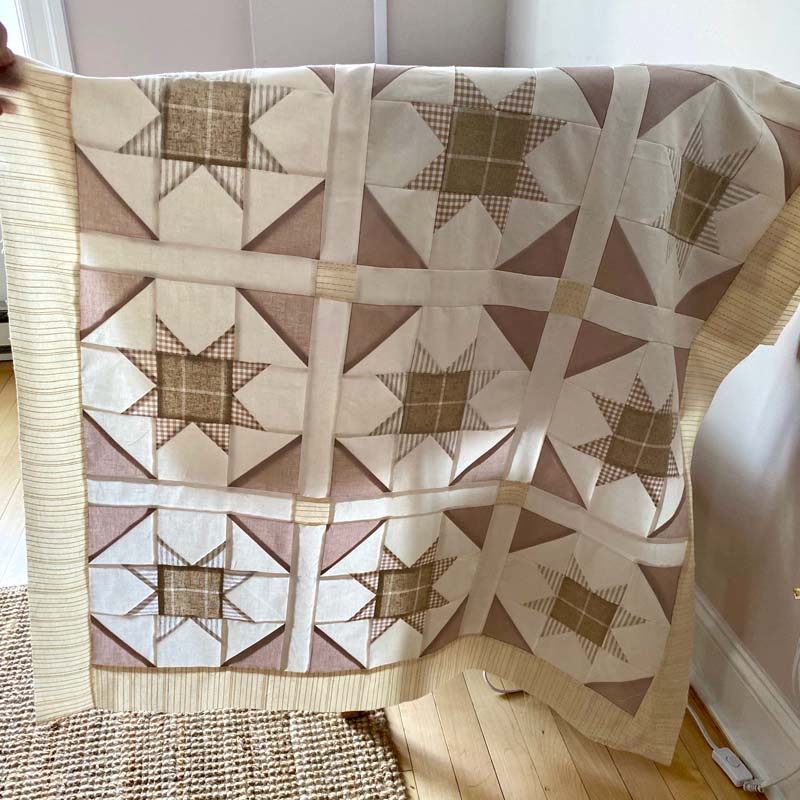 Family
As our children get older and especially once they have families of their own, it's so hard to get everyone together at one time and in one place. We got lucky with that a few weeks ago as we were all together (just the adults) in Bothell (north of Seattle) earlier in June. The first day and night was just us girls, and the next day, my husband and son (and his girlfriend) caught up with us. It's one of those treasured times that I appreciate so much.
If you're looking for a Summer project, check out my Summer Fun quilt tutorial series from 2018. This is a 30″ x 32″ wall hanging that is put together in rows. It's fun and happy, just like Summer should be!