Leaders & enders scrap quilt progress
We've passed the half-way mark on the yearly calendar which makes it a good time to check the progress on my leaders & enders scrap quilt for 2023. I started this project in February and hopefully I'll have a rainbow scrap quilt by the end of the year.
Leaders & enders
If you're unfamiliar with leaders and enders, you should definitely read my blog post on efficient quilting with leaders and enders. They are a great way to keep thread nests from forming at the beginning of your seam, they save thread by eliminating those long thread tails and much more. I love using my scraps as leaders and enders, especially when I can turn them into useable units.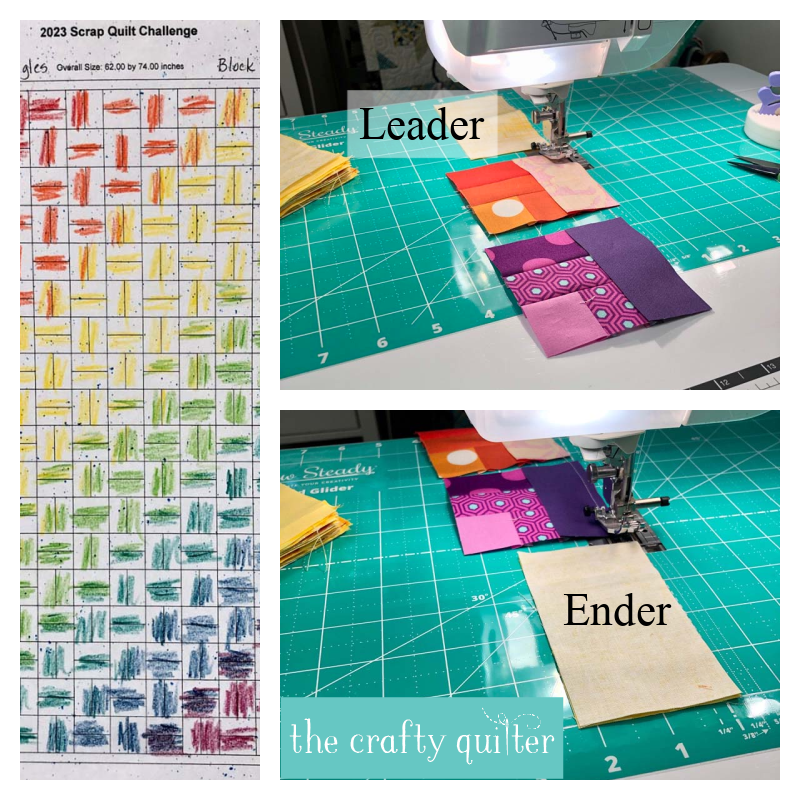 Cutting & storing scraps
I started by cutting my scraps into 2 1/2″ x 4 1/2″ rectangles. I have scrap bins for each of the major colors: yellow/orange/brown, red, pink/purple, green, blue/turquoise, and black/white. You can see how I made my scrap storage bins here. I keep them under my cutting table and just toss my scraps into the correct color bin when needed. It's not very glamorous, but it works for me!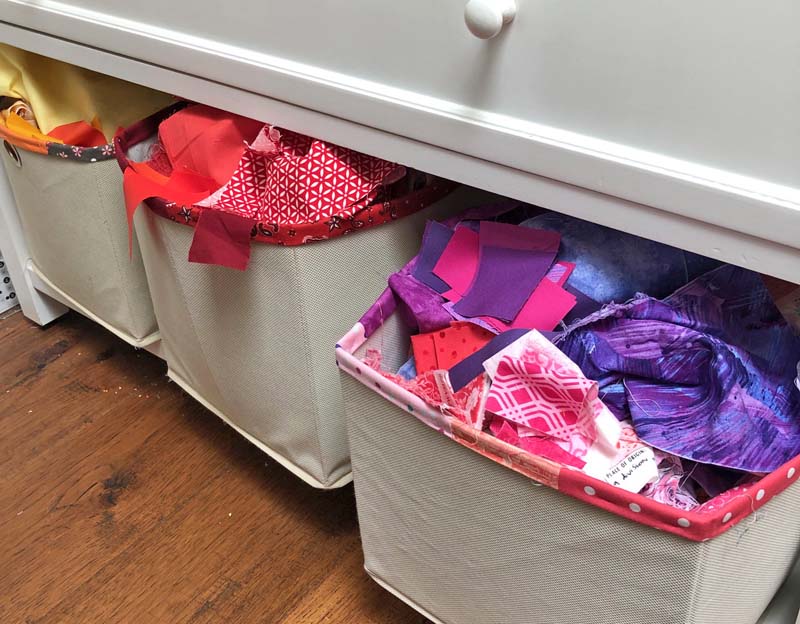 If a scrap bin starts to overflow, I will either sort through it and discard what I don't like anymore or I'll focus on a scrap project in that color range. Last year, I had an overabundance of black and white scraps. I started making a black and white scrap quilt using Pat Sloan's free Traffic Jam pattern. Lesson learned: you never use as many scraps as you think you will! But at least it's something. Also worth mentioning is that I'm still working on this quilt. All of the blocks are made and now I'm sewing them into rows. My WIP list continues to grow!
Leaders & enders scrap quilt progress
It's been slower than I thought, but I'm almost finished with the warm colors. I just cut up the rest of my red rectangles, so those are what I'm currently using as my leaders and enders.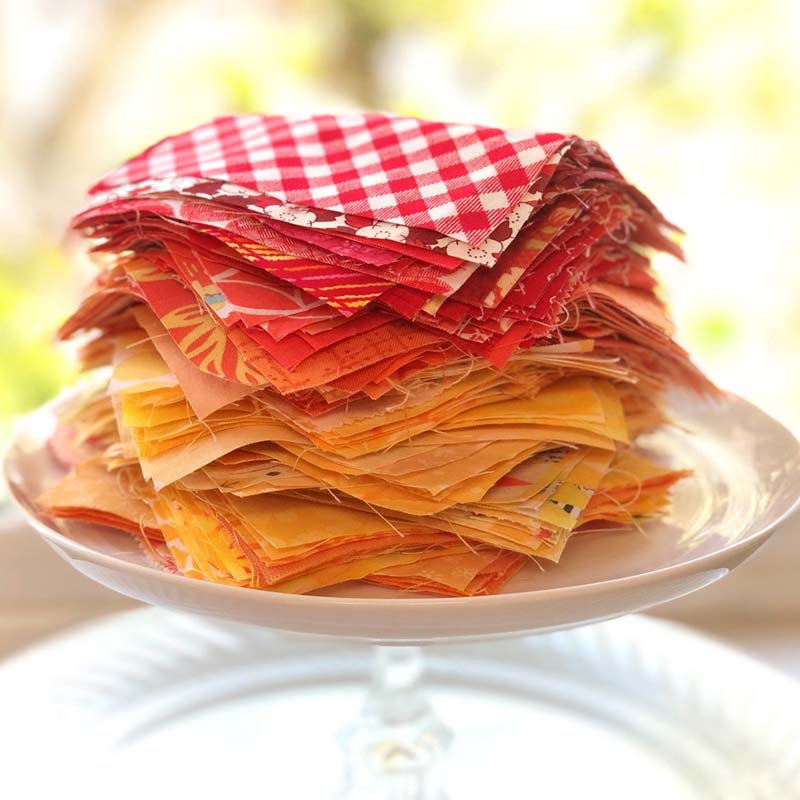 I used EQ8 software to create a coloring page to plan out my rainbow scrap quilt. I keep it hanging next to my cutting table for reference (and motivation). This gives me a general idea of how many units I'll need for each color of the rainbow. I'll probably have enough to make two quilts!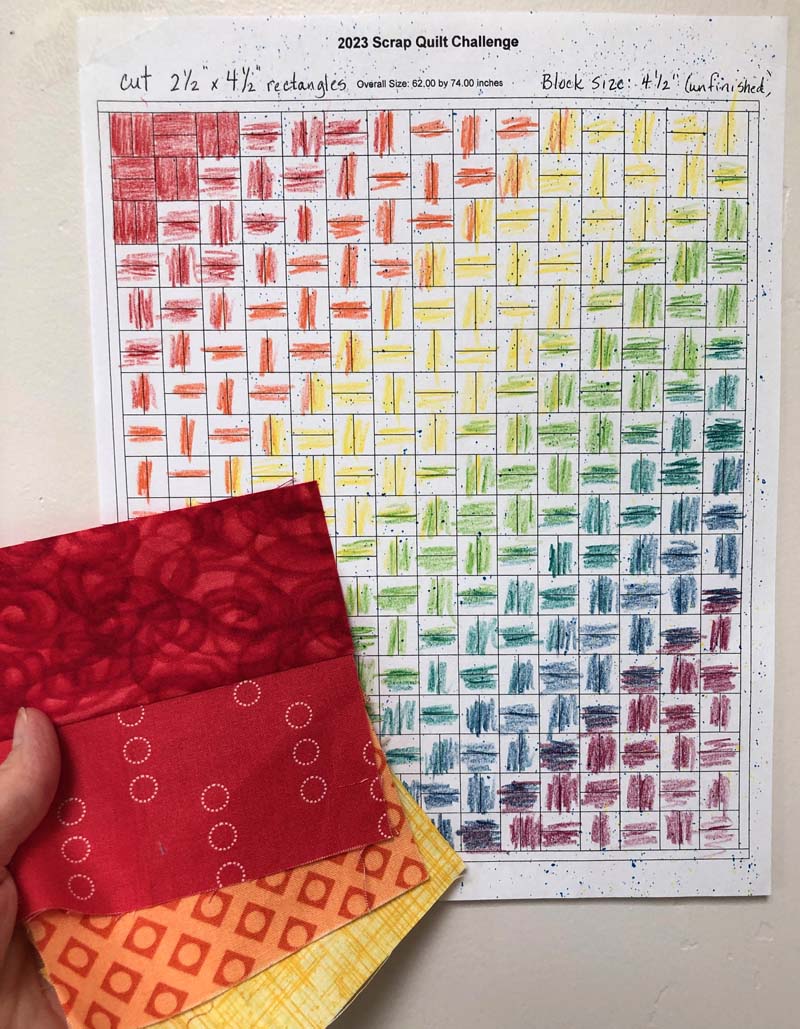 Collecting scraps is a habit I formed a long time ago, and I'm glad I'm able to use them for various projects. How about you? Do you save your scraps?
Thanks for reading and happy quilting!