How are your summer plans shaping up? Do you have a relaxed schedule with room to play? Today, I have some summer quilting ideas that will give you some fun options to consider! From small and quick to long and relaxed, you'll find something that's just right for you.
Summer quilting ideas
It's important to carve out some time to nurture your creative self, and this summer is the perfect time to make that happen. Some of these projects have already started, but it would be easy to jump in at any time. Others are project ideas that would be fun to start whenever you feel the urge. Either way, you'll find inspiration and ideas to carry you through the lazy days of summer.
Current summer quilt-alongs
Water Colors Summer Quilt-along
All People Quilt is hosting the Water Colors Summer quilt along which runs from June 1 thru July 13, 2023. You'll need a copy of the June 2023 issue of American Patchwork & Quilting or you can purchase the pattern separately here. The pattern is fat quarter friendly and has five different size options so you can customize it to fit your schedule.
Summer Lovin' Seaglass Sew Along
If you've been wanting to try something totally new, you'll love this Summer Lovin' Seaglass Sew Along hosted by Kitty @NightQuilter and Allie @ExhaustedOctopus. This is for makers of all skill levels and is set up similar to an online class. It includes project trackers, instructional videos and prizes along the way. I think this would be really fun!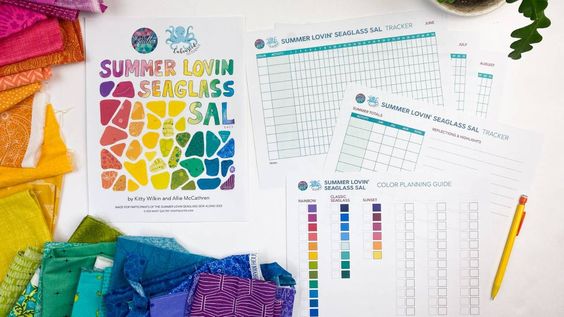 Mystery Haunted Halloween Quilt & Stitch Along
I know this doesn't sound very summery, but this FREE Mystery Haunted Halloween Quilt & Stitch Along is a great way to get ready for the Fall season. Fat Quarter Shop is hosting this one at their blog, The Jolly Jabber. It just started on June 6 and will continue thru June 27, 2023. The quilt size is 31.5″ x 30.5″, so it's perfect for a wall hanging or table topper. A little bird tells me that this one is going to be really cute!
Spring Mystery Quilt Along
It's not too late to join this Spring Mystery Quilt Along from Edyta Sitar of Laundry Basket Quilts. It just started May 31st and will continue through July 13th, 2023. Quilting clues and recipes for blocks will be posted every Wednesday on their Blog and YouTube Channel. The quilt will include traditional piecing, a little bit of English paper piecing, and appliqué. Something for everyone!
Summer project ideas – any time
Disappearing 9-patch quilt along
I hosted the Disappearing 9-patch quilt along in the summer of 2019, and it's still one of my favorite summer projects. You can still participate at your own pace (but there are no more prizes or giveaways). It's an easy quilt that uses 5″ charm packs or 5″ squares of scrap fabric. I share lots of tips and photos, making this a great project for quilters of all skill levels. If you've never tried a disappearing 9-patch, I can promise that you will love it!
Summer Fun Quilt Along
Here's a project that really says "summer"! The Summer Fun Quilt Along is another one I hosted in the past that includes easy piecing and a little applique. This wall hanging has five rows (one to complete each week) and results in a wall hanging that measures 30″ x 32″. It includes detailed instructions and tips along with free downloadable patterns for each row!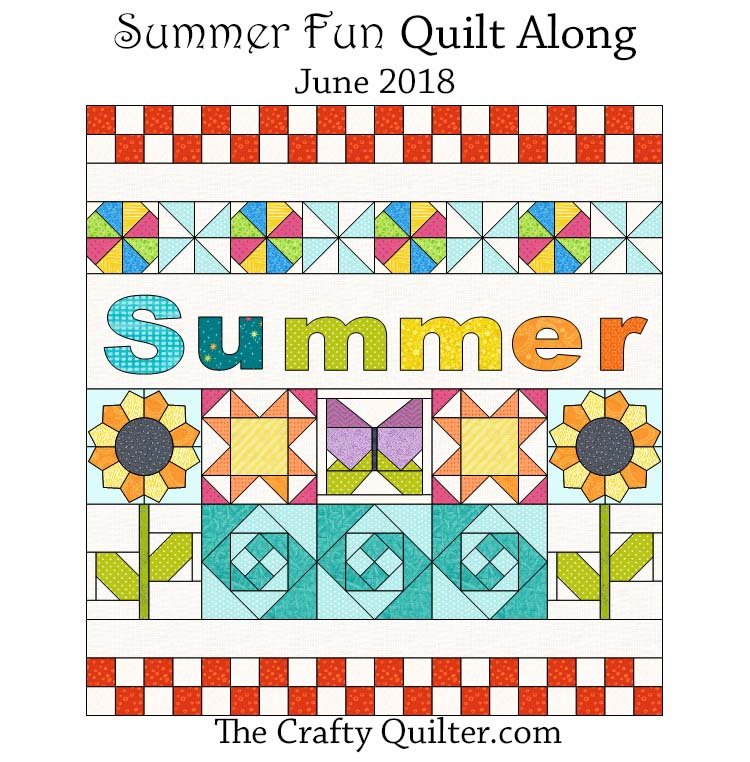 Stars of Courage Quilt
This free Stars of Courage Quilt was designed by me for Quilts of Valor. It makes the perfect summer project, too! This quilt measures 60″ x 72″ and contains 15 Ribbon Star blocks that measure 12″ square. These blocks are made up of half-square triangle units and they're large, so the piecing is easy. Just pick your favorite red, white & blue fabrics to get started!
Summer Memories Book
I received a copy of Summer Memories by Susan Ache from Fat Quarter Shop a few months ago. This book is loaded with quilts and cross stitch projects that will make your summer happy just by looking at the pages.
I really want to make the Summer Picnic Quilt – I love those cute basket blocks! I have plenty of those dusty blue and red scraps in my scrap bins that would be perfect for this. Fat Quarter Shop is hosting a Summer Memories quilt along right now that will continue through the end of June.
If you're a fan of cross stitch or wanting to try it, you'll find projects ranging from medium to small for all things patriotic.
This is a book that will definitely create Summer Memories or just to inspire your summer daydreams!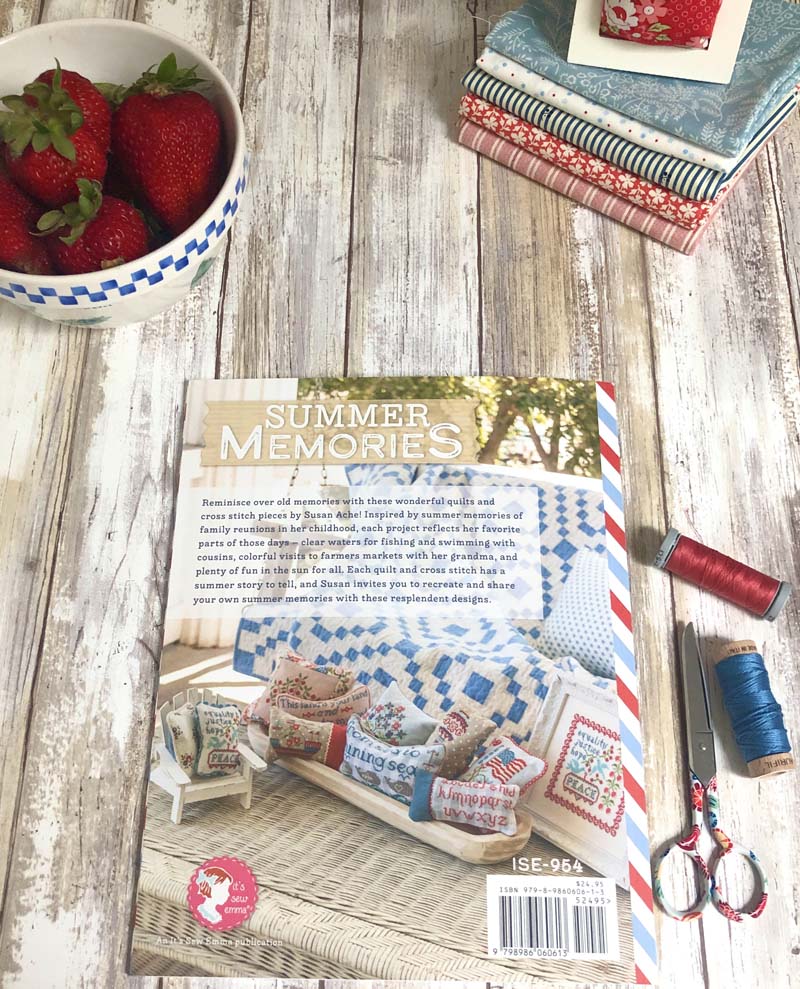 I hope you found some ideas to add creativity to your summer plans. I'm looking forward to getting into the summer groove with a new tutorial that features a sunflower block. It's coming soon my friends!
Happy Summer!