Spring Mantel with Fabric Covered Jars
My mantel has just celebrated spring with purple and green – it's such a nice color combination!  Do you see the recycled jars from my last post all spruced up with fabric?
I love using color-coordinating books to elevate pieces of a design. It adds a nice touch.
And here is the yellow and green combination on top of my book case. Oh sweetness!
Let me show you how I decorated my jars.  I wanted a project with no sewing, so here are some of the supplies I used for my first jar: double-sided tape (Scor-Tape is the brand I had), a rotary cutter with a pinking blade and some fabric.
I used the pinking blade on the purple strip, but any pinking scissors will do. The other fabric was torn on both edges. I'll show you that step later.
I put two strips of double-sided tape on the jar close to the edges of where my fabric would be. Peel the top paper off the tape to expose the sticky side.
Place the strip of fabric over the jar, lining up the edges with the tape. Press to adhere. Use another piece of tape to join the ends together: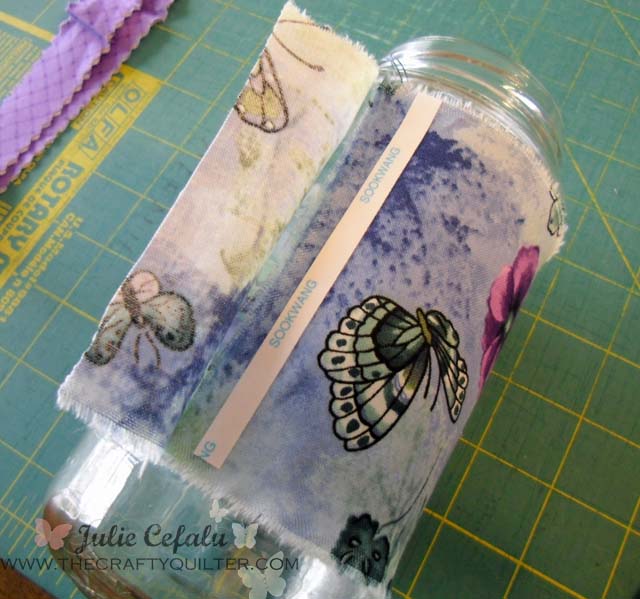 Next, I folded the purple fabric strip in half with wrong sides together so that I wouldn't have an ugly side showing up on my bow.
The next jar was even easier. I just wrapped a strip of fabric around the jar several times and tucked the end into a fold:
Now let's see what else I have to spruce this guy up.
Ribbons, buttons, and flowers.  Decisions, decisions… Here's what I came up with:
I used a little of each and I love how it turned out! I used a glue dot to adhere the flowers.  You can find Glue Dots and twine at most scrapbooking or craft stores.
My next jar came from an old bottle of Knob Creek single malt whiskey (really, it wasn't mine – it's all my other half) and it's one of my favorite bottles because of its shape. I just tied a bow with a strip of batik fabric and then embellished with some buttons and twine.
And then I had some beautiful ribbon that worked perfectly all on its own. Just add a candle:
Here are my purple and green jars all in a row:
Now are you ready for some yellow and green?
I started off with a beautiful yellow fabric and I decided to tear it rather than cut it. To tear, you make a 1″ snip into the fabric (following the grain line):
And then you grasp both sides of the cut fabric and tear it apart!
Now you have a nice, soft edge to work with. Determine how wide you want your strip and tear again.
Next, I wanted to pleat it, so I placed a strip of Scor-Tape on some parchment paper and removed the paper covering from the tape: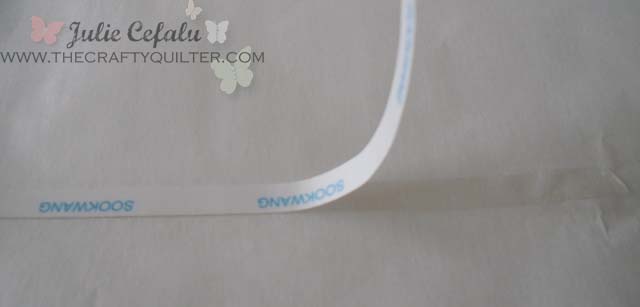 Then starting on the left side, I placed the yellow fabric strip on top of the tape and started making pleats across the length until I had the tape covered:
Next, I peeled the pleated fabric off the parchment paper and placed it on the green bottle: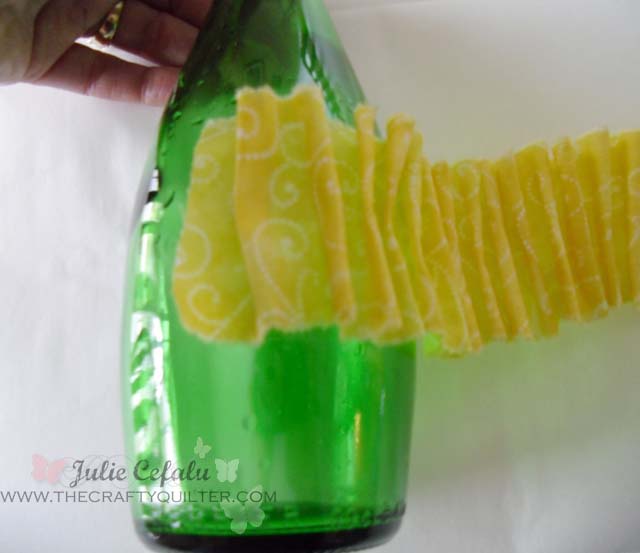 Add a ribbon around the middle and you're done!
For the next jar, I wrapped a torn strip around the jar several times and tucked the end under as I did in the purple batik jar earlier. Then I added some ribbon and tied a bow:
For my last jar, I wanted a more tailored look so I took a wide strip of fabric and pressed both long edges under so that I had a folded edge.
I added a ribbon bow, but I needed to hide the center knot since it wasn't cooperating and so a button and a glue dot came to the rescue.
Here are my yellow and green jars looking all pretty: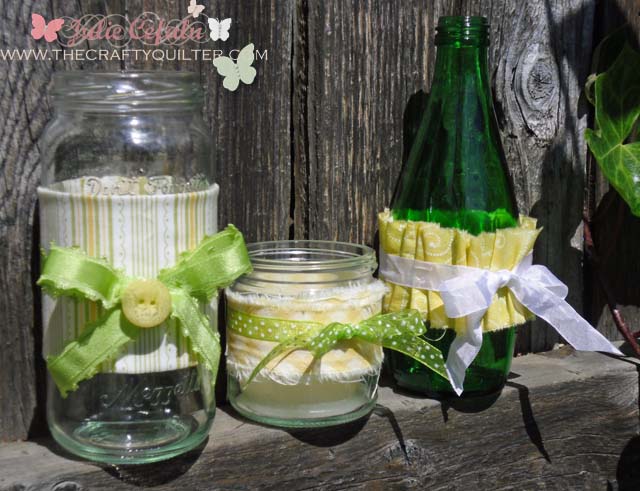 And lastly, I had a white vase that I thought would look pretty with a green and white bow. Again, I pressed both long edges under so that I would have a double-sided bow:
This time I used some double-sided tape to hold it in place. Now I have a vase that doesn't need flowers!
Don't you love using up fabric scraps? Yep, there is a reason to keep them around! So here's a look at my creative chaos: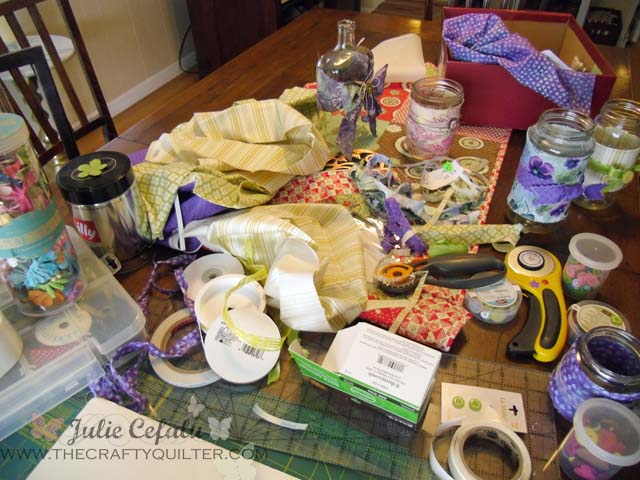 And here's a few more views of the result: