Let's Get Acquainted! Blog Hop – It's my turn!
Welcome to my little piece of blogland, also known as The Crafty Quilter! It's my day to participate in the Let's Get Acquainted! Blog Hop hosted by Plum and June.  Thank you, Beth, for organizing this event – that's no small task!
So thanks for joining me on this day and if you're new, I hope you take a look around and check out some of my past tutorials and tips.  Here's a little round up of some finished projects:
To make things interesting, Beth gave us a few questions to answer so that people could get to know us a little better.  Here are a few that I'll try to tackle:
How long have I been quilting?  I started quilting about 14 years ago at the insistence request of my older sister who was already a master quilter.  She must have known I'd be hooked!
What's my favorite blogging tip?  Take lots of pictures and edit them!  Good, quality pictures can paint a better picture than words.
What's my favorite fabric?  Well, I love most of them, like all of them, and own half of them!  Do I have to narrow it down?
What's my favorite quilting tip?  I'm really becoming fond of spray starch, especially Mary Ellen's Best Press.  I use it before I start cutting my fabrics and it helps give it that extra crispness so that my cutting and piecing are more accurate.
Binding by hand or machine?  Both!  It depends on the size and intended use of the quilt.  If I'm in a hurry, I'll do it by machine, and if I know it's going to be washed a lot, I'll also use the machine to finish it off.  It's always very satisfying to finish one by hand, though.
I have a simple project to share with you today and it's sure to make you giggle!  This is my "Quilter's Motto" that was originally found as an old clipping taped to a wall:
"No one expects the stamp collector to actually mail letters with his stamps.  No one expects the coin collector to use his coins in a vending machine for soda.
So why does everyone expect me to use my fabric collection to actually sew anything?"
I'm not a fabriholic; I'm a fabric collector!
If you have seen this before, and know who the author is, please let me know.  I'd love to give them credit!
You can download the pdf file here: Quilter's Motto from The Crafty Quilter
I printed the words onto Printed Treasures (printable fabric) and trimmed it to 8 1/2″ x 10 1/2″. You can find the printable fabric here:  Dritz Printed Treasures 5-Pack Sew-on Ink Jet Fabric Sheets, White
Here are all of the supplies you'll need:
Quilter's Motto, 8 1/2″ x 10 1/2″
1/8 yard fabric for inside border; cut into (4) 1 1/2″ x  10 1/2″ wide strips
1 package of 2 1/2″ mini-charm squares by Moda or (26) 2 1/2″ squares from your stash
1 fat quarter for backing
1/4 yard fabric for binding
Scrap of batting
Step 1:  Attach two of the 1 1/2″ x 10 1/2″ inner border strips to each side of the motto.  Press towards the borders.
Step 2:  Attach remaining two inner border strips to top and bottom of motto and press towards the borders.
Step 3:  Lay out the 2 1/2″ squares around the center motto as you would like them.  There will be 6 on each side and 7 along the top and bottom.
Step 4:  Stitch the side 2 1/2″ squares together and press in one direction.  Attach to one side of center motto.  Press towards inner border.  Repeat on other side.
Step 5:  Stitch the top 2 1/2″ squares together and press the two end squares toward the outside, so that the seams will be opposing when attached to the center motto.  Stitch to the top of the quilt.  Repeat for the bottom row of squares.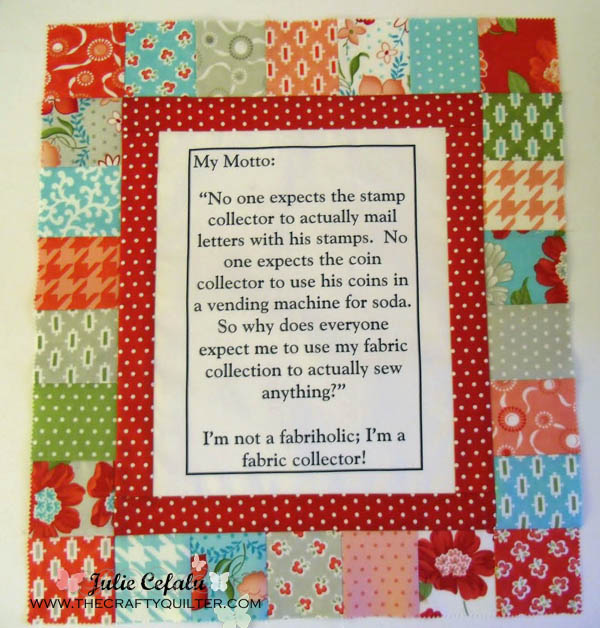 Step 6:  Layer, baste, quilt and bind!
Well, that was easy enough, right?  I think every quilter should have one of these in her sewing room, don't you?
And, I'm having my first ever give away!  I have a Quilter's Motto panel (printed) plus a mini-charm pack from Moda (Tapestry by Fig Tree) as one give away….
… and this finished Quilter's Motto Wall Hanging as another!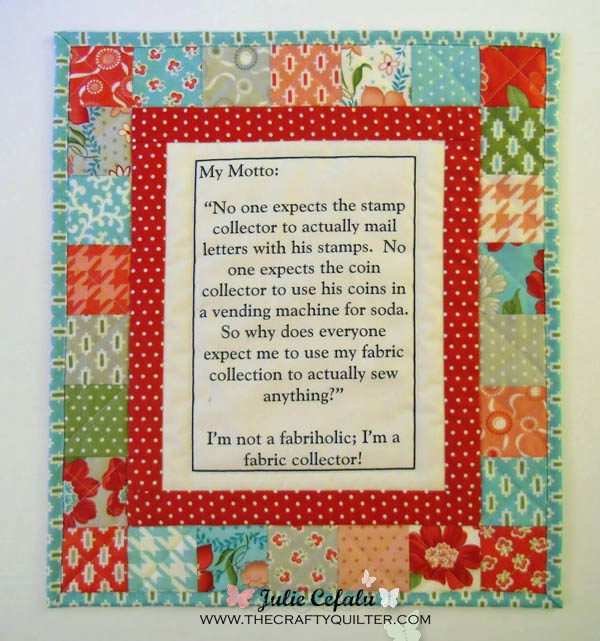 All you have to do is leave me a comment, and I'll pick two winners on Sunday, October 21.
Thank you for stopping by, and enjoy the rest of the hop.  Please make sure to visit my co-partner today, Melissa, and the other blog hoppers this week:
Oct 16
Vicki from Quilting Lodge Blog
Liz from Dandelion Daydreams
Oct 18
Melissa from issa.ino: handmade
Julie from The Crafty Quilter
Happy Quilting!
~Julie