Perfect Square-in-a-Square Technique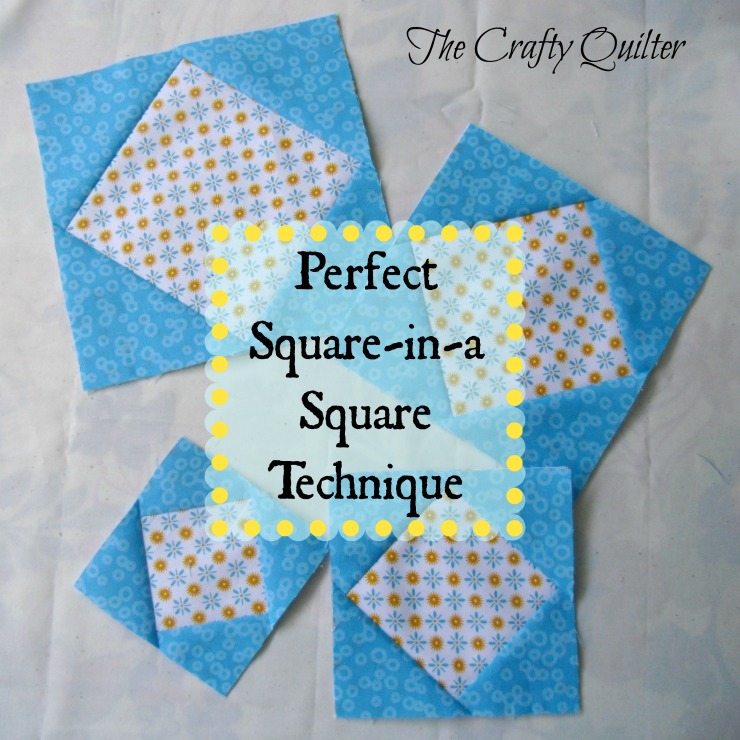 I admit to being a perfectionist (when it suits me).  The square-in-a-square block is one of those easy looking units that never comes out quite right. In other words, WONKY.
I have always used the traditional technique of using corner squares, stitching and trimming them and then crossing my fingers that it comes out square and even:
But no more wonky!  I have come up with a way of achieving bliss perfection, at least on this particular block.  Don't worry, my perfection pretty much ends right there – just ask my family!
Look how pretty these are: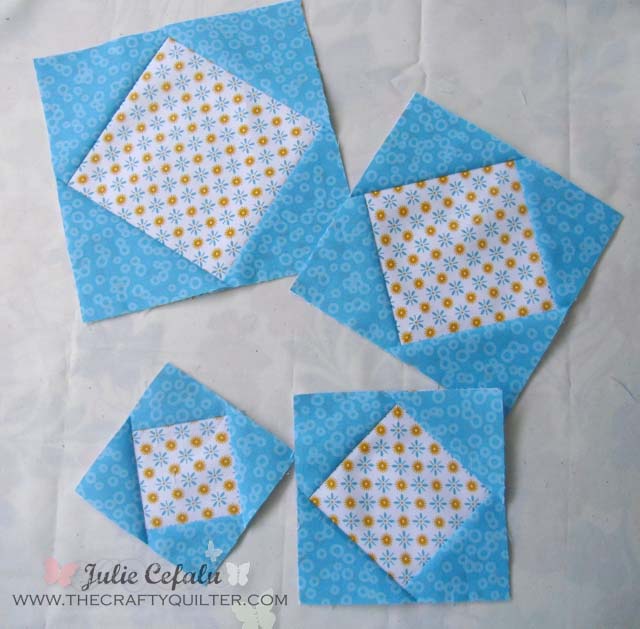 My method involves something similar to paper piecing.  Here are the supplies you'll need and the instructions:
Supplies: For a 6 1/2″ unfinished block (There will be a chart for different sizes at the end of this post):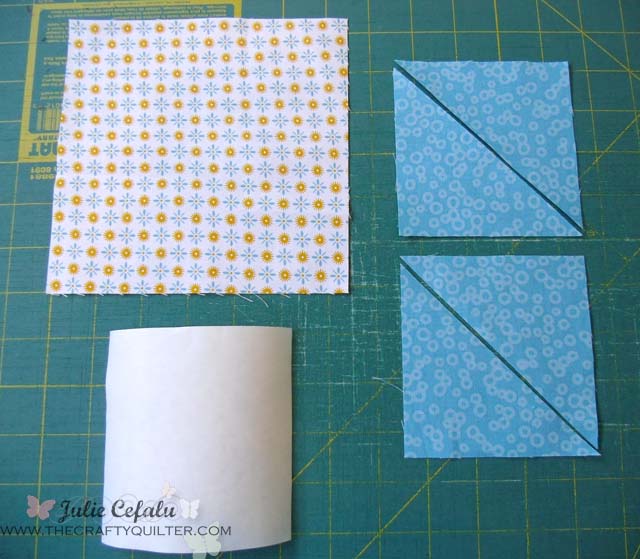 (1) 6 1/2″ square of fabric for base square
(2) 4 1/4″ squares cut in half on the diagonal for corners
(1) 4 1/4″ square of freezer paper
Step 1:  Create a crease for placement of freezer paper by folding center square in half and pressing both edges.  Repeat in other direction: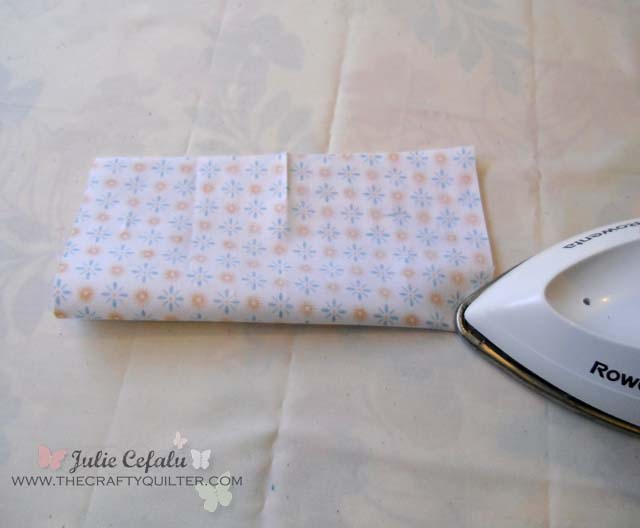 Step 2:  Place freezer paper onto wrong side of square, lining up corners with creases and press in place:
Step 3:  Place corner triangle right sides together with base square making sure that the triangle's seam allowance is showing above the freezer paper and the corners extend evenly beyond the edges and pin: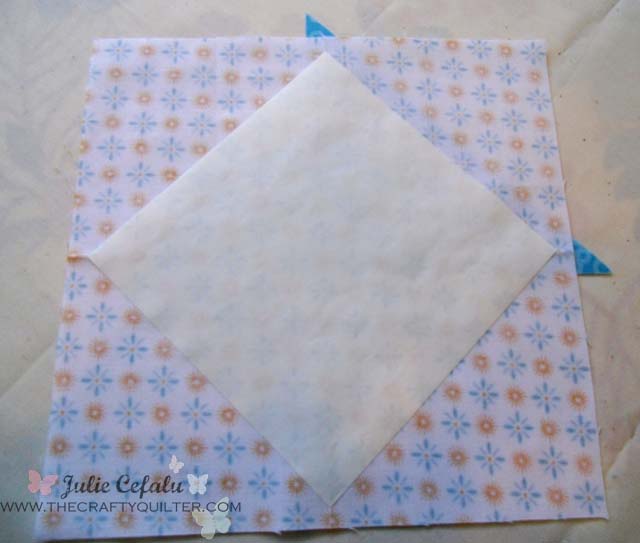 Getting this placement right is probably the trickiest part.  The center point of the triangle should be facing the middle of the square. The triangles are over-sized so there is some wiggle room here.
It might help to start on the right side of the square and place the triangle right side up as it will look when it's sewn, then flip the triangle over wrong sides together.  Adjust as needed from the freezer paper side:
Step 4:  Stitch as close as possible to the freezer paper, starting at the fabric edge and stitching off the end:
This is what it will look like afterward: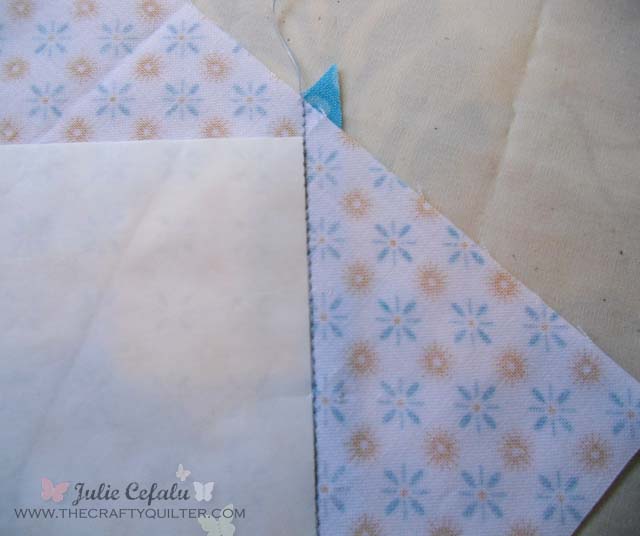 Repeat on opposite corner.
Step 5:  From right side, press triangles toward corners: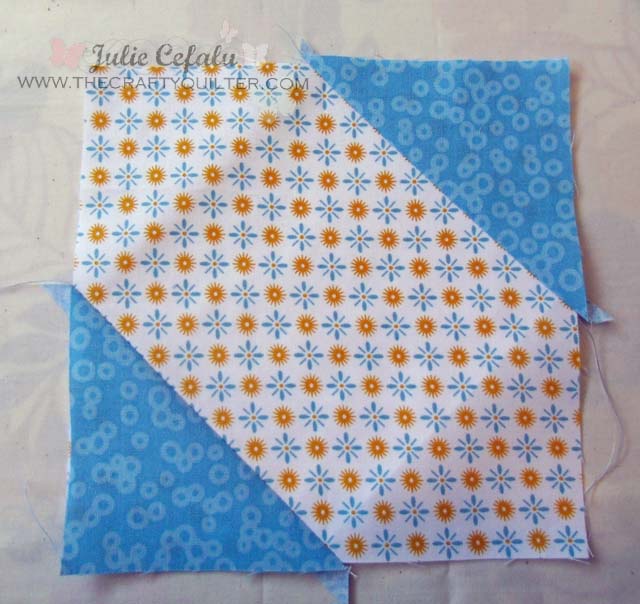 Step 6:  Repeat steps 3 – 5 on remaining two corners.
Step 7:  From the wrong side, trim all four sides even with the base square:
Step 8:  Remove freezer paper (which can be used again) and admire your beautiful and accurate block!
You have the option of trimming away the base fabric corner after sewing and trimming each corner triangle.  This time I chose to keep mine on for added stability, but normally I would trim it away.
If you use a scant 1/4″ for your piecing, you will love how this block fits together!
If you want to use this method for different sized blocks, I have come up with a chart based on the unfinished size of the block.  These are the most common sizes, however I stopped at 6 1/2″.  If anybody wants larger sizes, you can leave a comment or email me, and I'll work out the numbers.
Updated 10/2013 – chart has been corrected and updated from original post.
Unfinished Block Size

Base Square

Cut 1

Corner Triangles

Cut 2 squares, cut in half on diagonal

Center Square Size

Cut 1 from freezer paper

2 ½"

2 ½"

2 ¼"

1 3/8"

3 ½"

3 ½"

2 ¾"

2 1/8"

4 ½"

4 ½"

3 ¼"

*2 ¾"+

5 ½"

5 ½"

3 ¾"

*3 ½"+

6 ½"

6 ½"

4 ¼"

4 ¼"

8 ½"

8 1/2″

5 ¼"

5 5/8″
*Note:  The cut sizes with a "+" means to cut slightly larger than the specified size.  So, 2 ¾"+ would be in between 2 ¾" and 2 7/8".
You can download the updated (10/13) cutting chart here: PERFECT SQUARE IN A SQUARE CUTTING CHART
I hope you give this method a try!  I used it in my current "Paris in the Fall" block of the month at The Granary:
And in my Fat Quarter Shop 2012 Designer Mystery BOM Block 1, which I posted about here.
Now I get beautiful match points on all of my square-in-a-square blocks!  Funny what a quilter will get excited about.
Happy Quilting!
~Julie