A Finish and A Sweet Story
The baby quilt is finished along with a coordinating diaper basket and some burp cloths.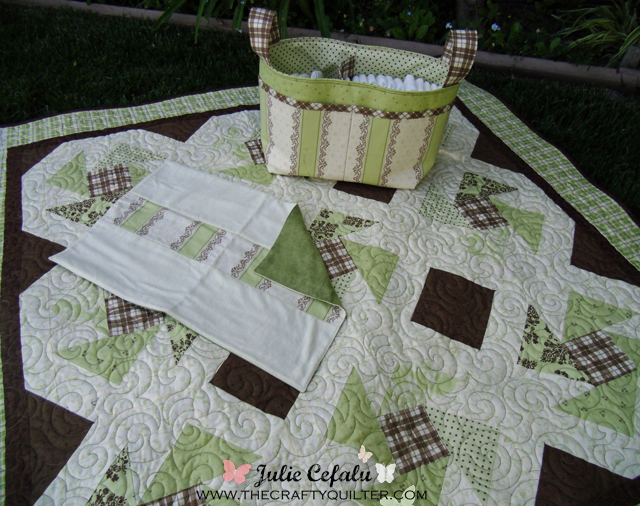 I used the Divided Basket Pattern by Noodlehead which was much easier than I first thought.  I love how it came out and the size is perfect for holding diapers and some burp cloths.
I made up my own version for burp cloths based on what I had in my stash.  It's two pieces of flannel with a strip of coordinating fabric in the middle on one side and sewn together with another piece of flannel for the back.  Turn right side out and topstitch all the way around.
A heart seemed like the perfect way to make a label for the back.
And I had to make a card to go with it…
Sounds like the book, "If you give a mouse a cookie…." one thing led to the next.
This ensemble was given to the daughter of one of my best friends from high school.  The sweet story involves my friend's daughter, her great grandmother and this crocheted blanket:
When I was pregnant  with my first child, my  high school friend gave me a baby shower and her grandmother made me this crocheted baby blanket.  I have saved it for 27 years and I just "gifted" it to her daughter, Aly. So now she has a baby blanket made by her great grandmother. I'm sure her great grandmother would love knowing that her great great grandson will be wrapped in the blanket she made a long time ago.
Except for a few small stains, the blanket is in great condition. And, hopefully, it will last another 27 years at least.
I'm going to be on vacation for the next week. I'll check back in when I get back!
Julie