Christmas is right around the corner, so it's nice to share some "glad tidings" with all of you. I received a wonderful update from Kathy Biggi of WE CARE. This is the organization that has been providing quilts and pillowcases to the displaced school children from the Paradise Camp Fire. You can read more about this at my previous blog post here.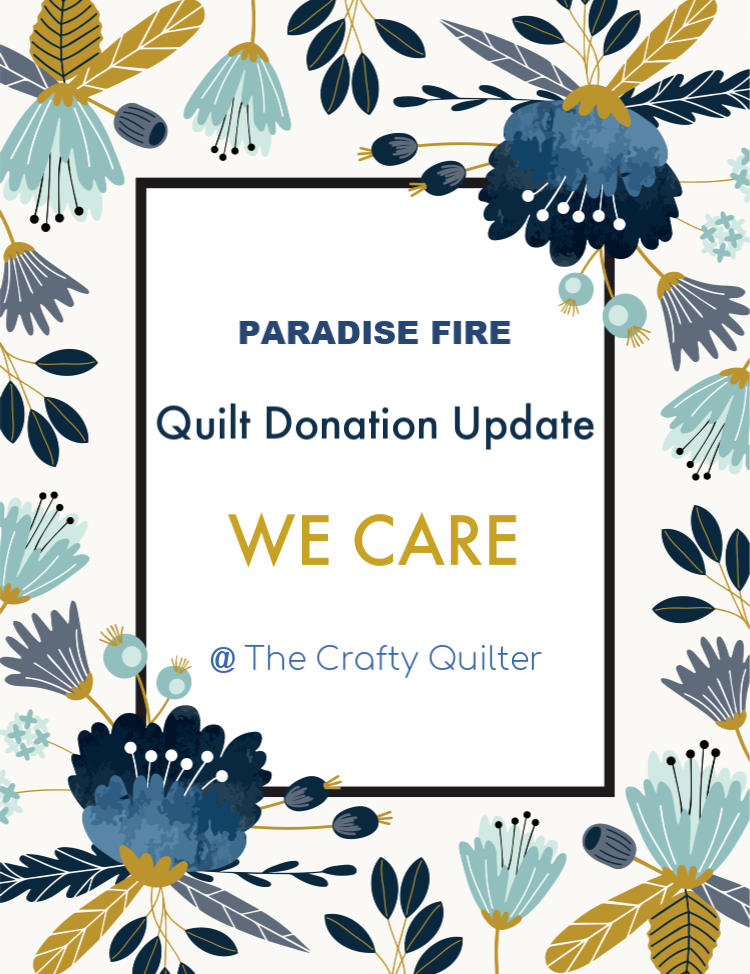 There has been a fantastic response from quilters everywhere, including so many of you that read my blog. Kathy told me to send my followers a big THANK YOU for being so generous! Here is Kathy's most recent email:
What a magical day!!!  Tamara and Heidi Cook, Bev Sarchett & Lara Riley and Michael and I loaded up our "sleighs" and headed to Cedarwood School in Magalia. (pre-K thru 12)
We put the quilts on cafeteria tables by grade levels and the children were called in by class to choose their quilts.  The tears, hugs, smiles, more hugs, laughs, and thank yous were overwhelming.  "this is the best blanket I ever had"….." I'm going to give this to my grandma" (take one for you too)……"who made this?"…….."how do you make a quilt?"……."I can't find one I like"……."I want minions" (we don't have minions) "I want minions!"   Couldn't please everyone, but more than 300 were okay with their quilts.
The school district is doing a remarkable job "keeping it all together" in their 1,500 square foot office.   School locations and students change on a daily basis.  Students come and go.  Many are on independent studies.  The staff (over 400 who lost homes) are comforting the children while trying to get their lives back to some normality.  It's amazing to see the compassion and love among them and the neighboring commmunities.
We took quilts to Pine Ridge school which is now located in two different places….some at Cedarwood and some in Oroville.  The Oroville location will be moved again when the students return after winter break.
We were not able to give all the quilts away because many older students are on independent studies until there is a school to go back to.  We will get quilts to them in January.
There are no words to describe the devastation we drove through to get there.  Handmade signs along the road……we will rebuild…..Paradise Strong……we will beat this……pray and pray harder……and the one that made me cry……"Rebuild.  It's kind of fun to do the impossible" (Walt Disney).
Because I know, YOU CARE, here are a few things we were told by the staff and School Board President.
     FEMA has set up an office close by and has been really helpful.  FEMA in Citrus Heights and Sacramento are for those who have relocated.
     The looting we heard about was mostly people just trying to get food and water.
     Schools are receiving too many donations that are "not helpful" and are "filling their storage areas"
     The county has not started to distribute the donated money.  They are requiring residents to interview for funds.
     Several  insurance companies have filed bankruptcy.
     The state has reduced restrictions for three years to allow for trailers to placed on properties.
     The staff members would love to have quilts too.  I explained WE CARE is for children.  If you know of groups with adult quilts, they would be greatly appreciated.
     Director, Ron Howard, is in town filming a documentary 
I have 150 quilts on the way for under 5th grade.  That's really all we will need.  Our focus has to switch to upper grades.  Pillowcases are coming in like crazy.  It's great!
This will be my last email until 2019.  I HAVE to get ready for Christmas!  Several asked me to ask not to have responses go to everyone, but more have asked that they do.  So, if you would rather not get my email, just let me know and I will take you off the list next time.  Otherwise, it's nice to communicate with this WE CARE family.
Remember…..we are meeting again on January 15th at the Seventh-day Adventist Church in Grass Valley.
It was the most devastating, yet remarkable day!  It is so heartwarming to know so many children are cuddled in their quilts tonight thanks to all of you.  Have they greatest holiday ever knowing you were a part of making so many families smile tonight.

If you would still like to send quilts or pillowcases, you can mail them to
WE CARE
c/o Kathy Biggi 14280 Bar Ela Ranch Rd. Grass Valley, CA  95945
This will probably be my last update before Christmas. I'll be back before the New Year to update you on my 2019 UFO challenge – which will be happening since many of you have requested it! I hope you all have a wonderful Christmas, and thank you for being a part of my creative community!