My Delphinium Blue Quilt & Blogger's Quilt Festival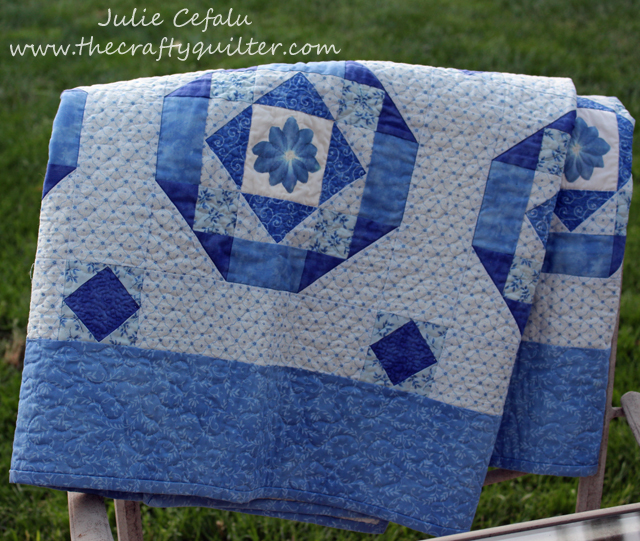 This is my Delphinium Blue Quilt that I made many years ago.  I have decided to enter it into the two color category of the Blogger's Quilt Festival hosted by Amy's Creative Side.
This quilt measures 52″ x 66″ and was pieced and quilted by me.  The pattern came from a favorite book of mine by Atkinson Designs called Confetti in the Corner.  It has so many block options that you can make over a dozen quilts and no two will look the same!
What makes this quilt unique is the center of each block.  I used a technique called "flower pounding" to create the center image.  I used blue delphiniums from my yard and actually pounded them onto fabric!  It sounds cruel, but I like to think of it as a way of preserving the flower ;-).
When the flower is pounded into the fabric, it leaves an imprint – but it's not a permanent image.  It fades eventually and sometimes changes color.  It will definitely not last through a wash cycle.  So, I photo transferred the images onto fabric and now it is permanent.
I might do a tutorial some day on the process of flower pounding.  It's a great activity to involve kids in.  Let me know if you're interested in a tutorial – it might motivate me to get it going!
I encourage you to go visit (and drool) over the quilts at the Blogger's Quilt Festival and check out all of the other participants.  It's quite a show!