The magic of a soft, flannel blankie
I love making baby quilts for many reasons, but I'm beginning to think there is more magic in a soft flannel blankie.  This is the kind of blanket made from two layers of flannel with a satin trim (or binding) around it, and it's very soft and snuggly.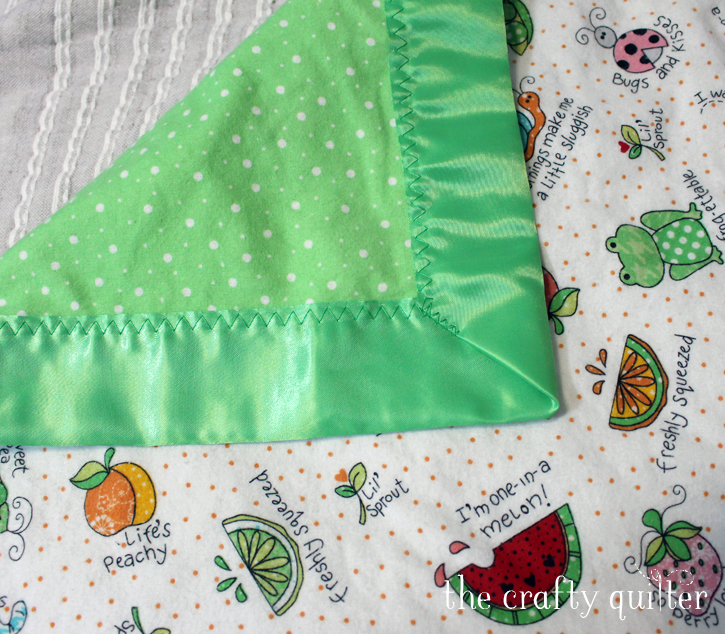 I'm seeing this with my own eyes as I watch my granddaughter, Amelia, with her own soft blankie.  My sister made Amelia's blanket and gave it to her after she was born.  As Amelia has grown, it has become beloved above all things, and she can't go to sleep or leave home without it.
My daughter has to find a time when Amelia is distracted so she can throw her blankie in the washing machine without a major meltdown.  That is the magic and the reality of a soft flannel blankie.
Of course, baby Clara (granddaughter #2) has been gifted (by my sister) with her very own soft flannel blanket.  And my sister made Amelia another blanket just in case something happens to her first one.  Everyone is quite happy.
Have you ever made a soft, flannel blanket with satin trim?  I think it's going on my list of quick gifts to make for babies.  Or maybe I'll make a matching flannel blanket to go with the baby quilt that I spent hours upon hours making.  I know, baby quilts are treasures and can be passed down to generations while the soft flannel blankie will be loved to extinction.  And that's OK, too.
Personally, I've never made a flannel blanket with satin trim.  But if you're looking for a tutorial, check out this DIY Satin Blanket Binding Tutorial by Shelly at Coral and Co.  She has great photos of the binding process.
You should also check out How to Sew a Double Minky & Satin Bound Baby Blanket by Christina at The DIY Mommy for the ultimate in soft and cuddly blankets.
Since we're talking about baby blankets and quilts, I'll show you the Ombre heart quilt I made for Clara.  I finished stitching the binding on the day before they arrived last week.  I don't have any great pictures of the quilt, but it did turn out cute.
I used a charm pack of Hazelwood by One Canoe Two for Moda and a variety of white background fabrics from my stash.  The pattern is a modified version of my Ombre Heart tutorial.  I added the embroidery on the front which took me just as long as the entire quilt to complete!
I also made a doll quilt for Amelia using a mini charm pack of the same fabric and one of the heart blocks from Clara's quilt went in the center.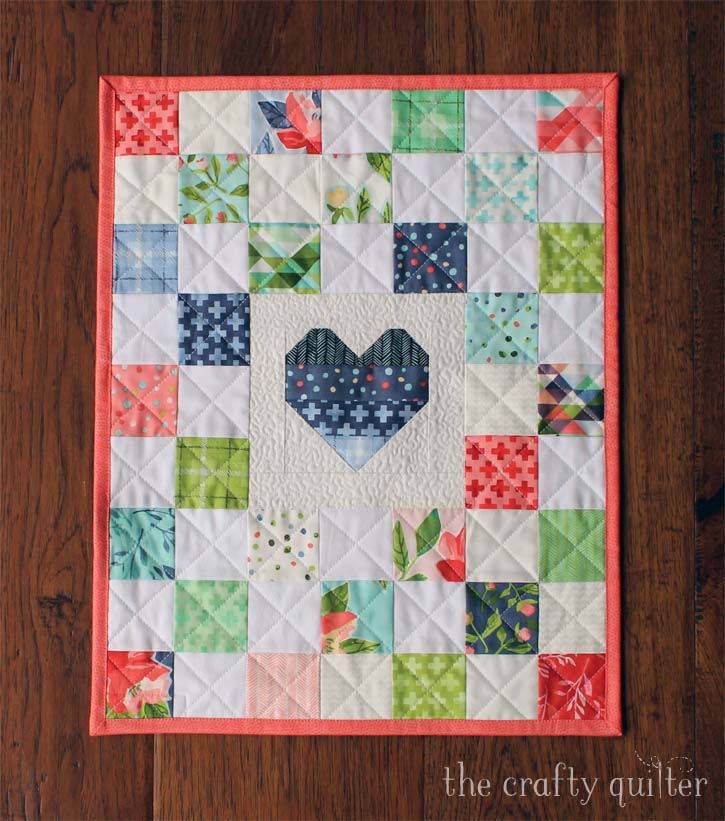 Baby Clara and Amelia visited for a whole week recently, and it takes me a few days to adjust to the empty nest when they leave.  I can never get enough, and my gosh, they grow fast!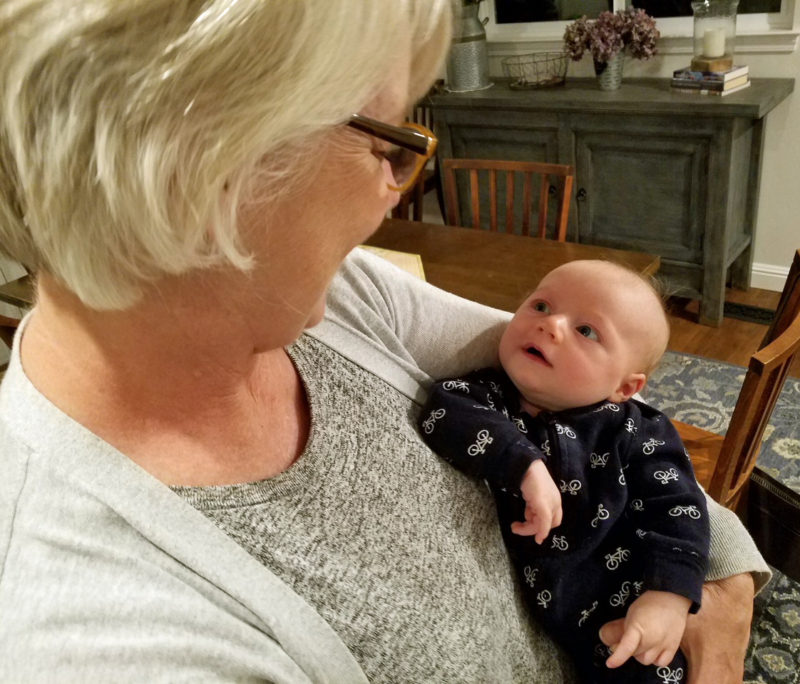 If you have kids at home, check out The Ultimate Family Package at Craftsy.  If you join Craftsy Unlimited (5/26-6/2), you'll receive a free kid-friendly bundle that includes 4 kits to keep everyone creating and busy during the summer (affiliate link).
Thanks for visiting today and I hope your weekend is off to a good start.  It's Memorial Day weekend in the states – our kickoff weekend to the summer!  Enjoy!