So many options for the Drunkard's Path block
While I was making my first Drunkard's Path quilt, I discovered there are so many options for this versatile block.  I got so excited about my discoveries, that I thought they would be worth sharing!
A little History
The Drunkard's Path quilt block dates back to ancient Egyptian times when this design was discovered on several Roman artifacts.  Also know as Solomon's Puzzle, Oregon Trail, Rocky Road to Kansas and others, this block has been tied to the Women's Temperence Movement in the early 1900's as well as a possible link to the Underground Railroad during the late 1700's until the Civil War in 1862.
Piecing Methods
This block requires curved piecing which might make it off limits for some quilters.  It sure did for me.  Traditionally, templates are used to cut out the two pieces which are then heavily pinned together at the seam.  Using a 1/4″ piecing foot and a shorter stitch length, you slowly sew that seam together and cross your fingers at the end!
Lee Heinrich for We All Sew has a great tutorial on the traditional piecing method using templates that you can print out on your own.  The nice thing about these is they're slightly over-sized so you can trim the block down to the perfect size.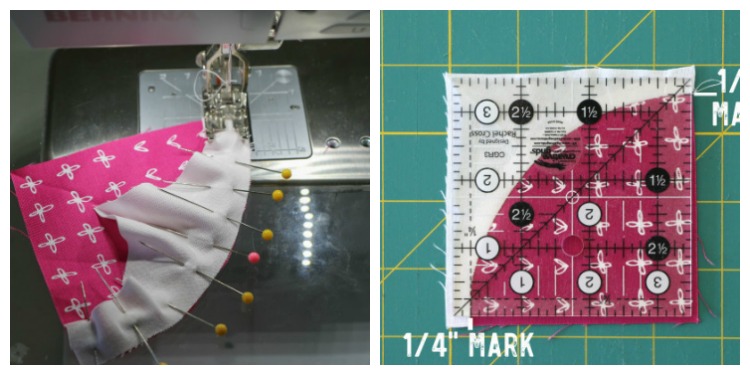 AccuQuilt makes a Drunkard's Path die so the cutting portion of this block is super easy and precise.  You need the die cutter to use this product, which may be prohibitive if you don't own one.  I have not invested in the AccuQuilt Go Cutter, but I've heard they work well.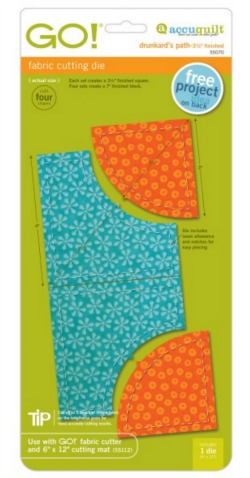 If you Google "Drunkard's Path template", you'll find there are many different manufacturers offering a template.  I've only used the CutRite Slit 'N Sew templates from Quilter's Paradise which I reviewed here.  This template also offers a unique method of matching up the curved seam edge and requires NO pinning.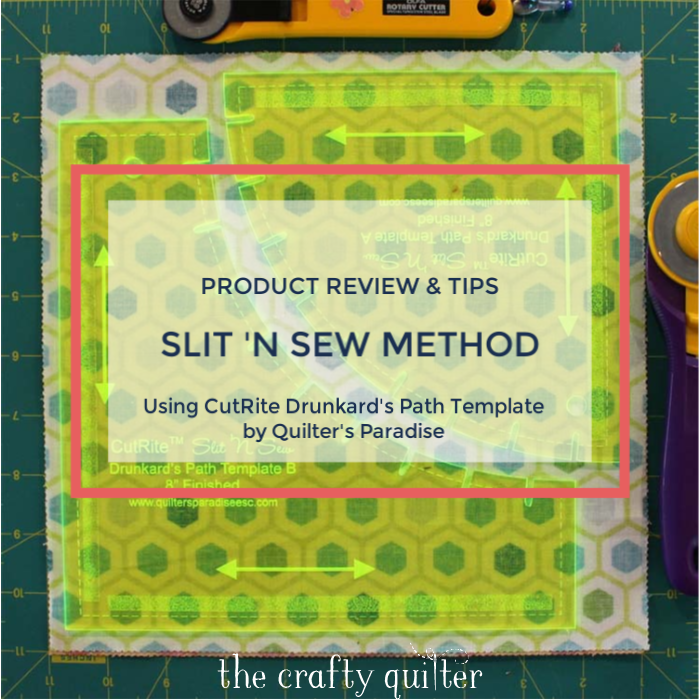 A clever adaptation that is a cross between piecing and applique was done by Nicole at Sew Nomadic.  She uses Sharon Schamber's Piec-lique method to create a Drunkard's Path block.  I would like to try this one!
Design Options
What really got my attention about this quilt block, was the wide number of patterns and layout options!  Below, you'll find some of my favorites (thank you Pinterest).
Quiltscapes Quilting has a downloadable graphic of 16 different layout options!
Leanne at She Can Quilt made this adorable Butterfly Quilt using a Drunkard's Path block combined with squares in pretty Kate Spain fabric.
Did you know you can use applique to create a Drunkard's Path block?  Check out this clever pattern, Moroccan Tiles, by Heather at Anka's Treasures.
This Gaslight Quilt Pattern is available from Sew Many Creations on Etsy.  This is one of my favorites – it reminds me of old fashioned Christmas ornaments.
Check out this Tipsy Stars Wall Hanging from Susan at The Proficient Needle.  Adding little corner squares gives this block a unique twist.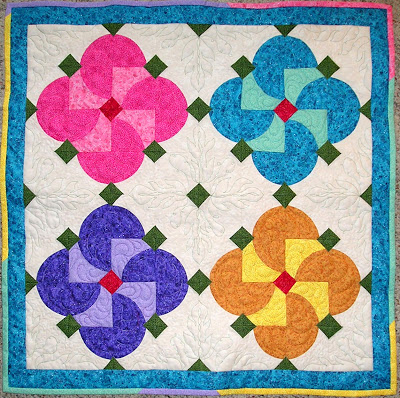 A few years ago, there was a Drunkard's Path Quilt Along at SpringLeaf Studios.  Anne showed many layout options using a particular arrangement of blocks, and they're just beautiful.
Marti Michell makes the Drunkard's Path Perfect Patchwork Templates and offers 20 different layout designs including this Trip Around the World version.
Nancy Zieman used the Drunkard's Path block in her 2015 Adventure Quilt Block of the Month and showed her unique method of making them along with a few designs of what a whole quilt would look like with this block.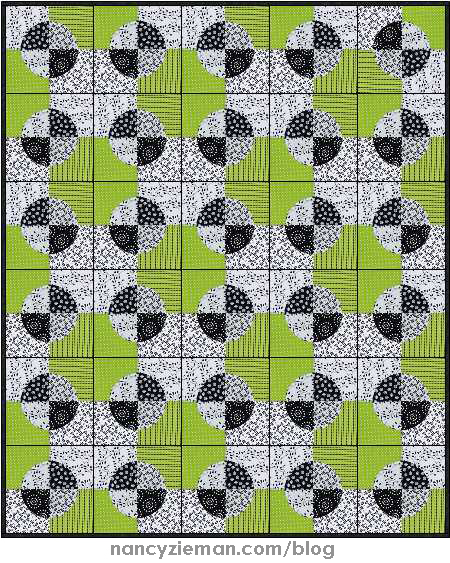 It doesn't get cuter than this Wee Animal Quilt by Dani at Knit, Stitch, Click!  She has a full tutorial for you including templates.
I made my own Modern Drunkard's Path Block while participating in a BOM at Sew at Home Mummy.  Erin still has the free pattern available, and you can see what others did with their block.
Well, we could be here all day!  I just can't get enough of this old, but re-discovered quilt block.  The Drunkard's Path is on my radar, and I think it's time for me to start designing with EQ (Electric Quilt).  I'll get right on it – as soon as I'm done with today's list!
Have a lovely day and a wonderful weekend!