October UFO link up & Pumpkin Spice table runner
Can you believe it's the last day of October already?  Halloween?  Time is moving too quickly!  It's also time for the October UFO link up which is part of my Hello 2016, Goodbye UFO series.
Pumpkin Spice Table Runner
My UFO project for this month is a Pumpkin Spice Table Runner that I started last year.  I had purchased some American Made Brand cotton solids and I wanted to make something small that would show off the beautiful fall color palette.  I'm always switching out my table runners so I knew this would be a perfect project.
This was my first time working with the American Made Brand fabric.  I like the company story and the fact that I'm buying an American product.  The fabric is easy to work with but it's not as nice as some of the other solid fabrics I've used such as Kona and Marcus Brothers.  The hand is a little bit rougher and the weave is not as tight.  I love the saturated colors, though!
I used a neutral taupe that contrasted beautifully with the bright, warm colors.  I kept the bands of taupe the same width (2 1/4″ unfinished) and varied the colored strips.  I started with the widest strip (3 1/4″ unfinished) in the center and went to smaller increments on each side until I got to the purple strip which is 2″ unfinished.  It's a very simple design, but it packs a punch.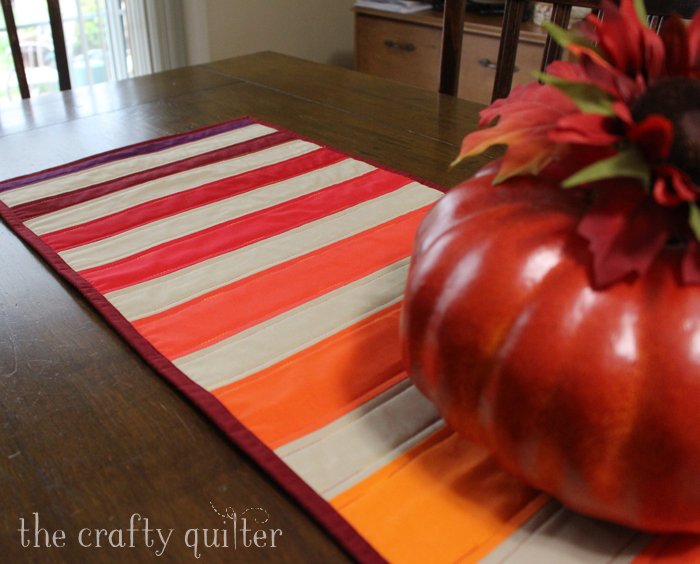 I kept the quilting simple as well (it's better to be finished than to be perfect).  I used a variegated thread (Superior King Tut) and I stitched 1/4″ on each side of the seams.
I found a beautiful fall floral in my stash from several years ago and used it for the backing.  I didn't have enough for the entire length, so I added a contrasting rectangle of purple in the center.  I love having a reversible table runner!
When I want to finish a project pronto, it means that I'm going to do the binding entirely by machine.  Recently, my favorite way to do that is by sewing the binding to the BACK of the quilt and wrapping it around to the front.  From the front side, I stitch close to the folded edge of the binding (by machine) with matching thread on top and thread to match the backing in the bobbin.  It looks good on both sides (again, finished is better than perfect).
October UFO Link UP
Another UFO checked off my list!  Now, I can't wait to see what you've completed this month.  It gets harder to commit to finishing a UFO project as we get close to the holidays, so I commend you for sticking to it!
I'll pick two winners from the link up who will each win a prize package containing a charm pack of Juniper Berry by Basic Grey for Moda, a spool of Magnifico Thread from Superior Threads, a quilt pattern, a free motion quilting book and a prepaid subscription to The Quilt Show.
Link-up Rules:
You may add up to 2 finished projects.
One image per finished project.
Project must be sewing or quilting related.
The link-up will be open until November 7, at midnight, PST.
The giveaway is open to USA or Canada only, however, anyone can join the link-up. If a winner is chosen that is international, then another number will be picked until it meets the criteria.
Winner will be drawn at random on November 8, 2016.
Loading InLinkz ...
Save
Save