Christmas in July Blog Hop Day SEVEN!
Today is the seventh day of the Christmas in July Blog Hop and it's finally my turn to give you some holiday inspiration!
If you're new to my blog, welcome! I'm Julie, The Crafty Quilter, and I love sharing my creativity with you here at my blog. I live in Northern California with my family, and I teach quilting classes and work in a quilt shop (so I practically dream in quilt colors)! This year, I made a promise to myself that I would get ready for Christmas all year long. I have been working on one holiday project every month and you can find all of my previous Christmas projects here.
I coordinated this blog hop so that I could share even more holiday inspiration with you from some of my favorite blogging friends. So far, they have brought you a Christmas Tree Topiary Pillow, JOY and Gingerbread Bunting, a Christmas Door Banner, a Winter Wonderland Table Topper, a Christmas Tree Skirt, and a Christmas Windows Wall Hanging.
And now I am adding a Christmas Holly Table Runner to the mix. You'll find the tutorial in a pdf file towards the end of this post.
I have been so excited about sharing my project with you for this Blog Hop! I made a cute and simple Christmas table runner using easy patchwork, a little applique and some jumbo ric rak to add some punch.
Another little detail that makes this table runner so fun is the thread that I used for the quilting. This is a metallic thread called Sliver by Sulky and it adds a touch of sparkle to your stitches. I'm so glad I thought to use it here! I did all of my straight line quilting with it and I outlined my applique shapes with it also. The free motion quilting was done with white cotton thread.
I really enjoyed making this little project and it's so nice to make something quick and easy! But if you're thinking, "Oh no! It's got applique…", I'm giving you an alternative that leaves the applique out. I wouldn't want anything to prohibit you from making this table runner!
I made this same runner in a patriotic version without the applique. I just added another border to the end and an extra row of jumbo ric rak. I think it's still as cute as ever. I'm telling you, though, it was painful for me to not add stars in the border!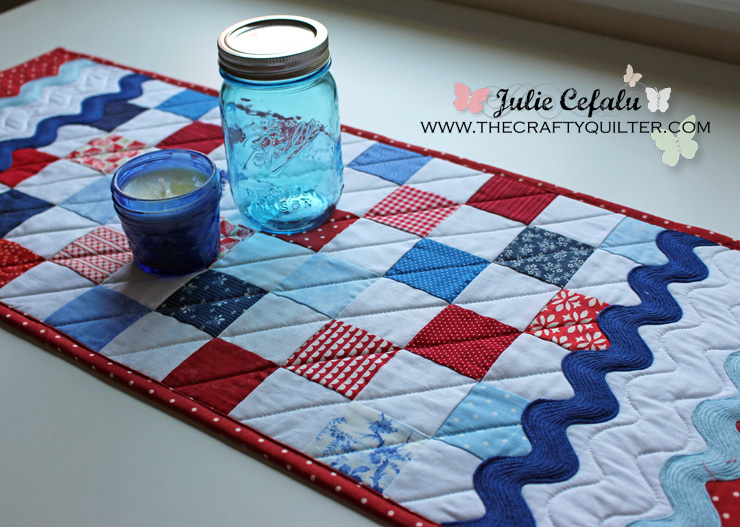 The Christmas version uses one mini-charm pack of Moda Candy in Aspen Frost and some white background fabric. The patriotic version was made using some of my scraps (it didn't make much of a dent). The finished size is 12 1/2″ x 28 1/2″. It fits perfectly on my entry table, but it could be made larger to fit any size table.
My tutorial can be found here: Christmas Holly Table Runner. This is a separate pdf file that I made for you so that's it's easy to save and print out for future reference. I hope you enjoy it, and please let me know if you have any questions!
Now that you've made it this far, I have a giveaway to offer you! (UPDATE: This giveaway is now closed). Actually TWO, because I can't stand picking just one winner! First, I have one kit that includes everything you need to make my Christmas Holly Table Runner: One Moda mini-charm pack of Aspen Frost, all other fabrics required (including backing & binding), jumbo ric rak, Sliver metallic thread, and a printed copy of the instructions!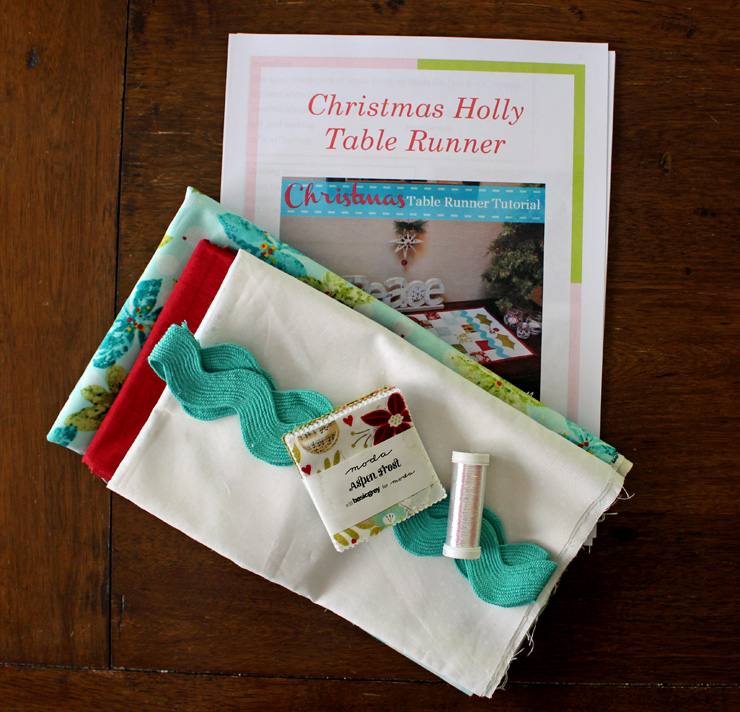 And the second winner will receive the book, Sew Merry and Bright: 20 Easy, Fun, and Festive Patterns, along with four fat quarters of holiday fabric: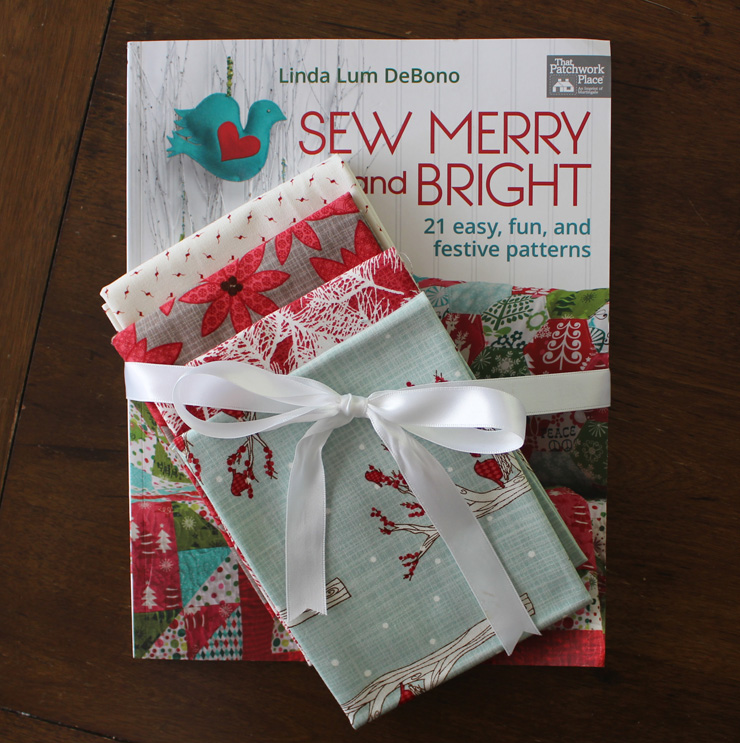 All you need to do is leave a comment on THIS post telling me what your favorite hand made gift would be (to give or receive) this Christmas (pretend that I'm Santa). UPDATE: Giveaway has ended.
I'll pick two winners on July 25th! Good luck and thank you so much for joining me for my turn on the Christmas in July Blog Hop! I'll be back tomorrow to wrap up the blog hop with any final additions or giveaway information.