Sew Thankful Sunday, 08.25.2013
Welcome to Sew Thankful Sunday, my day to share some creative jems from the blogosphere with you.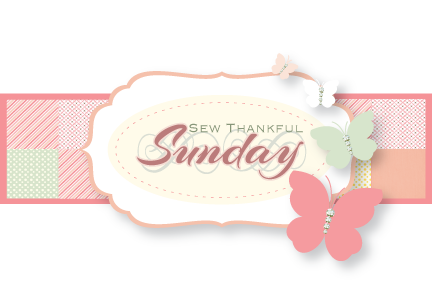 I just returned from a week long vacation and I have lots to catch up on!  First, I want to thank you all for your lovely comments on my sewing room tour.  I don't know if I'll get to personally thank each of you, but I am so grateful for your sweet thoughts.
So, let's see what I've found in the last few weeks than I am sew thankful for.
(Remember, you can click on any of the images to go directly to the associated link.)
1. Check out this cute quilt, Cherry on Top Picnic Quilt by Lea of Podunk Pretties.  You can make one too by following Lea's awesome tutorial.  I would love to have that in my picnic basket!
She recently posted the directions to make these sweet cherries – did you know that cherries are my favorite fruit?
2.  Have you tried out sewing with hexagons yet?  Polly at Pieces by Polly will help you!  She started a Hexies by Halves Quilt Along in July and you can catch up with the details here.
3.  There is another sew along going on and it's a bit more vintage.  Moore About Nancy is a blog dedicated to remembering the quilt blocks featured by Nancy Cabot in the Chicago Tribune in the 1930's.  Candace Moore has been recreating these blocks along with instructions to share with everyone.  You can find all of the blocks that have been done so far here.
Here is the most recent block that Candace made, the Skyrocket Quilt Block:
4.  I love learning new techniques and Cristy at Sew Much Like Mom recently shared a tutorial for Piec-lique Circles and Drunkards Path.  This is such a great way to "applique" circles and it's so different than regular applique, hence the name "piec-lique".  I have tried this technique myself and it's awesome!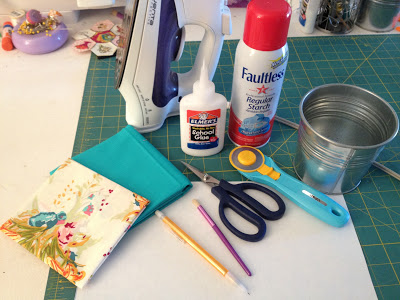 5.  If you are looking for a quick and easy project, check out these cute composition book covers by Amanda of Jedi Craft Girl.  She's sharing her tutorial to make them at Riley Blake Designs.  They would make great gifts too!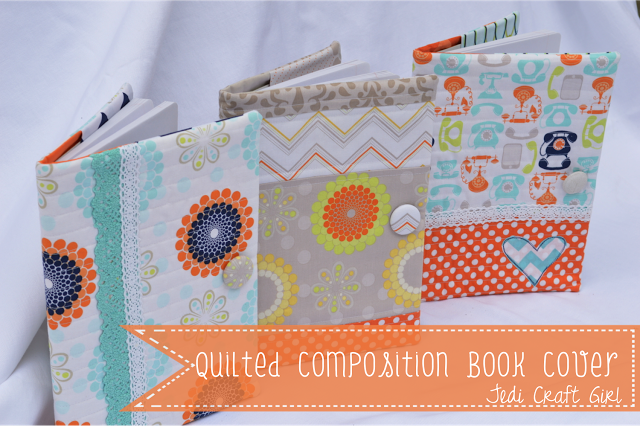 6.  The Star Flower Quilt Along is well under way and you won't want to miss Amanda's recent tutorial for sewing together these cute stars at A Crafty Fox!  Plus I love seeing pictures of all of her beautiful fabric!
7.  I have wanted a pincushion and thread catcher to use by my sewing machine for so long!  Now I can make my own with Elizabeth from Oh, Fransson!'s tutorial @ Sew Mama Sew!
8.  This Hexagon Star Block Tutorial by Sew Crafty Jess caught my eye and it was love at first sight!  Between the colors that she chose and the design, I was smitten.  I might have to practice my paper piecing skills after all!
9.  If you need a good lesson on paper piecing, check out this video tutorial by Jennifer at Ellison Lane Quilts.  She does a great job of showing you the basics of foundation paper piecing and I'm now a little more ready to start hexagon star block (above)!
10.  I love seeing other people's process for quilting and I learned so much recently from Heather & Megan at Quilt Story.  They explain how they finish a quilt top and give you lots of resources from other quilters too!  It's definitely worth a look, here!
11.  Have you ever seen a barn quilt?  Me neither until the last day of our vacation.
We were driving along the Feather River canyon in the Sierra Nevada mountains (Northern California) and I was amazed and thrilled to see lots of them along the way!  I wanted to stop and take pictures, but we needed to get to a friend's house.  When we arrived at their house, they had a barn quilt of their own!  Click, click!
Wouldn't you know, when I got home, I saw an article by Angela Mitchell on the Craftsy Blog that explains what Barn Quilts are.  You can read all about it here.
Thanks for joining me today, and thank you to all of the featured blogs for their amazing work!