Sew Thankful Sunday, January 2017
{I love the idea of "paying it forward". I think the world would be a better place if we could spread some joy and acknowledgement of good deeds done by others. I try to do that once a month for my Sew Thankful Sunday posts. I highlight some great content that I've found on other people's blogs that I hope will inspire you and reward the originator by bringing traffic to their site. If your blog has been mentioned without your consent, please let me know and I will take you off the current list of featured bloggers.}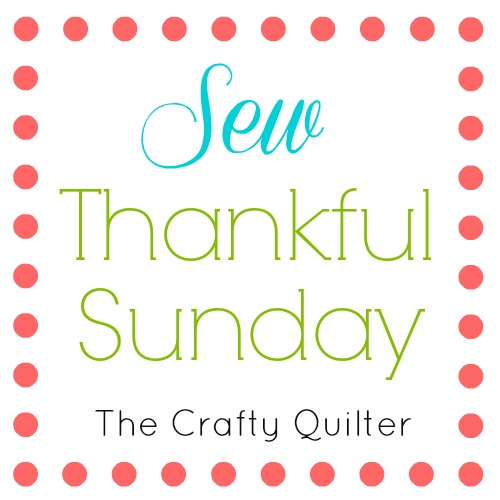 HAPPY NEW YEAR!!!  I love new beginnings and fresh starts.  It's a good time to clean out the old and start something new.  This month's Sew Thankful Sunday focuses on upcoming sew alongs, quilt alongs and block of the months.  Some of them are free and some of them require a small fee.  Either way, I hope you find something that tickles your fancy!
Note:  If you use Pinterest, please pin from the original source and not this blog post. Remember, you can click on any of the images in this post and it will open up a new tab to the associated link.
1.  How about a year long sew along with Angie at Gnome Angel and The Quilter's Planner.  To participate, you'll need The Quilter's Planner which is a fabulous tool to keep your personal and quilting life organized.  I used mine last year and loved it!  Included with the planner are 52 block patterns which you can see here.  Organization has never been so creative!
2.  If you love a good mystery, check out Pat Sloan's FREE Children's Book Mystery BOM.  The first block, Mother Goose Rhymes, was just released and it's a lovely traditional pieced block that a confident beginner could manage.  You'll find the patterns and supply list at Free Quilt Patterns.
3.  Aurifil and Pat Sloan will once again be hosting the 2017 Aurifil Designer of the Month starting on the 15th of January.  This year's theme is the color wheel.  Each designer is assigned a primary color on the wheel and will create a block using that color + white.  I love a good rainbow!
4.  The Cookbook Quilt Along begins now with Amy Gibson at Stitchery Dickory Dock.  On the menu are 50 blocks in 50 weeks and some tips and inspiration to help you along the way.  You'll need Amy's fabulous book, The Quilt Block Cookbook
, to get all of the "recipes" for this quilt along.
5.  Here's some chocolate without all of the calories:  The Chocolatier Block of the Month kicks off this month with Anne Marie at Gen X Quilters.  "Enjoy piecing traditional skill-building blocks set in a LeMoyne Star destined to look like shiny wrapped chocolates.  An argyle compass emphasizes the star's beauty and it's all framed with a beautiful bracelet border." You can purchase the pattern in print or pdf format here.
6.  If you're more of a traditionalist, check out A Traditional Mystery BOM from Cindy at Quilt Doodle Designs.  She'll have free instructions for a pieced block with a little applique on the first of each month.  You're sure to love this one!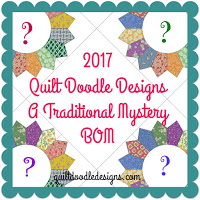 7.  Sherri at A Quilting Life is offering her own free block of the month this year.  On the 5th of each month she'll give instructions for a 12″ quilt block starting with this little cutie, Directions.  You can also quilt along with Sherri as she shares a Christmas Gift Project of the month.  That sounds necessary!
8.  I'm excited about the start of Monthly Mini-Quilts at Sew Can She.  Caroline has teamed up with some of her favorite bloggers to bring you a free mini quilt pattern each month.  By the end of the year, you'll be able to fill up a whole wall with minis!
9.  For fans of foundation paper piecing, Alyce of Blossom Heart Quilts is bringing you The Milky Way Sampler.  Each month's block pattern will be released on the first of the month and available to download for free for that month.  After that, it will cost a nominal fee.  Alyce will walk you through the paper piecing process every step of the way – you can do it!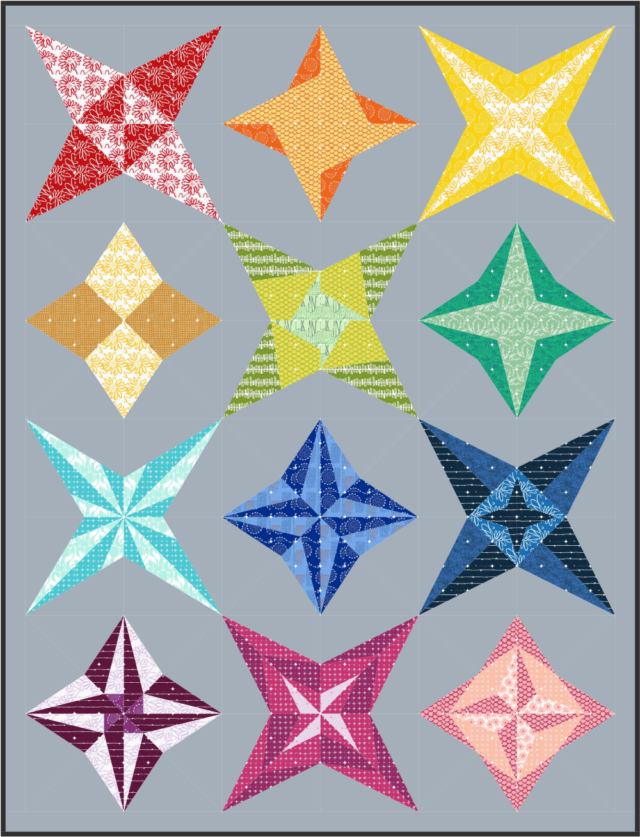 10.  I know this may seem a little premature, but a new quilt along with Lorna at Sew Fresh Quilts will have you ready for Christmas before the end of summer.  Have a Jolly Little Christmas starts on January 14 and will continue every two weeks with a new 12″ quilt block.  There will be lots of setting and project options to choose from, so make sure to tune in!
11.  Are you ready to make a quilt block a day in 2017?  Then you'll want to join Kathryn Kerr at her 365 Challenge to make the ultimate sampler quilt using traditional piecing techniques.  The blocks are mostly and 6″ and 3″ and promises to be a great learning experience!
12.  Fat Quarter Shop is once again hosting a charity quilt along to benefit the Make-A-Wish Foundation.  This year's Patchwork Quilt Along includes video tutorials and kits that you can purchase separately.  It's a great opportunity to use your "quilty powers" to support a good cause!
With all of these choices, I'm going to need an extra 24 hours in each week just for quilting (sound familiar?)   Whether you want to commit to a year or just a few weeks, there's something for everyone.  It's a great time to start something new!
Save
Save
Save
Save
Save
Save
Save
Save