I have two finished quilts to show you today!  I got the final borders on my Sugar Block Sampler from last year.  I love it!  This was from the 2016 Sugar Block Club hosted by Amy Gibson at Stichery Dickory Dock.
I've handed the quilt off to my longarm quilter so it's not actually finished, finished.  But, it's out of my sewing room for the time being.  I had a little challenge with the photography backdrop with our remodel going on, but I think it worked.  That broom and ladder were already in place.  All it needed was a quilt, and that ladder is the perfect shade of red!
The fabrics I used came from a fat eighth bundle of Prairie by Corey Yoder for Moda.  They are truly happy colors that mix well together.  All of that white background really makes them pop.
My other finish, finish is this cute barnyard sampler from Lori Holt's book, Farm Girl Vintage.  I love how it turned out and it fits in perfectly with The Granary Quilt Shop theme which is where it now hangs.  Paula, the shop owner, and I started this last year so it's also another UFO that I have crossed off my list.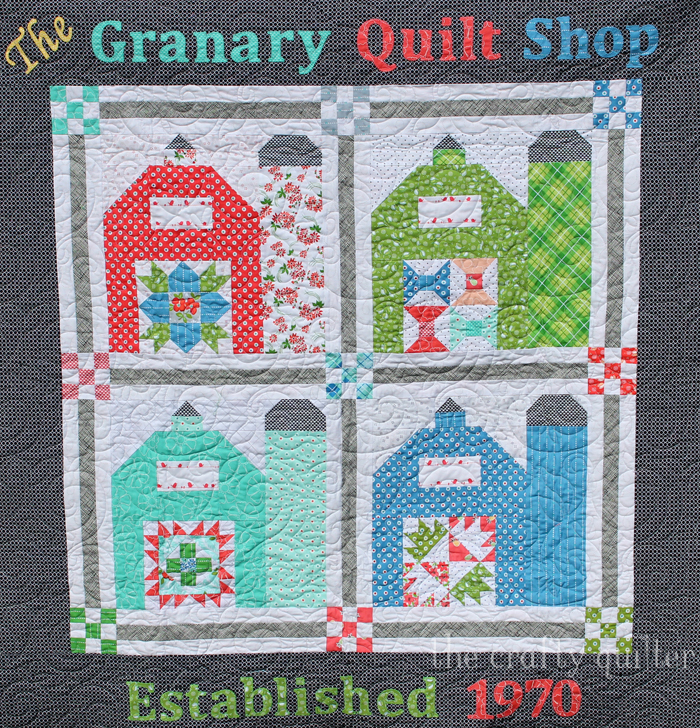 It feels so good to get a project (or two) finished.  Now it's time for me to clean up my sewing room so I can prioritize the next project.  Do we quilters ever have a clean slate?
I'll be back on Sunday with my list of "Sew Thankfuls".  Have a great weekend!
Linking up to Crazy Mom Quilts and Confessions of a Fabric Addict
Save
Save
Save