I can feel the turning of the seasons – Fall is in the air!  This is my favorite time of year, and I'm starting to look for some fall projects to start on in my sewing room.
To get the Autumn creative juices flowing, you should check out the Quilts in the Pumpkin Patch Blog Hop that started today at Sunshine in the Attic.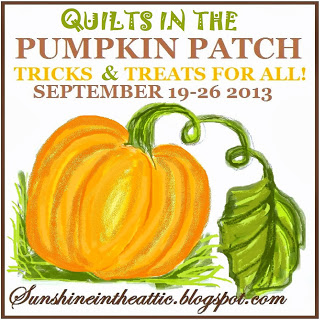 Look at this adorable wall hanging that Sheri made for the occasion:
How many ways can you say cute, cute?
And here are a few more sources of inspiration:  This Spring to Fall quilt pattern by Arbee Designs is just beautiful:
And I love this book, Tis the Autumn Season: Fall Quilts and Decorating Projects, by Jeanne Large and Shelley Wicks.
Are you feeling it yet?  I know I am!  I'm going to find some potential pumpkins in my stash!