Giveaway winners, a coupon code & thoughts on tutorials
Today I get to announce the winners of the Happy Little Things BOM and the UFO & WIP Challenge for August, plus I have a coupon code from Purple Hobbies and some thoughts to share on video vs. written tutorials. That was one long sentence, but keep reading!
Giveaway winners
Let's start with the giveaway winners. For the Happy Little Things Block of the Month, number 39 (out of 241 comments), was randomly chosen as the winner. That belongs to Linda B., and when asked whether you prefer video tutorials or written tutorials, Linda said, "I prefer written tutorials…but I watch video tutorials also! I just have to start and stop them often!!!" I'll share more thoughts on that topic at the end of this blog post. Linda will be receiving a Designer Thread Box from Aurifil. Congratulations!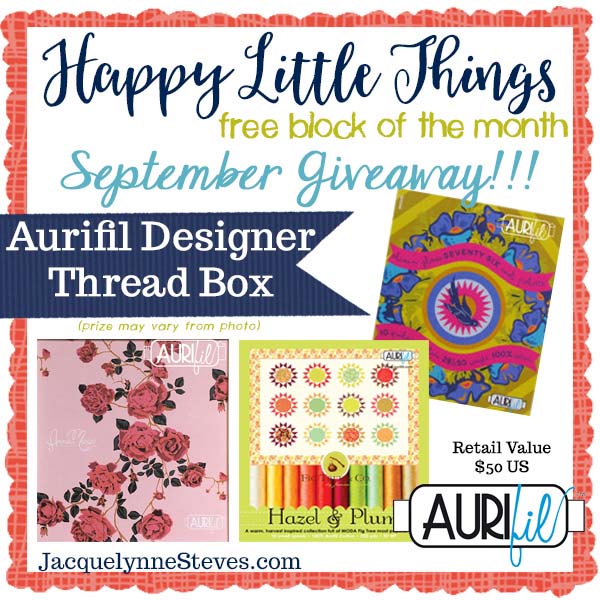 For the August UFO & WIP Challenge, out of 47 entries, #46 was randomly chosen. That belongs to Verna A. who made a beautiful, pink baby quilt. She will be receiving a prize package that includes a Cherry Pickin' Table Runner kit by Me and My Sister Designs for Moda, compliments of me and my stash.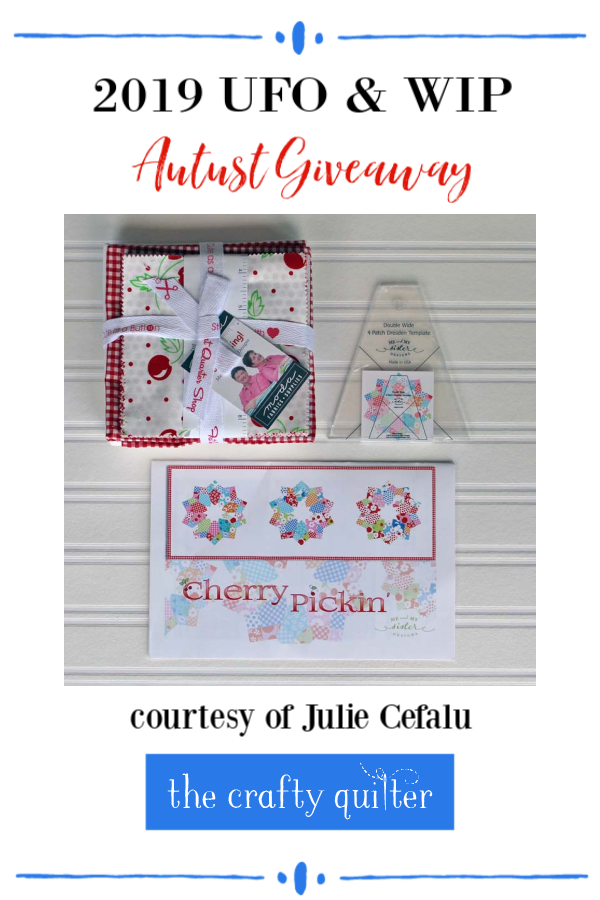 Thanks, everyone, for participating in these giveaways and challenges. It's nice to see what everyone is working on and to hear your thoughts on various topics.
Coupon Code
I mentioned that the sponsor for this month's UFO & WIP Challenge is Purple Hobbies. Heather has kindly offered free shipping for all of my readers with the coupon code craftyquilter (that's one word). In case you missed it, the giveaway prize for this month includes five top-selling products from Purple Hobbies that are amazing and perfect for quilters.
Your thoughts on tutorials
I enjoyed reading everyone's comments from the Happy Little Things BOM giveaway about whether you prefer video tutorials or written tutorials. Let me tell you my thoughts and then I'll hash out yours.
I enjoy written tutorials and prefer them over videos. I like taking my time, and being able to read the instructions is helpful, especially if there are good pictures to go along with it. I often catch up on my blog reading at night (in bed along with my iPad and Mr. Crafty Quilter). If there is a video, I won't be able to watch it because the audio will be disruptive. It takes too much effort (and memory) to go back and watch the video later. I also have a speaker on my desktop computer that is linked to the whole house so that makes it prohibitive as well.
After reading all of the comments, I would say that the majority of you prefer written instructions or videos. If you could have it all, then both would be the best option for many of you. Here are some of the pros of written tutorials:
I am left handed and sometimes all it takes is a flip of the fabric in a different direction to get lost. It is also faster to read than watch. 
I think it's so annoying to have to go back and forth on video to see it again.
I prefer written instructions as they are portable and can be taken to my sewing machine.
I prefer written so I can print out and not rely on computer!
I prefer to read a tutorial. Unless a video is short, they take up so much time to watch.
I still prefer written tutorials! It is easier for me to find my place when I am actually making the thing.
Reading instructions with pictures allows me to go slow instead of keeping pace with the instructor.
Video tutorials tend to be too wordy and I find I get impatient.
I can appreciate good video instruction, too. It's not easy being on that side of the camera and it takes a lot of work in post production. However, it's a great way to see a new technique in action, and it's a popular choice among the younger crowd. Here are the pros for video tutorials:
I'm a visual/hands on learner, so I much prefer video tutorials, especially if I can be working the project as the tutorial is taking place.
A video is easy to keep in my favorites on YouTube, or to go back in my history to find again.
Since I am new to quilting, I like the videos. So much to learn about quilting so the videos certainly help understand the correct way.
I like video tutorials best. I like to see how they are doing things in "person".
Videos are great to watch when away from home & missing my sewing room. I seem to remember more from a video.
I generally prefer to read a tutorial, but there are some things for which video is better. It's easier to learn an embroidery stitch, for example, from a video.
I like videos… I am very much a visual learner and hate to read directions.
Yes, it's nice to have options. It's great that there are people who are good at videos. As a blogger, I take pride in the written format, and I think it's crucial to have good photos to go with them. I will often make a PDF that you can download too, but that takes so much more time.
I have more than a handful of videos that I made in association with The Quilt Show. It was nice to have someone else videotaping and then editing that into a final product. If you search for Julie Cefalu on YouTube, you'll find me there as well.
As in all things related to quilting or crafting, I just need more time! There's so many things I want to make, and so many things I want to blog about. Wouldn't it be nice to have a twin or double to do the mundane tasks of life while we create things all day long?!! Yes please.
Thanks for reading today's blog post. I'll be back soon with the topic of sewing machines. I've been thinking about purchasing a new one, and I'd love to chat about it! I hope you have a great weekend.