Sew Thankful Sunday, 02.23.2014
{I am frequently visiting other blogs and I'm always amazed at the talent and passion that I see along the way. Since I love sharing these new "finds" with you, I created Sew Thankful Sunday. My way of giving back to the quilting community and sharing great content with you at the same time!}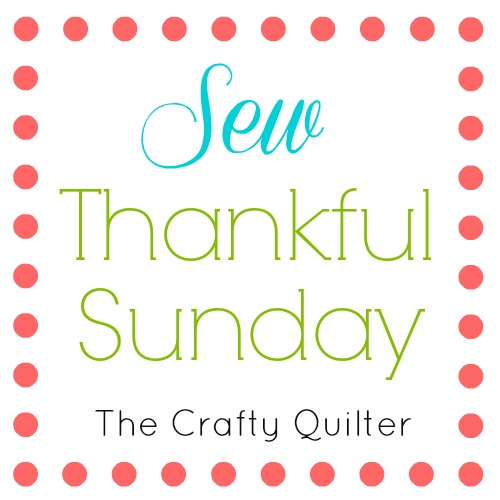 Welcome to another Sunday of sew thankful goodness! I hope you're all surviving the crazy weather that mother nature has been dishing out. In my area of California, we are having a beautiful spell of 75 degree weather with daffodils blooming and birds singing. Even though we seriously need some rain, I can't help but enjoy this early spring weather. Now, let's get to the quilty things that I'm sew thankful for!
(Remember, you can click on any of the images in this post and it will open up a new tab to the associated link).
1. You all know how you end up on someone's website or blog and you have no idea how you got there, but you're so glad you did? That's what happened when I landed on Charise Creates. Charise has a Vintage Block Quilt Along going on that is just fantastic. Even though she's on Block 10, all of the block patterns are still available (and free) and cute like this one:
But what initially drew me to Charise's blog, was this paper pieced apron pattern. It's available in her store on Craftsy and Etsy (along with many other cute patterns)!
2. If you love cross stitching and you love quilting, you can combine the two of them with this updated Cross Stitch Block tutorial by Alyssa at Pile O' Fabric. She has an easy "slice and insert" method of making these blocks that will get you creating your own cross stitch designs!
3. Even though I am a little late to this party, it's sew worth going to! The Star Light Star Bright Quilt Along is still happening at Happy Quilting. Melissa has created this beautiful pattern and she is sharing it "assembly line" style on her blog. Options for different sizes and layouts are also included.
4. For all of you mothers and grandmothers out there, check out this Quiet Book Sew Along at Thread Riding Hood. Sherri will give you page instructions and patterns each month, so you can have one finished by Christmas!
5. I love this clever idea (and tutorial) from Anne Marie at Gen X Quilters: a Needle Sorting Pincushion! It's a great way to store and keep track of your sewing machine needles in between use. I always forget which one is which, so I need all of the help I can get!
6. I'm in love with this Patchwork Photo Pillow by Melissa at the Polka Dot Chair. I love the addition of the appliqued heart! She recently shared a tutorial of how she made hers and now I want to make one too!
7. A girl can't have enough tote bags, and you'll want to add this one for the child (or adult) on your list: The Octopus Tote Bag Tutorial by Amanda at Jedi Craft Girl. This is really cute front and back! She has also added a Baby Octopus Zipper Pouch to the ensemble here.
8. Have you been keeping up with the Moda, Spell it With Fabric Blog Hop? I've been collecting alphabet letters all week and you can too! Each day, 3 or 4 designers share their letter and a bit about themselves. You can start your ABC's at Moda's Cutting Table.
9. I have a few Moda Candy packs (mini 2.5″ charm squares) lying around and I think I've found a way to use them. This Candy Circle Quilt by Cheryl at Meadow Mist Designs would be a perfect way to eat up some "candy"! Cheryl also has some great patterns for sale in her Craftsy and Etsy shop.
10. There's nothing like a Spring Garden Table Runner to lift your spirits. This tutorial by Paula at The Sassy Quilter is being shared at Bear Creek Quilting Company and you can find all of the details (including an easy half-square triangle method) there!
That's everything for today and thanks to all of the blogs featured for their inspiration! Have a great day!