Sew Thankful Sunday: June 2014
{I am frequently visiting other blogs and I'm always amazed at the talent and passion that I see along the way.  Since I love sharing these new "finds" with you, I created Sew Thankful Sunday.  My way of giving back to the quilting community and sharing great content with you at the same time!}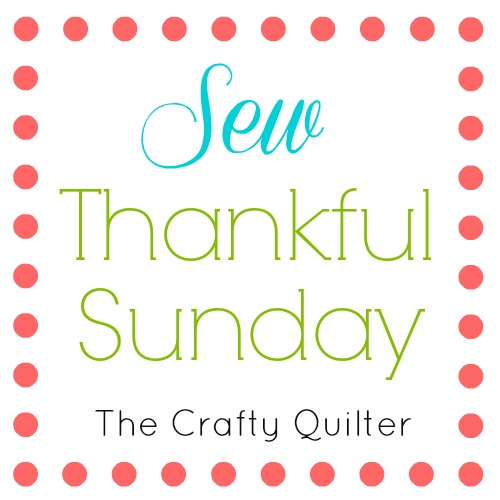 Welcome to the June edition of Sew Thankful Sunday!  I hope you're beginning to feel summer by now (for those of you in North America).  I've been busy in the garden and with lots of quilting projects, sew alongs, BOM's, and classes.  Between all of that, I have been keeping my eyes open to the blogging world and have much to be thankful for this month!
(Remember, you can click on any of the images in this post and it will open up a new tab to the associated link).
1.  I love this Scrappy Spring Basket Block by Lea Anne at Podunk Pretties.  You can make your own basket of blooms using her great tutorial.
2.  If you're looking for the perfect Father's Day gift, then make sure to check out the free tutorial from Caroline at Sew Can She.  It even has a handy loop to hold the BBQ tongs!
3.  I've recently become acquainted with a new (to me) blog, Cora's Quilts, "owned and operated" by Shelley.  She is hosting the Spring Sampler Quilt Along and it's not to be missed!  You can find instructions for the current block, #6, and work your way backward.
4.  There is a good chance that you or someone you know may have been affected by breast cancer at some point in their life.  Anna of Life Sew Crafty is trying to raise awareness and funds for such a friend.  She is hosting the For Pinks Sake Blog Hop featuring pink quilt blocks donated by other bloggers.  I'm scheduled to participate on June 21!
5.  Check out this beautiful Celtic Cross Block Tutorial by Janet from Simply Pieced.  You can find the full tutorial at Fort Worth Fabric Studio.  I love everything about this block, especially the colors!
6.  At some point, we all have to do it:  make quilt binding.  I love this little tip for piecing binding strips from Paula at The Sassy Quilter.  She makes it look sew easy and perfect to boot!
7.  If you have been curious about the modern quilt movement, check out this tutorial for Improv Piecing a Hexagon with Amira at Little Mushroom Cap.  She has created some awesome placemats with a modern vibe using this technique.
8.  If you want to delve deeper into modern quilting, take a look at the Modern Medallion Quilt Along, designed by Crystal of Two Little Aussie Birds.  It starts there today with fabric selection and continues until mid-July.
9.  There's a new series going on at Fort Worth Fabric Studio and it's all about baby!  Oh Sew Baby! started May 22 and continues through the end of June.  They have a full schedule of bloggers ready to share some amazing projects with you.
10.  Just in time, the Nested Churn Dash Quilt Along starts today at Quilt Jane.  This classic block takes on a new look, and Quilt Jane will walk you through the steps to make your own.
11.  I love quick, little sewing projects and this Snappy Manicure Wallet by Anna of Noodlehead is just that – snappy and cute!  It's designed to hold some nail polish and manicure essentials; perfect for you or a gift for a friend!
12.  Summer is a great time for a road trip and you'll love this Texas Road trip Quilt Along hosted by Melissa at My Fabric Relish.  Hit the road on June 1st for this virtual road trip through the Lone Star state and visit some talented bloggers along the way!
13.  Recently, Pat Sloan gave readers a virtual tour of her quilting studio via her blog, Pat Sloan.  I love peaking into other quilter's sewing spaces and I don't even have to leave my home!   Plus you can see all of the latest patterns that Pat has been working on, too.
14.  As a quilter, I'm always trying to improve my accuracy.  I enjoyed reading these tips from Jessie at Messy Jesse on accurate piecing.  Very useful information!
15.  Curious about the latest quilting trends?  Check out this new monthly feature, Quilting Trends with Debbie, at Sew Mama Sew.  Now you can stay ahead of the trends!
16.  I need to practice my paper piecing skills, and I've been inspired by this blog post by Sharon at Fabrics & Flowers:  Paper Piecing with Less Waste.  If you want to start at the beginning, you can also check out her tutorial on basic paper piecing.
17.  Pretty and practical play so nicely together and you'll find them both in this Quilt-as-you-go Thread Catcher Tutorial by Tessa Marie at The Sewing Chick.  I really have to make one of these!
18.  Sewing curves has always been a bit "tricky", but Rita at Red Pepper Quilts has an amazing tutorial for Cutting & Sewing Freehand Curves that will take the fear out of it for you.  Plus it's full of colorful images that will get you inspired!
19.  You know that anything with applique catches my attention, so I'm happy to tell you about this applique pattern from Caroline at Sew Can She.  If you visit her there, you can download the Free Wild Poppy Applique Design and make your own project from it.
20.  Quilting and pillows have become best friends and you'll see why when you visit Leanne at She Can Quilt.  She has a tutorial for a pair of Spring Pillows and they are so cute!
21.  I love this Twelve Patch Pouch Tutorial from Charise Creates.  It's perfect for that mini-charm pack you have lying around and it's functional too!
22.  One of my favorite blocks is the carpenter's star and I love this version by Amy of 13 Spools.  She shares a great tutorial for this updated star that finishes at 12″ square.
I love what the blogging community has been sharing lately and I thank everyone featured today for their creativity!  Thanks to all of you for taking the time to visit everyone and show your support.
Have a wonderful Sunday!