I have a little of everything to share with you today.  Some antique quilts, life in the garden, food on my plate, and a few WIP's of course.
Let's start with my recent score of two antique quilts.  I visited the Santa Cruz flea market a few weeks ago with a thrifting friend and amongst the treasures were two beautiful, vintage quilts.  The first one is a 48″ square lone star baby quilt in faded solids.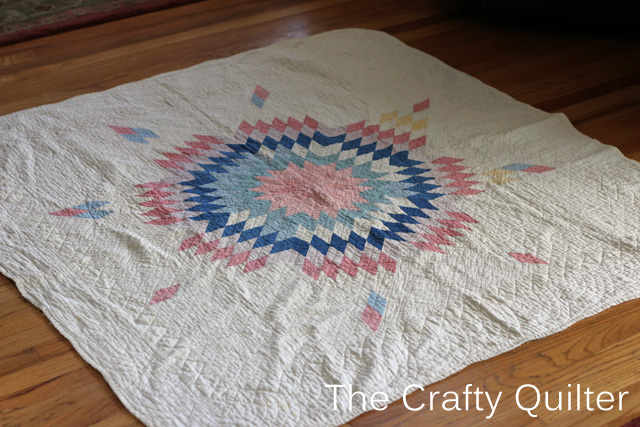 It is all hand pieced and hand quilted.  There are a few stains, but no tears.  I love the few apricot diamonds that they added in.
The second quilt is 74″ x 96″ and it is all hand appliqued, hand pieced and hand quilted.  I'll bet it was drop dead gorgeous in it's day.
There were a few applique pieces that needed repair (which I just completed).  I love this block, but I haven't had time to research it to find out its name.
You can see a few stains in the picture below.  Now that I've made all of the repairs, I can attempt to wash this.  I'll be researching that step before I go any further.
You can still see the pencil lines from marking the quilt.  I can't imagine how much time it took to mark the top, let alone quilt it!
The binding is worn which I find endearing, but I think I'll put a new binding over the old one for preservation sake.
These are the first two antique quilts I've ever owned.  I think they were a steal at $25 for both of them!  The lady who sold them to me didn't know anything about them.  It's another testament to why we should all label our quilts.
I've been spending some time in my garden lately and I captured this picture of a hummingbird feeding from this beautiful, red flower (the name escapes me).  It's time to get out my telephoto lens so I'll be ready for the next time he visits.
We already have cherry tomatoes (sun gold) coming out of the vegetable garden and one cucumber so far.  I've been making some heavenly "composed" salads lately and they are so tasty!
This is a nice alternative to your typical green salad.  For this plate, I used avocado, cherry tomatoes, cucumbers, fresh feta cheese and kalamata olives.  All you do is drizzle them with olive oil, squeeze some lemon juice on top and sprinkle with fresh ground pepper and sea salt.
It makes a fantastic lunch with some fresh bread, or a great salad to start a meal.
In my sewing room, I've been trying to keep up with my BOM projects.  Here is the last block of the Fat Quarter Shop's 2013 Designer Mystery BOM.  I need to buy the sashing fabric so I can put all 12 of them together.
I have the alphabet letters from last month's A-Z for Ewe and Me BOM at The Quilt Show finished in the original version, but not my own modern version.  I don't know if I can keep up with two of the same BOM's each month, and I'll have to be o.k. with that.  This is the Kansas Star block:
The Log cabin block:
And the Mayflower block:
I am participating in a mini quilt swap that's going on at Schnitzel and Boo.  We have been assigned secret partners and I am having a great time putting this little quilt together.  I need to have this finished and shipped by the first week of July.  It really is just as much fun giving as it is receiving. This is the quilt top and I had to "white out" the center because it's  got a monogram that needs to be kept hidden.  I wouldn't want to give out too many hints!
This might be one of my favorite projects so far.  I love playing with the color and I got to practice a little paper piecing too.  I'm hooked!  The center block pattern is taken from last year's Sugar Block Club at Stitchery Dickory Dock.  You can still purchase that pattern here.
That's it for the sewing room for now.  If you happen to live in the bay area, you may be interested in hearing about a new guild starting up:  the Silicon Valley Modern Quilt Guild.  The first meeting is Thursday, June 26, at 6:30 (social) 7:00 (meeting) at The Intrepid Thread.  Our main focus will be modern quilting and what that means plus general information.  If you want to know more, send me an email.  I'll be there for sure!
Have a great day!