Last month I was grappling with thread organization, so I thought I'd give you an update. I've found a few great solutions, so allow me to show you how I store my thread! I'll also give you details about each type of thread and how it's used.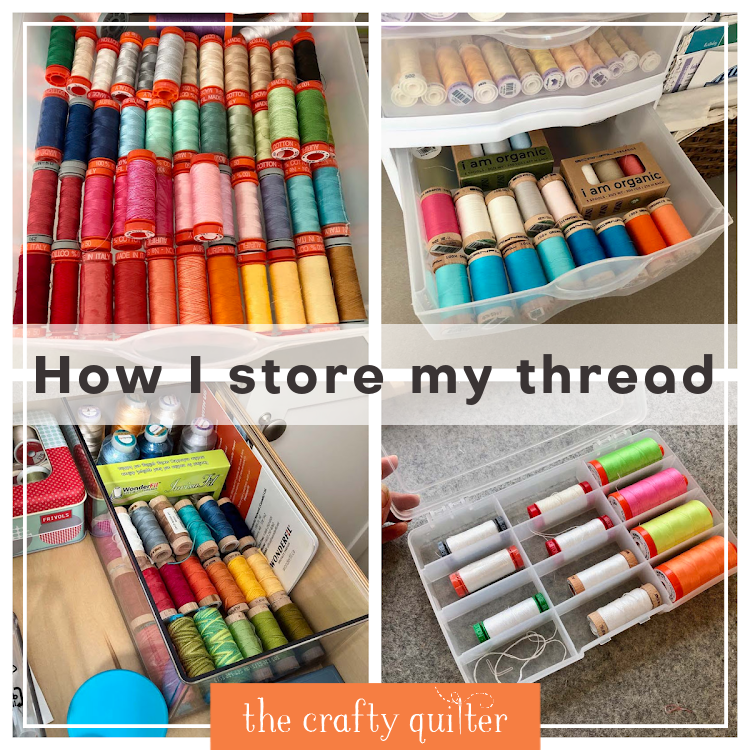 The "before" pictures
I took some pictures of my thread storage before I started to re-organize. I posted about this here. It wasn't a bad set up, but I was beginning to outgrow my storage containers and things were overflowing. Actually, some of them still are but at least everything's organized.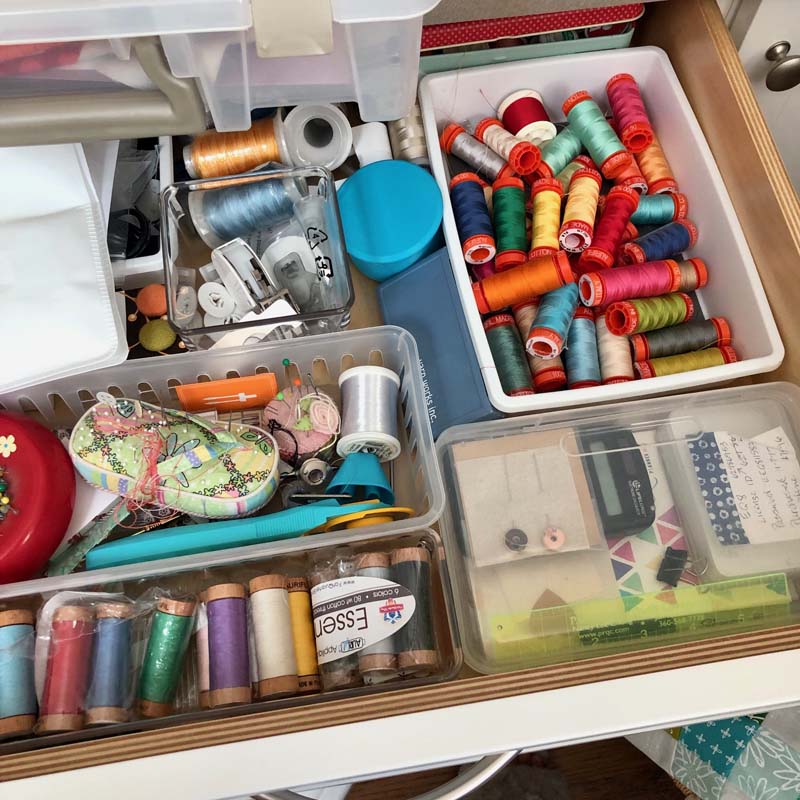 This wasn't bad, but it definitely wasn't pretty. I needed more containers and I wanted to group my thread by color and by manufacturer and by thread type. Let me show you what I've come up with.
How I store my thread now
I have several storage systems for my thread and they each work independently well. Since I use different kinds of thread, I separate them mostly by thread types. I have small plastic storage drawers that sit on my desk, I have storage bins that fit inside drawers and I have a shelf with drawers. Below you'll find specifics about each of these and information about the different types of thread I use.
Small 3-drawer storage unit
The threads I use most are stored in plastic storage drawers on top of the counter in my sewing room. I really liked the small 3-drawer unit I had been using, and there was enough space to stack another one on top. Unfortunately, that exact container was no longer available. I found these Sterlite three drawer plastic units at Walmart and purchased two of them. It worked out perfectly for my sewing space.
Thread can be so pretty when it's neat and tidy, especially when arranged in color order. I'll show you the contents of each drawer and I'll tell you about what's inside. I'll also give details about what I use each particular thread for.
50 wt. Aurifil thread drawer
I really like to sew with Aurifil 50 wt. thread. I'm learning a lot about Aurifil and the different thread weights in their Aurifil Thread Labs this year. Their 50 wt. cotton thread is a 2-ply thread (as are most of their threads) which allows it to "melt" into the fabric easier. It's perfect for piecing because it lays flat in the seam allowance and doesn't distort the size of the seam by taking up too much space.
I think my Aurifil collection will be growing with more colors as I progress through the Thread Labs each month. At that point, I may move them all into their own 3-drawer unit.
Mettler 50 wt. thread drawers
There are two drawers for my Mettler silk-finish cotton thread. I have them divided into warm and cool colors because this is the thread I have most of. Why? Because it's the one that is most readily available at my local quilt shop. I don't have any particular affinity to Mettler, but the thread works just fine.
This is a 3-ply thread, so it's not my first choice for piecing. I DO like to use it for machine applique, so I have a lot of colors to choose from. I often use it for quilting as well mostly because I usually have the color I'm looking for.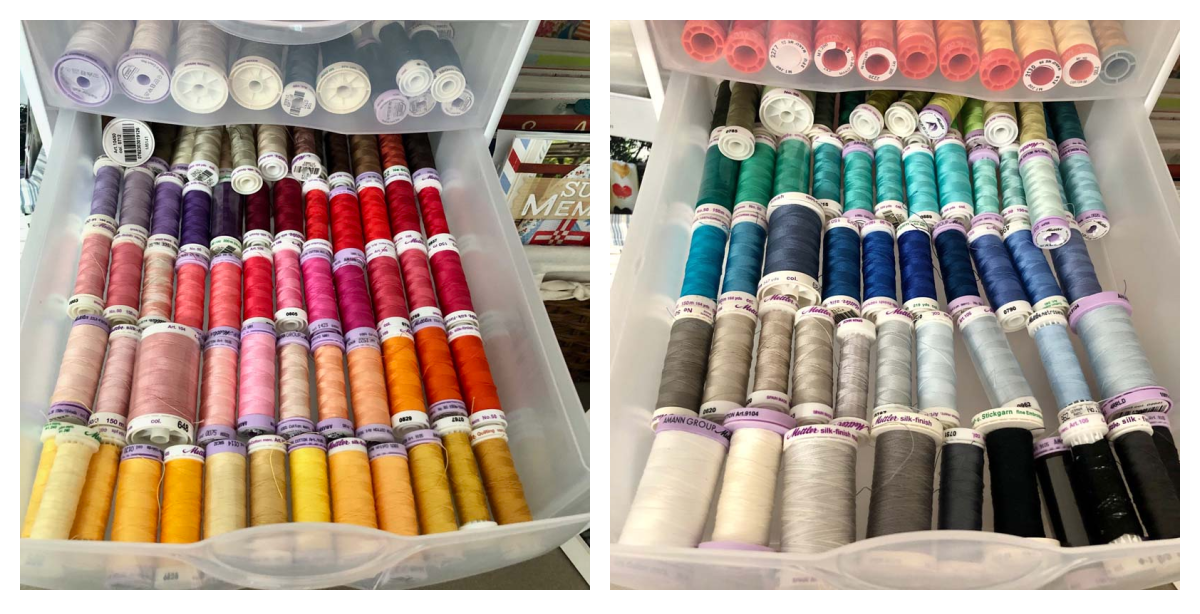 Scanfil Organic thread drawer
I was really happy when I heard there was an organic thread available to quilters. Scanfil Fine Thread is made of Extra Long Staple Organic Pima cotton fiber grown without use of chemical pesticides. I'd like to be more mindful of my choices and how they effect the environment. I think organic is one step in that direction.
I have a great review of Scanfil Organic threads here. It comes in 50 wt. 2-ply and 30 wt. 2-ply. They are quite lovely to work with and I'll be adding more colors to my collection as needed.
12 wt. thread drawer
I don't use a lot of 12 wt. thread, but I do have a small collection of Wonderfil Thread in 12 wt. as well as some Aurifil 12 wt. thread. These are great for decorative stitching and embellishment.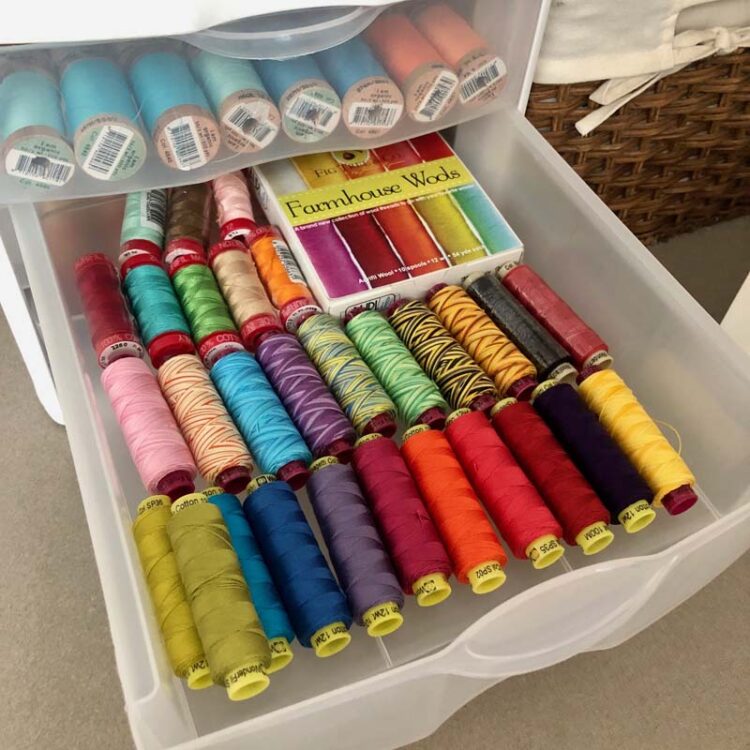 DMC Machine Embroidery thread drawer
When I first started quilting and doing machine applique in particular, DMC Machine Embroidery thread was recommended to me. We're all familiar with DMC's embroidery floss, but their machine embroidery thread was one of the nicest ones available at the time. As I visited other quilt shops, I would pick up various colors of this thread to add to my collection.
DMC Machine Embroidery thread is 50 wt. cotton that is highly mercerized to give it that nice sheen. I still enjoy this thread, but I don't use it as often.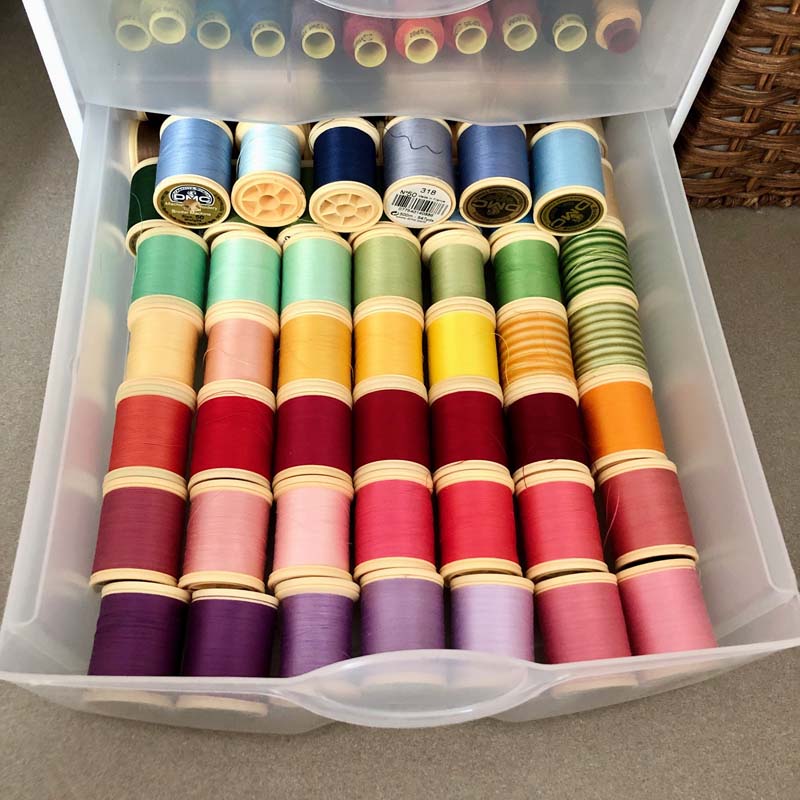 Clear plastic containers
There are other thread types that I don't use as much, and they are stored in different containers. I have a long, clear plastic container for my Aurifil 80 wt. thread. This cotton thread is very fine and perfect for invisible hand applique. It's also great for English paper piecing.
I'm not sure where I got this particular storage bin, but I think it might have been Target. I couldn't find the exact same one online, but I'm sure they can be found at other retailers. I like how this thread fits perfectly inside and can be stacked as well.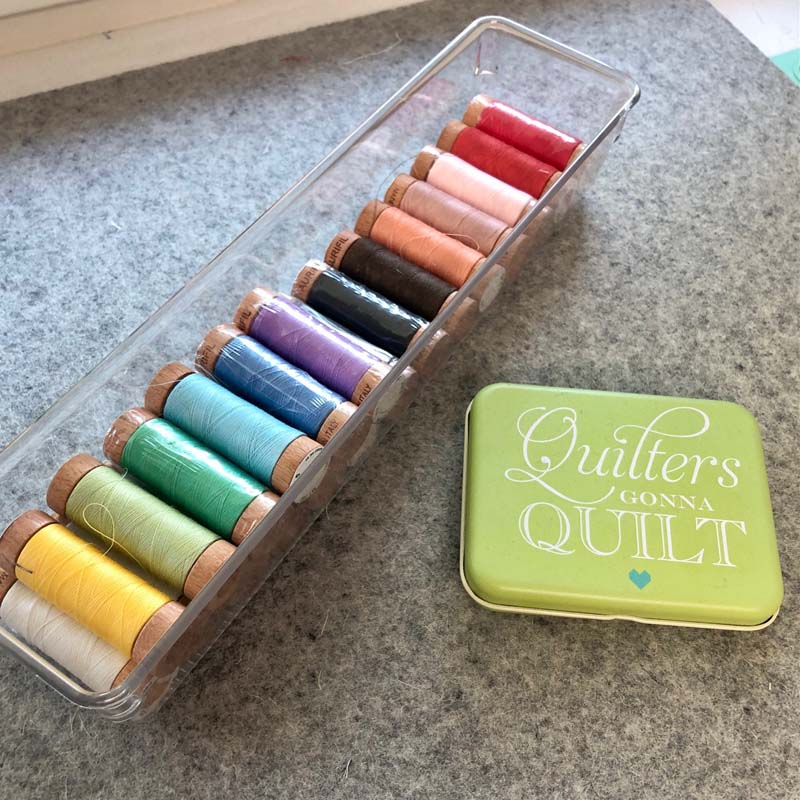 I have a larger clear plastic storage bin to hold my Aurifil cotton floss and a few spools of Wonderfil thread. The Aurifil floss thread is great for big stitch quilting and hand embroidery. I love that you can cut the length that you need and separate the strands easily. It's so much tidier than typical embroidery floss.
I don't remember where I purchased this exact container, but I would guess it's from The Container Store. I think you can find multiple containers there that would work for all of these.
Display shelf with drawers
My display shelf is also a quilt hanger. This lovely piece was a lucky find at a consignment store. I eventually painted it white and I love it so much! It has a convenient rod that unscrews at each end so I can switch out quilts easily. There are four drawers tucked underneath the shelf and each one contains a different type of thread from Superior Threads. I like this company because they were one of the first ones to provide thread education specifically for quilters. Their website is great and full of useful information.
Thread cases
There are a few thread manufacturers that make thread cases specifically for their thread. I recently received an Aurifil thread case as part of the first Aurifil Thread Labs box. This holds the larger spools of thread perfectly, and you can also use it for the smaller thread spools.
The ArtBin Super Satchel Thread Box has two removable thread trays and can hold up to 108 small thread spools. It can accommodate other size spools as well and fits most leading brands of thread.
Other thread storage ideas
I've seen many great wooden thread racks that can hold a lot of thread. Some can be mounted on the wall and others stand on a table. This seems like a great solution, especially if you're short on space and want to take advantage of the wall space available. This one by Threadart can be wall mounted or free standing.
Baskets are another great way to store thread. The nice thing about baskets is that you can find them in so many different sizes and you probably already have one at home!
If you like to thrift, you can find jars, vases, old cookie tins and coffee cans that would work great for holding thread spools. I have a clear glass vase that makes for a pretty storage container.
Why so much thread?
I have been collecting thread for over 20 years, so my thread stash is…. quite large. Thread choices, manufacturers and styles have changed a great deal in the past 20 years. I would imagine the manufacturing process has also improved to produce better quality thread. Since quilting has become such a huge industry, companies are catering their products and resources to meet the demand. However, with so many choices, choosing the right thread can be overwhelming. Perhaps that's a blog post for another time.
I have mostly cotton thread, but I also have some polyester, rayon and silk thread. If you're a quilter, you know there are different threads for every type of quilt and quilting technique. For example, an art quilt might require lots of thread embellishment. Quilts made with hand applique require a delicate thread to make the stitches invisible, and quilts made with machine applique can benefit from thicker thread to make them catch your eye more. There's also free motion quilting, hand quilting, embroidery (both hand and machine), piecing and more. No wonder there are so many thread choices available!
Thanks for reading about how I store my thread. There isn't a one size fits all solution, but I hope you found some ideas that work for you.