Sew Thankful Sunday, September 2014
{I am frequently visiting other blogs and I'm always amazed at the talent and passion that I see along the way.  Since I love sharing these new "finds" with you, I created Sew Thankful Sunday.  My way of giving back to the quilting community and sharing great content with you at the same time!}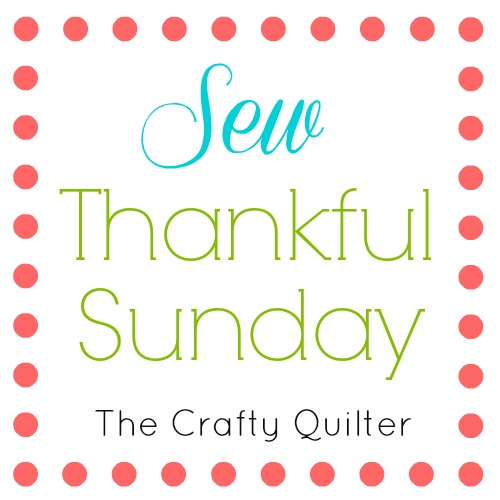 Welcome to the September edition of Sew Thankful Sunday!  This month is full of activity with schools starting AND it's national sewing and quilting month.  The ideas and projects that are featured today will reflect all of those things!
(Remember, you can click on any of the images in this post and it will open up a new tab to the associated link).
1.  The folks at Fat Quarter Shop's Jolly Jabber blog are celebrating National Sewing and Quilting Month with a free "Color My Heart" quilt pattern, plus they're hosting an "I Love Quilting & Sewing" Blog Tour all month long.  I'll be one of your tour guides on September 17!
2.  The Moda Cutting Table blog is having a Moda Love Blog Tour with some of their own designers.  As part of the blog tour, you'll see various interpretations of their FREE pattern, Moda Love, and there are giveaways and prizes too!
3.  When I saw this tote bag on the Riley Blake Designs Blog, I thought it was just another tote pattern.  Wait until you see how clever the designer, Melissa of Sew Like My Mom, is in creating The Polly Tote!  A great way to keep your kids in tow.
4.  I love the look of this quilt-as-you-go panel from Cori at Let's Eat Grandpa.  This a great technique that yields a modern look for this North West block!
5.  Don't forget that the Aspen Glow Quilt Along at Cora's Quilts just started this month. It looks like it will be a beautiful project to keep busy with this fall.
6.  Bernina is celebrating National Sewing Month with giveaways each Friday for the month of September.  You can join them at their blog, We All Sew, and enter to win; plus check out their tutorials and project gallery for more inspiration.
7.  If you are looking for a baby or toddler quilt pattern, check out this Deep Blue Sea Quilt Tutorial by Erica of Kitchen Table Quilting. This is a great introduction to easy curved piecing!
8.  Does your ironing board need a face lift?  Check out this great way to recover your ironing board by Amanda Jean of Crazy Mom Quilts.  It will look like new again!
9.  I love this new block, Trapped Square, from Chrissie of Made by Chrissie D.  She made this for her NYC Metro MQG Bee and she did an awesome job with the tutorial!  I love the modern look.
10.  Sometimes the back of the quilt can be just as beautiful as the front.  Elizabeth Hartman of Oh, Fransson! recently shared a free pattern for her Pixelated Heart that she has used on the backs of several quilts.  It would be just as pretty as the front, too!
11.  I am a big fan of the Curve it Up Ruler by Sew Kind of Wonderful, and I'm happy to see that they're having a "Curve it Up Challenge Quilt Along" on their blog.  They'll have prizes and giveaways along the way and lots of inspiration to cheer you on!
12.  There's nothing more fun than peeking into someone's new studio to get you motivated with your own.  Lee of Freshly Pieced recently shared her studio tour and it's loaded with ideas and inspiration!
13.  Sometimes the simplicity of a quilt block along with color placement makes for a great combination.  Andy of A Bright Corner has made that winning combo with her tutorial for The Scrappy Susannah Quilt Block. As the name suggests, it's great for scrapbusting, too!
14.  I am a newbie when it comes to embroidery, so I'm very happy to spread the word (and blog) of Red Brolly.  This lovely mother/daughter team has a great series of tutorials on embroidery, most recently this one on Selecting Fabric for Embroidery.
15.  You'll love this Itty Bitty Quilt tutorial from Monica at Happy Zombie.  It's quick and easy; perfect for beginners and young sewers, too!  Monica was motivated by the "do-something-good" quilt making event put on by her local guild.  I think she succeeded!
16.  Anyone have travel plans coming up soon?  If so, you'll want to check out this Travel Wallet Tutorial by Marina of Frocks & Frolics for the Sew Mama Sew blog.  I've got this one on my list!
17.  If you're new to free motion quilting, you will appreciate the answers to these questions that were posed by readers of Wendy's blog, Ivory Spring.  I love her Thread Talk posts and I always learn something new!
18.  Jen of Quilter in the Closet shares her process for free motion quilting in How I Free Motion Quilt, Part 1 and Part 2.  Great information for machine set up, tension and lots more.
19.  I hope you're ready for one more lesson on FMQ.  This one is fittingly called "Graffitti Quilting", and it's a great tutorial from Amy of 13 Spools.  I just love the look of this!
The month of September has always been a favorite of mine.  Beautiful weather, new beginnings, a time to get organized and lots of new projects to start (and finish) in my sewing room. Thanks to everyone featured today for helping inspire us towards that end!
Happy National Sewing and Quilting Month!