Alright friends, it's time for the Nordic Mini QAL, Row 3!  It's a sweet little row of 4-patch blocks set on-point.
I just love how the dark red squares form a chain across the row.  And I love how all three rows look together!
You'll notice that row 3 is on top, so the order of the rows is really up to you.  You may want to wait until you have all four rows completed before you sew them together.
For those of you that are still on Row 2, my friend Amanda at The Patchsmith has a great alternative way of making the flying geese.  You can find her tutorial for 3D flying geese here.  She used this method on her own Nordic mini and it looks great!
I know you all have a busy schedule, so let's get started!
Cutting Instructions:
Red:  (1) 1 3/4″ x 15″ strip
Red/white print:  (1) 1 3/4″ x 15″ strip
White:  (8) 3″ squares, cut in half diagonally, once
Assembly Instructions:
1.  Make four 4-patch units.
Sew the red and red/white print strips together; press towards the red.
Sub-cut into 1 3/4″ units.
Sew two of these units together to form the 4-patch.  This should measure 3″ square unfinished (corrected),.2 1/2″ finished.
2.  Make the 4-patch-in-a-square block.
Stitch a triangle to each side of the 4-patch; press towards the triangle.
Trim this unit so that it measures 4″ square.  I like to use a square ruler that has a 45 degree line.  To trim the first two sides, make sure that the 45 degree line is following the center 4-patch seam AND the 1/4″ line and the 2″ marks are at the points of the 4-patch.  The 2″ lines should converge at the center of the 4-patch as well.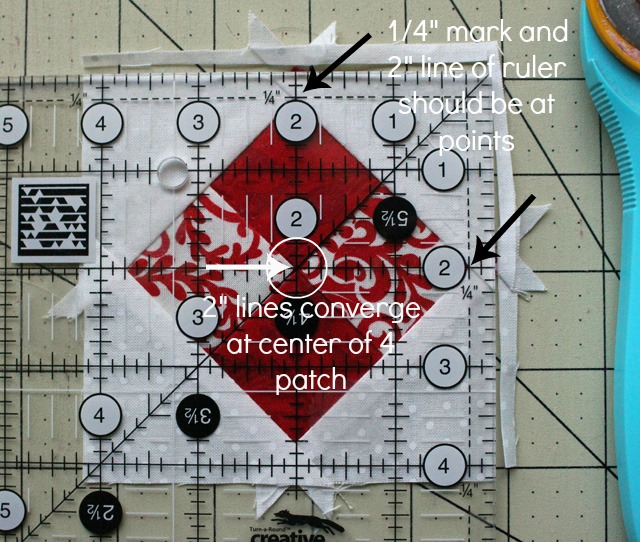 To trim the final two sides, rotate the unit and match the 4″ lines of the ruler with the previous cut edges.  You should also have the 1/4″ line and 2″ mark at the same spot as the previous step.
3.  Complete the row.
Join the 4-patch-in-a-square units together to form a row.
Pay close attention to the "match point" where the points of the 4-patches line up.
Press seams open.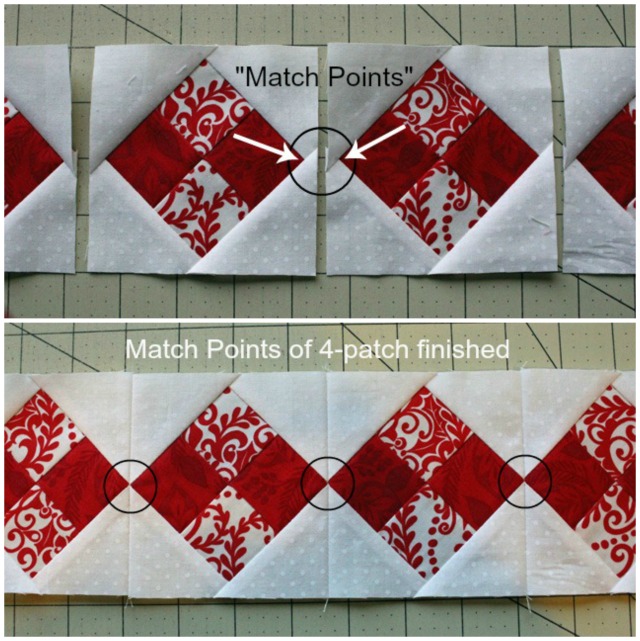 Your row is complete!  It should measure 4″ x 14 1/2″.
As before, I've included an optional, larger version of this block.  This one measures 6 3/4″ unfinished and you'll need to make four of them.  It's a little bit of an odd size, but I'm trying to make the larger blocks fit together.  Since the larger Nordic Star block measures 13″ unfinished, I need this one to measure the same.  Here's what it looks like:
Cutting instructions for the larger block:
red:  (1) 2 3/4″ x 23″
red/white print:  (1) 2 3/4″ x 23″
white:  (8) 4 1/2″ squares, cut in half diagonally, once
Assembly is the same as the smaller version. The center four patch should measure 5″ square (unfinished). Makes sure it's not larger than 5″ (it can be a little bit shy of 5″, but not bigger).  Trim the final 4-patch-in-a-square down to 6 3/4″.  Sew 4 of them together to form a larger square that will measure 13″ unfinished.
There you go!  Have fun and I'll be back later this week (post Thanksgiving) with the last row.
Speaking of Thanksgiving, everyone who takes the time to read my blog gives me a reason to be thankful.  You're my friends, and I am so glad to be able to share this space with you.  If you're in the states, I wish you all a very Happy Thanksgiving!