A photo tour of Quilting in The Garden, 2018
Sunday was a perfect, summery-fall kind of day at Alden Lane Nursery in Livermore, California where the Quilting in The Garden show took place.  So many of my favorite things in one spot!  Pumpkins, flowers, fall decorations and lots of quilts.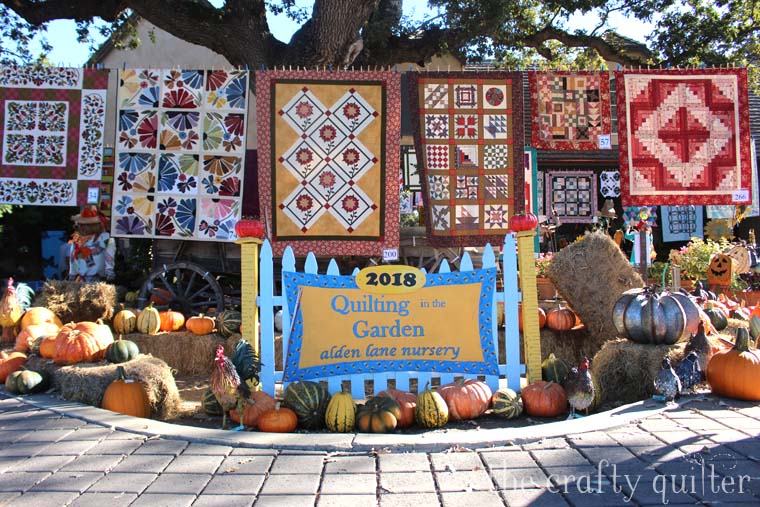 Quilting in the Garden has been running for over 20 years, and it's always on the fourth weekend in September.  The featured artist for 2018 was the amazing Eleanor Burns.  She had more than 100 quilts on display!  I was able to talk with her for a bit, and I couldn't resist purchasing her latest book (which she autographed for me).  Eleanor is one of the leaders in the quilting industry and has made a "quilt in a day" possible for anyone.
Alex Anderson is always buzzing around, especially since this show is practically down the street from her house.  She had a booth of her own where she was demonstrating many of her Quilter's Select products.  I chatted with her for a while, and somehow forgot to take her picture.  You can always find Alex on The Quilt Show where she co-hosts TV-quality shows with some of the most talented quilters in the industry.
I did take lots of pictures of the nursery and the quilts, so let me share the beauty of  nature and art together.  The early morning light gives a mix of sun and shadows, so there is a feeling of Summer giving way to Autumn.  I have tried to give credit to the quilt maker when possible.  My apologies if I haven't included every quilt with the appropriate documentation.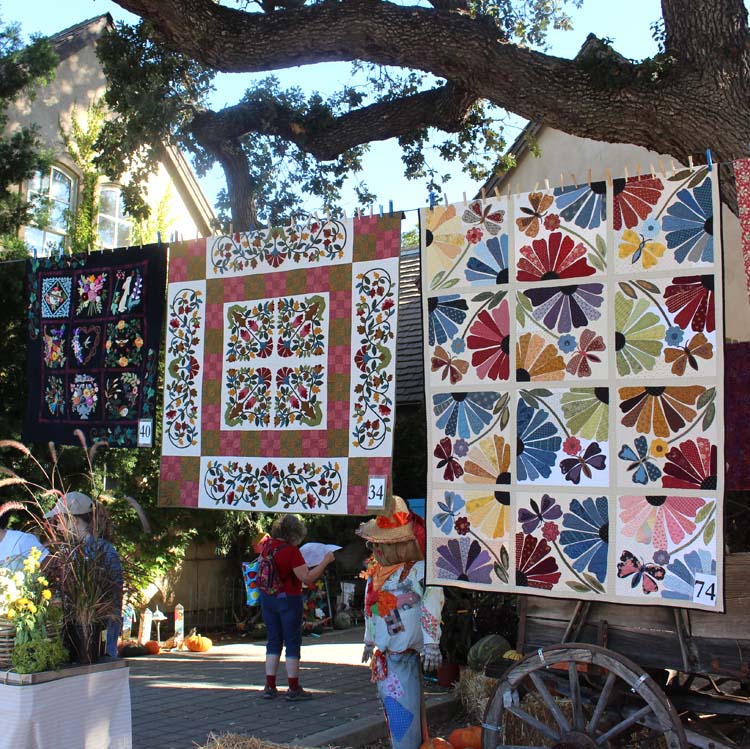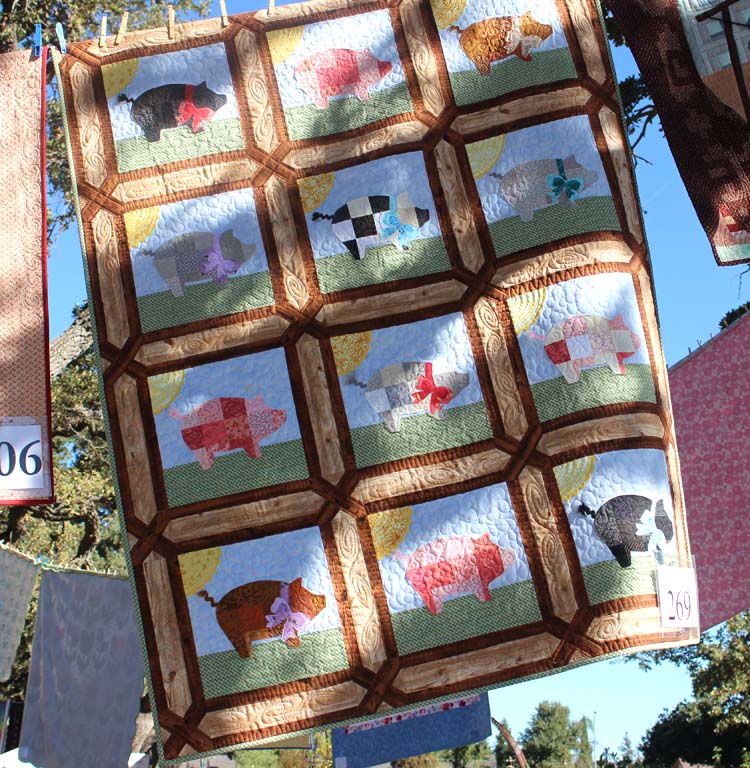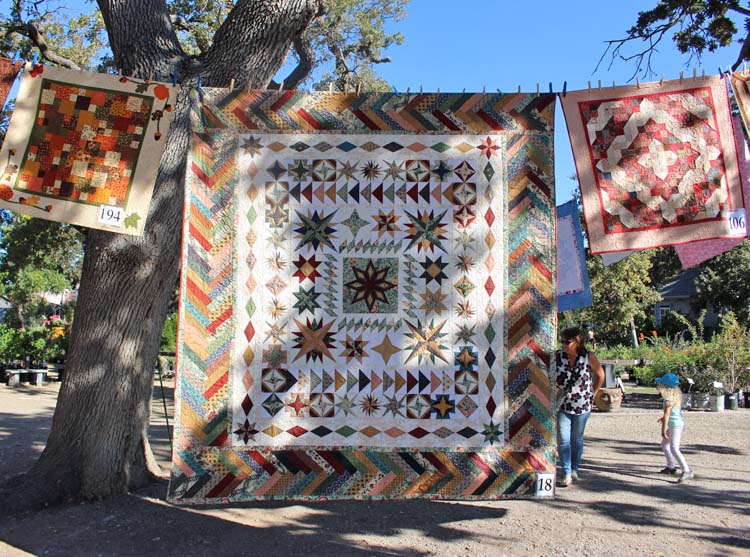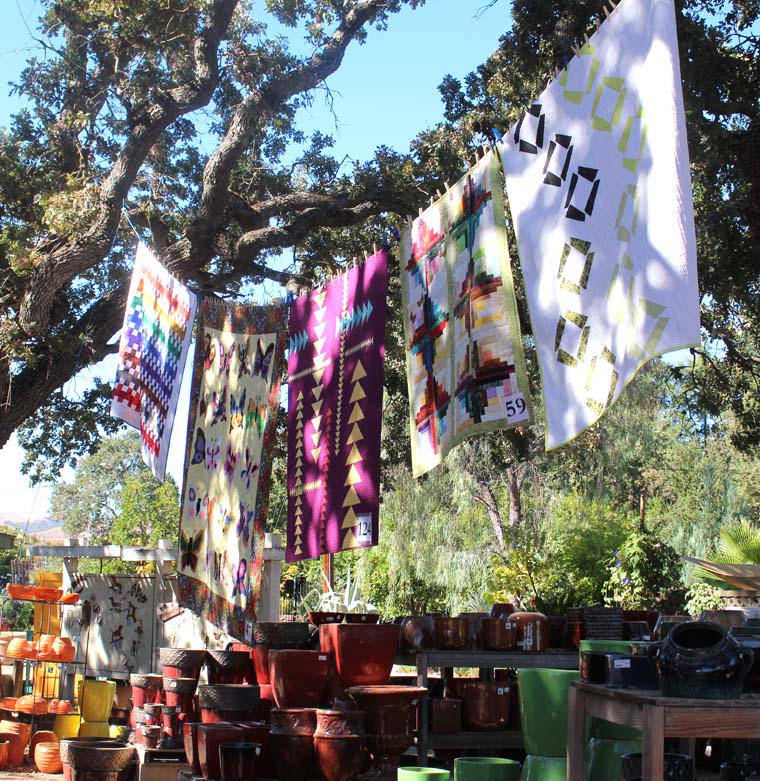 There were two guest artists at the show, Gail Sims and Leni Levenson Wiener, who had their own beautiful quilt exhibits.  Material Girlfriends had a booth (love their patterns) as well as several other vendors, and there was a Christmas section, too.
Of course there was plenty of color inspiration everywhere you looked!  Splashes of bright orange were scattered throughout the nursery along with a vivid rainbow of flowers and pots.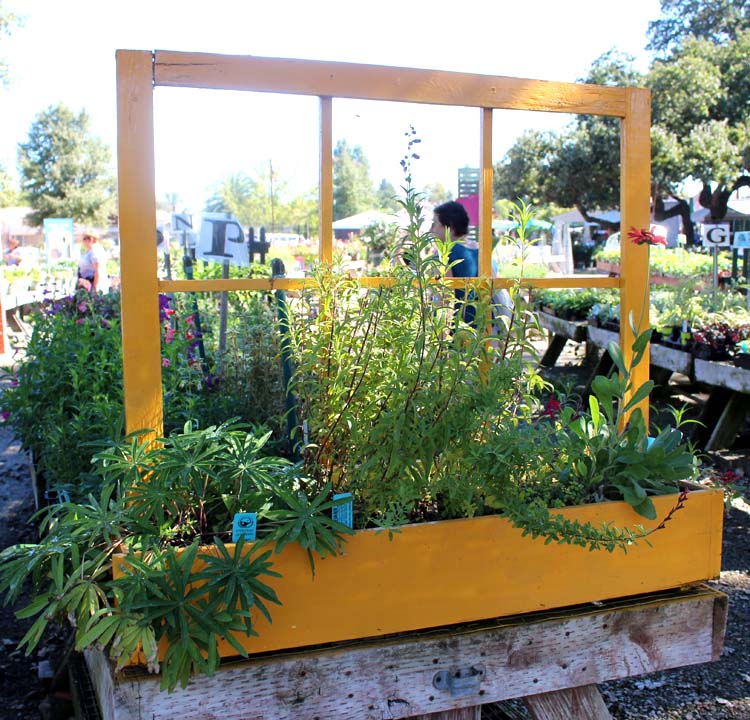 The Garden Store at Alden Lane is a feast for the home decorator's eyes.  It was loaded with gifts, seasonal decorations and a few quilts of course.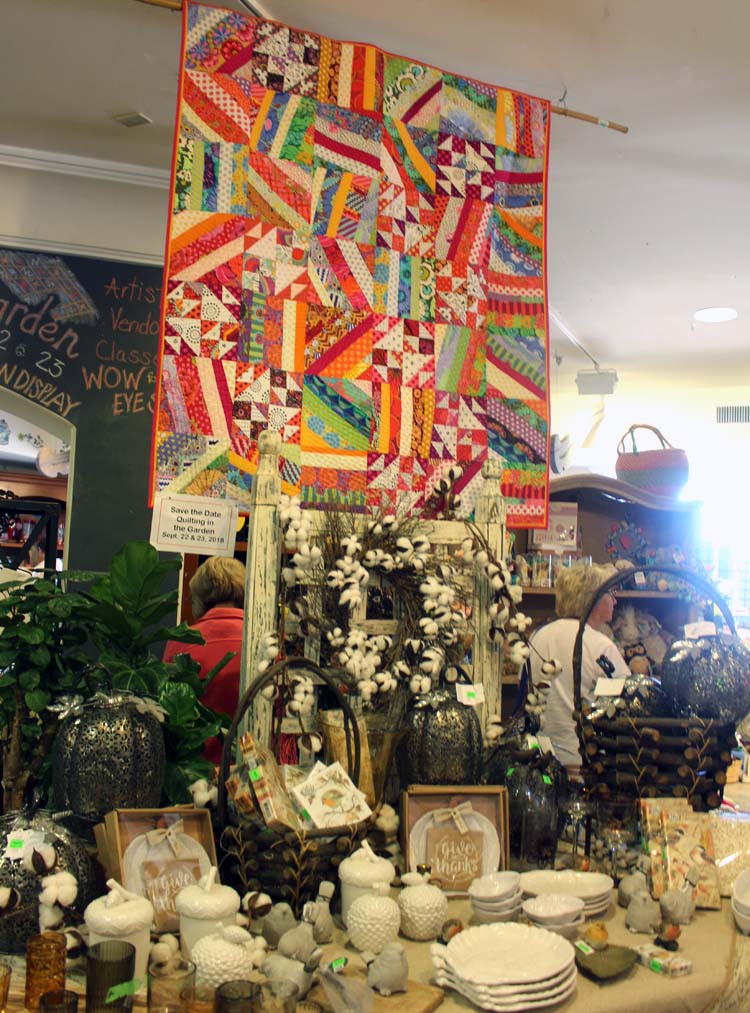 After visiting the quilt show, we went into town for a quick shopping trip to In Between Stitches.  You know it's our duty to support the local businesses, and this is an adorable quilt shop in the heart of downtown Livermore.  Definitely worth a visit!
Thanks for joining me on this little tour of Quilting in the Garden.  Do you have a favorite show that you like to attend?  I feel lucky to have this one close enough to make a day trip out of it.  I'll be back next year for sure!