Nordic Mini QAL, Row 4 and Finishing
We're on to Row 4 (the last row) of the Nordic Mini QAL and I have some finishing instructions for you, too.
You can find links for the other rows below:
This last row consists of three Nordic heart blocks.  In Nordic tradition (at least in Norway), the basket weave heart is called a 'flettet julekurv'.  Flettet=woven, jule=Christmas,and kurv=basket. Traditionally they are made as a 3D version in paper or felt, often red and white, and hung on the Christmas tree. (Thanks to my friend from Norway, Edith, for that information).  So even though it might seem more appropriate for Valentine's Day (in America) I think these hearts are the perfect symbol for this holiday project.  Plus you'll be able to keep your mini quilt hanging through the month of February!
And once you've made your Nordic hearts, you can put all of the rows together.  Here is the Nordic Mini Quilt all finished:
Each heart consists of a 9-patch and two appliqued half circles.  I know that the applique might be a deal-breaker for some of you.  It's like when I see paper piecing, I run in the other direction!  I have a cool applique technique that you'll like, and you should think of it as "just more sewing".  The hardest part is that you will need to print out the Nordic Heart Templates (at full scale) which are patterns for the half-circles.
So let's get to it!
Cutting Instructions:  (corrected 12/2/14)

Red:  (2) 1 1/4" x 9" rectangles, (1) 1 1/4" x 9" rectangle, (3) 2" x 3" rectangles
Red/white print:  (1) 1 1/4" x 9" rectangle, (2) 1 1/4" x 9" rectangles, (3) 2" x 3" rectangles
White:  (6) 2" x 3" rectangles, (3) 1 3/4" squares, (2) 2 1/4" x 4" rectangles
Fusible Interfacing:  (6) 2″ x 3″ rectangles
Assembly Instructions:
1.  Make (3) 9-patch units.
Stitch red and red/white print strips together as shown below.  Press towards red.

Sub-cut into 1 1/4" segments. Join segments together to create a 9-patch unit.
It should measure 2 3/4" square.
2.  Make heart half-circles.  I'm using a turned edge method of applique for this tutorial.  You can use whatever method of applique you choose.  For more applique stitching information, you can visit my tutorial on raw edge applique and turned edge applique.
Print out the Nordic Heart Templates at full scale.  Check the 1″ box for accuracy.
Trace the small half-circle shape onto the smooth side of the 2″ x 3″ rectangles of fusible interfacing (I used a Frixion pen).  Make sure the raw edge of the interfacing is even with the solid bottom edge of the template.
Layer the interfacing onto each of the 2″ x 3″ rectangles of red and red/white print, fusible side to right side of fabric.
Stitch on the drawn line using a short stitch length of 1.5.
Trim 1/8″ away from stitching – I like to use pinking shears for this.
Turn shape right side out and finger press shape so that it has a smooth curve.
Center on top of 2″ x 3″ white rectangles and press in place.  Make sure that bottom raw edges are aligned.
Stitch along the turned edge of each half circle.  I used Monopoly, invisible monofilament thread by Superior and a blind hem stitch.  Alternatively, you could hand-stitch this or you could use a zig zag or blanket stitch with matching thread.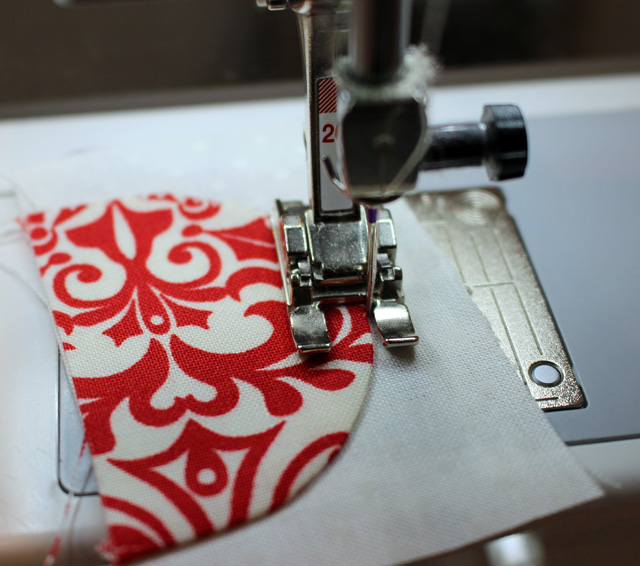 Trim the appliqued rectangles to 1 3/4″ x 2 3/4″.  Make sure that you leave 1/4″ between the raw edges and the half-circle.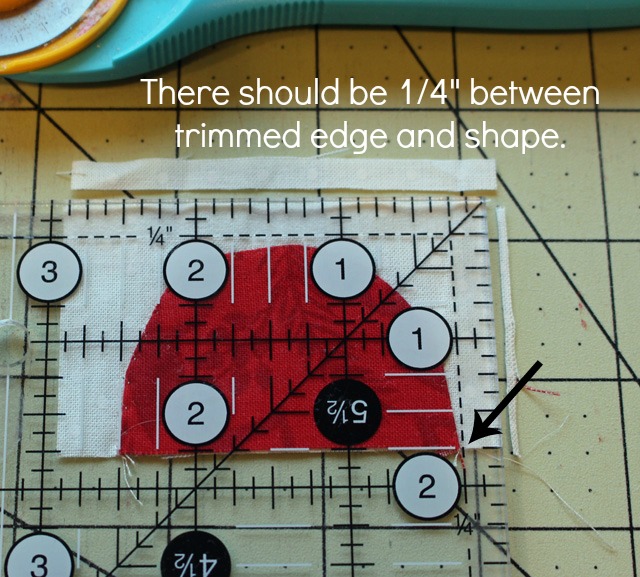 3.  Assemble the Nordic heart block.
Join the 9-patch unit, half-circle rectangles and 1 3/4″ square.
Pay attention to the color placement of the half-circles.  I alternated mine as shown below:
Press seams away from half-circles (and be careful of the iron temperature if you used nylon invisible thread).
The unit should measure 4″ square (unfinished).
4.  Complete the row.
Join the Nordic hearts and the white 2 1/4″ x 4″ rectangles.  Pay attention to the color placement of the heart half-circles (if you want to alternate them as I did).  Your row should measure 14 1/2″ unfinished.
5.  Finish the Quilt.
Now all of the rows can be joined together!  The order of the rows is up to you.  I chose this setting for mine: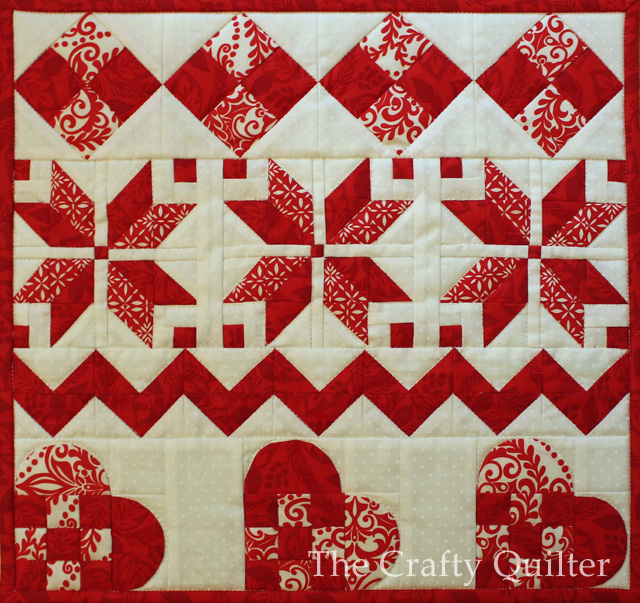 I kept my quilting simple and stitched in the ditch for the main block components.
I chose a blue/white/red print for the backing (all of my fabric is from Solstice by Kate Spain for Moda).  I added a quick and easy label to finish it up:
I'm so happy with this little quilt and I really enjoyed making it.  Even though I've made it with the holidays in mind, it doesn't scream Christmas unless you want it to.
I've made the larger version of this heart at 9 1/2″ unfinished and then set it on-point with triangles. This gives you a 13″ unfinished block to go with the others from the previous rows.
I like the way it stands up straight in this setting.  This is how the hearts compare in size:
For the larger heart you'll need to cut:
Red:  (2) 2″ x 9″ rectangles, (1) 3 3/4″ x 6 3/4″ rectangle
Red/white print:  (2) 2″ x 9″ rectangles, (1) 3 3/4″ x 6 3/4″ rectangle
White:  (2) 3 3/4″ x 6 3/4″ rectangles, (1) 3 1/2″ square, (2) 7 1/2″ squares cut in half diagonally (setting triangles)
Fusible Interfacing:  (2) 3 3/4″ x 6 3/4″ rectangles
You will be following the same assembly instructions as the smaller hearts, except that the larger heart will have a 16-patch for the center that will measure 6 1/2″ square unfinished.  So, you will stitch 4 strips of fabric together and sub-cut them into 2″ segments.  Then sew these together to form the 16-patch.  The half-circle rectangles should be trimmed down to 3 1/2″ x 6 1/2″.
The setting triangles are over-sized, so you will need to trim the entire square down to 13″ unfinished.  You may be cutting close to the diagonal setting seams, but that's o.k. as long as the fabric color is the same (as mine is).  Just make sure that you leave 1/4″ seam allowance at the bottom point of the heart.
If you've been keeping track, I've given you directions for 3 larger blocks that measure 13″ unfinished (I've left out the larger flying geese units).  I wanted to have 4 blocks to form a 2 square x 2 square setting.  For my fourth block, I used a beautiful piece of Norwegian embroidery called Hardanger.  It was handmade by a student of mine and she was kind enough to give it to me.  It is perfect for this project!  I set it on-point on top of a 4-patch of red squares and hand-stitched it into place.  Then I bordered it with white fabric to balance out the color.
I love it and it means so much to me!  The lady that gave it to me, Hilde, is German and she's in her late 70's.  She is just now learning how to quilt and she has taken my beginning quilt class several times recently.  She told me that she did all of the stitches by hand (about 10 years ago) and that it is a traditional Norwegian-style of embroidery.  Did you know that my mother is 100% Norwegian?  I'm thrilled to have such a gift (and now I'm looking into learning to do Hardanger myself- eek!).  If you're interested, a great Hardanger resource is Nordic Needle.
Maybe you could do something similar with an old doily or handkerchief.  Or create your own block for this arrangement. Here are all four of my large blocks together:
I'm considering adding sashing between the blocks and maybe a small border.  I'll definitely show you pictures of it when I'm done.
I hope you've enjoyed this quilt along.  I know many of you are busy and won't get to it before the holidays.  It might be a perfect project to work on in January or February especially if you're keeping with the red and white color scheme.  I'd love to see pictures, too!  Remember to use the hashtag #nordicminiqal if you're posting on Instagram.
Have a wonderful day!