January's UFO complete and February is out of the closet
I have January's UFO complete and February is out of the closet! I love checking things off of my list, especially when it results in a finished quilt top. This year I decided to tackle my growing UFO pile and so I'm participating in the 2015 UFO Challenge at All People Quilt.
My challenge for January was to finish last year's Classic Meets Modern BOM at Sew At Home Mummy. I made each block in a different color resulting in a rainbow of quilt blocks!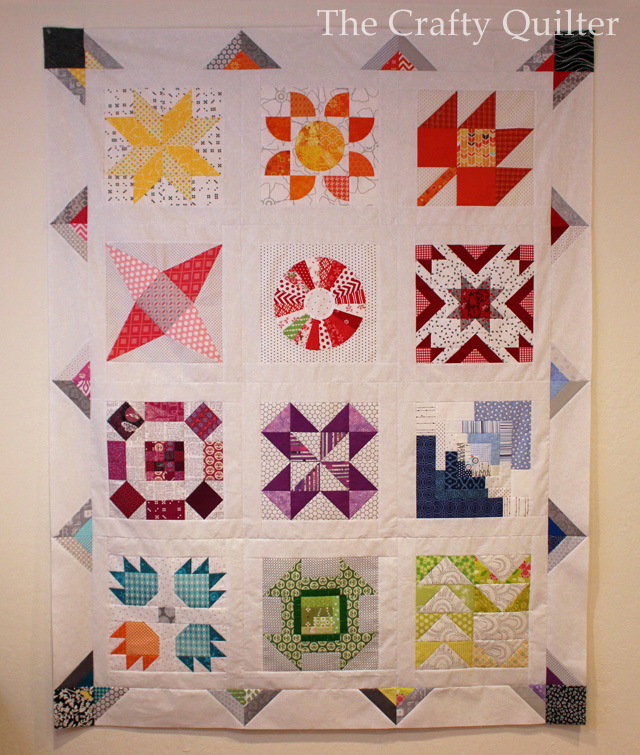 Each block had a classic design origin and was tweaked a bit to give it a modern twist. Let me show you a few of my favorites. This red block was named the Christmas Star block. I love the fussy cut bicycle in the center.
These flying geese have a zippy setting. I didn't like the color of one of mine, so I just replaced it with a plain background rectangle. That's a totally brave thing for me to do!
And then my very favorite, the drunkard's path block. This type of curved piecing was a first for me. I love the setting and the colors. It looks like Sunshine meets King Crab!
I chose to put sashing around each block and I sewed them together with a straight setting. And then I decided to jazz it up just a little in the borders. I came up with this pieced border which extends the colors outward and has a nice contrast with the grays I used.
I had my daughter hold it up for me in front of the window so I could get a picture. I ended up with a silhouette of Nicole and a stained glass quilt!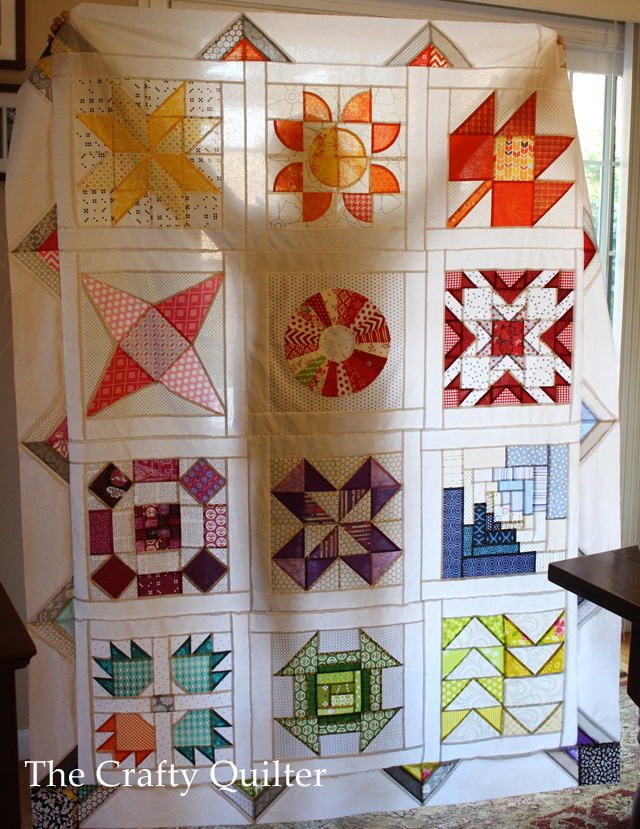 Today I'm handing it over to my trusty longarm quilter, Jody, to quilt it for me. Then it will be back in my court to add the final binding.
The magic number for February is 7. That means that the seventh UFO on my list is the one I'll be working on this month.
That is my Snowflower Quilt which I bought as a kit many years ago. I began piecing it about 6 years ago and then it sat for a few years. Then I finished the top and it sat again for a year or two. It's been basted and partially quilted for over a year now. I think it's percolated long enough!
This quilt is made with Christmas fabrics. I've used wood batting and I've stitched in the ditch. My daughter's cat thinks it's just fine the way it is.
I used a blue water soluble pen to draw a poinsettia in each snowball block. This was also done a few years ago and some of the block's markings have faded. Now I know that the blue pen marks don't last forever (which is a good thing usually). Hopefully they will still disappear when I get them wet.
I'm off to a good start with the UFO busting. I might keep this up for a few more months before I fall off the wagon. That's usually what happens. It's like dieting and exercising. I'm good for a while and then I get lazy. Cookies start to bake themselves in the oven, and too many other projects start calling my name!
I'll be back later this week to talk about quilt magazines with you. I'll tell you my favorites if you tell me yours!